When you make a major move in your life, whether it's to a new part of the country, a new job, or even a new grocery store, there's usually an adjustment period. You don't know where to go and you might not have any friends at first. It can be the same for the move to a senior living community. That's why the staff at Kirkland Village in Bethlehem, PA, put together a process to help new Independent Living residents adjust, and create a better sense of community between new residents and existing ones.
If you've recently decided to move your loved one to a personal care community you probably didn't make the decision lightly, and it's possible that you're struggling with guilt about the move. Whether the move to personal care or assisted living was forced by health concerns, or if it was made slowly with multiple family members weighing in, it's still possible for you to feel a sense of guilt or remorse. And that's normal.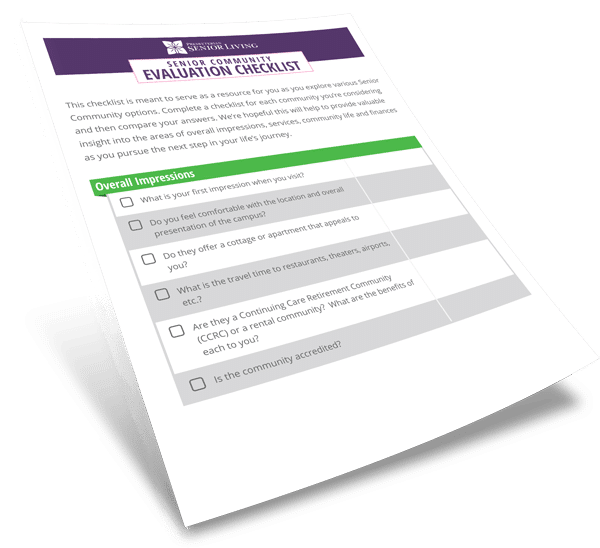 Are You Asking the Right Questions?
Subscribe to the Presbyterian Senior Living blog and receive our free Community Evaluation Checklist to ensure you ask what's most important to you.
Like most people, seniors can feel happier and even younger when they're with the people they love. Staying social, especially with family, can enrich their life and lead to a sharper mind and give a sense of belonging to combat social isolation and loneliness.
This article is rebuplished with permission from The Journal on Active Aging. To learn more about Quincy Village, click here.
With Halloween now behind us, many will start thinking about decorating for Christmas. For some, it can be tempting to go "all out" and give your home a short-term holiday themed makeover. It can be a lot of fun, but if you have a loved one with a cognitive impairment, you may want to reconsider. Those decorations may be causing them unnecessary distress.
Fall is here, and it brings crisp air, colorful leaves, and pumpkin spiced everything. But it can also mean an increased risk of falls for seniors. Falls are a common issue many seniors face, and usually, a fall isn't as simple as it seems. There can be many underlying factors that lead a senior to fall, from balance issues to unseen hazards.