When:
Times vary, see event description
Where:
Cathedral Village Campus
Cathedral Village
600 E Cathedral Road Philadelphia, PA 19128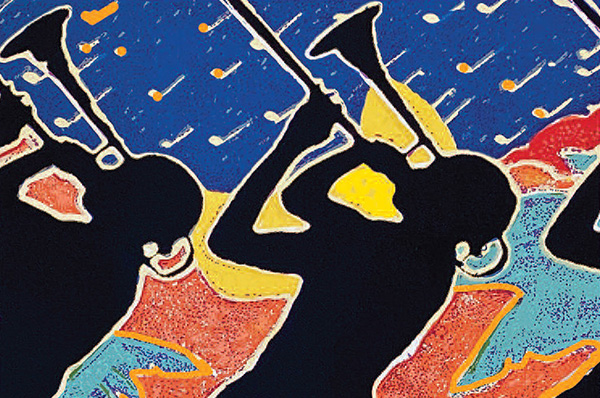 2021 Cathedral Village Black Arts Festival
"The vitality, passion and resourcefulness of artists with ancestral roots in Africa, has spanned the ages to communicate, entertain and inspire. The festival showcases a wealth of artists, musicians, writers, historians, actors and dancers. Together, we revel in the extraordinary creativity of African American artists whose legacy is ours to share and enjoy."
-Robert Polk, Cathedral Village Resident and Festival Founder
Saturday, October 2 | 1:30 to 5 p.m.
Jazz Fest
Location: Front Lawn
Outdoor performances by some of Philadelphia's top jazz groups, including the Tony Williams Quartet and the Kenny Gates Trio, will open the Black Arts Festival. Other outstanding local jazz artists will join in traditional jam sessions and open mic performances. $5 donation requested.
Those unable to attend the Jazz Fest in-person can view the live stream online at www.psl.org/live!
Saturday, October 2-October 6
Black Arts Showcase: Residents' Private Collections
Location: Leamy Room
Cathedral Village residents add a personal perspective to our Black Arts Festival by lending a wide array of work by African and African-American artists and artisans--baskets, carvings, cloth, figures, masks, paintings and books.
Daily Showcase Times:
10/2- 10 a.m. to 6 p.m

10/3- 1 p.m. to 5 p.m.

10/4- 10 a.m. to 5 p.m.

10/5- 10 a.m. to 5 p.m and 7 p.m. to 8 p.m.

10/6- 10 a.m. to 5 p.m. and 7 p.m. to 9 p.m.
Sunday, October 3 | 4 p.m.
Echoes of Yoruba: Life in Epic Times
Location: Cathedral Hall Near Guest House
This dance, drumming, music and conversational event offers a window into the vibrant presence of Yoruba practices in Philadelphia today, which have their origins in West Africa during the slavery era. The Germaine Ingram Group will illuminate these little-known local cultural assets and treasures.
Monday, October 4 | 7:30 p.m.
Creating Community: The Early History of Philadelphia's African-Americans
Location: Cathedral Hall
A dramatic narrative performed by Cathedral Village residents will explore the building of this strong community in the face of continuing discrimination from the late 18th to the late 19th century.
Tuesday, October 5 | 7:30 p.m.
Meet the Artists
Location: Presser Lounge
In connection with our theme of "Black Women in the Arts," award-winning painters Wanda Art Payne, Dressler Smith and Yolanda Ward will speak about their work and answer questions. Their paintings will be on display at Cathedral Village until November 30.
Wednesday, October 6 | 7:30 p.m.
"The Gospel According to Nana" by Liliya Ugay, libretto by Lorene Cary
Location: Cathedral Hall
Philadelphia novelist and playwright will return to this year's BAF with a debut of her mini opera "The Gospel According to Nana," by Liliya Ugay, libretto by Lorene Cary. It is based on her memoir "Ladysitting: My Year with Nana at the End of Her Century." The 30-minute performance by a trio of musicians will be introduced by Cary and followed with an opportunity to ask questions about the making of the opera and her life as a Philadelphia writer.
---
PLEASE NOTE:
PRE-REGISTRATION IS REQUIRED.
Because of current COVID restrictions, all indoor Black Arts Festival events will have very limited seating and masks & social distancing will be required. Therefore, pre-registration is required for the events scheduled for Sunday, Monday, Tuesday and Wednesday.
Pre-registration is not required for the Saturday, Oct. 2nd outdoor Jazz Fest, nor to visit the Black Arts Showcase which is ongoing from Saturday through Wednesday.
To pre-register, send an email to CVLiving@psl.org listing your name and email, indicating which specific Black Arts Festival event you wish to attend. Please specify also if you want to come with another person and include their name and email.
You will receive an email acknowledging your registration. If, unfortunately, your registration arrives after all seats are taken, you will receive directions on how to access YouTube recordings of each event. Thank you for your understanding.
Cathedral Village
600 E Cathedral Road Philadelphia, PA 19128