Everything You Need to Choose the Best Senior Living Community for Your Loved One
Dementia and Alzheimer's can come with specific care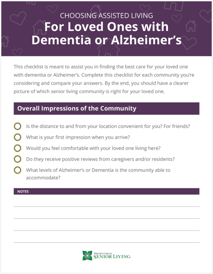 requirements, and it's a good idea to make sure the new senior living community you're considering can meet those requirements. Print this checklist and use it to find the best community for your loved one.
We hope you enjoy this Checklist. Just fill out the form on this page, and it's yours!
Download the checklist and learn more about Alzheimer's and Dementia care!!
Worried About Your Information? We have you covered.
Your trust is vitally important to us at PSL. We take great care to protect your personal information and assets, and to keep your information confidential. To view our complete privacy policy click here.