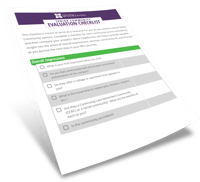 Finding the right community is a big decision. If you've never looked before, where do you start? What are the best questions to ask?
To make it as easy as possible for you to make an educated decision on the right senior living community for you, or your loved one, we've created the Senior Community Evaluation Checklist.
Print it and bring it along with you to ensure you get all the information you need to make the right decision.
This list includes over 30 questions to ask such as:
What is your first impression when you visit?
What levels of service does this community have?
What do current residents have to say about the services?
Ready to download and pring you Senior Community Evaluation Checklist? Just fill out the form on the right, and it's yours!
Subscribe to the PSL blog to download the Senior Community Evaluation Checklist
Worried About Your Information? We have you covered.
Your trust is vitally important to us at PSL. We take great care to protect your personal information and assets, and to keep your information confidential. To view our complete privacy policy click here.