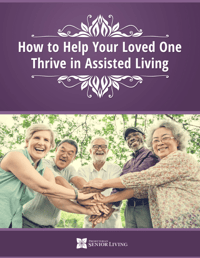 Moving an aging parent or loved one into assisted living is no small task. In addition to the stress of helping someone move, you also want to make sure your loved one adjusts well to their new surroundings.
We've put together this guide to help you ensure your aging loved one will be happy in their new home.
Inside, you will find answers to questions about the transition to assisted living, such as:
How will my loved one settle into their new living environment?
How do I ensure they will thrive in their new community?
How can I make sure they don't feel lonely?
And much more!
Fill out the form on the right to download your copy of the guide and subscribe to the PSL blog!
Find Out How to Help Your Loved One Adjust

Enter your name and email below to receive the guide: How to Help Your Loved One Thrive in Assisted Living
Worried About Your Information? We have you covered.
Your trust is vitally important to us at PSL. We take great care to protect your personal information and assets, and to keep your information confidential. To view our complete privacy policy
click here.