Everything You Need to Survive the Summer Heat

Summer can be a time to sit back and relax outside, but it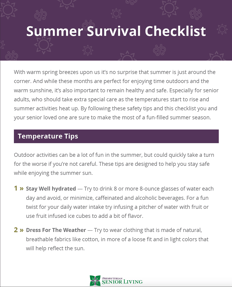 brings with it potentially dangerous temperatures. Print this checklist and use it to stay safe this summer.
This checklist includes tips on:
How to keep cool
The signs of heat stroke
Supplies to bring with you when outdoors
We hope you enjoy this Summer Survival Checklist. Just fill out the form on this page, and it's yours!
Download the checklist and be ready for anything this summer!
Worried About Your Information? We have you covered.
Your trust is vitally important to us at PSL. We take great care to protect your personal information and assets, and to keep your information confidential. To view our complete privacy policy
click here.