Introducing Charter House Apartments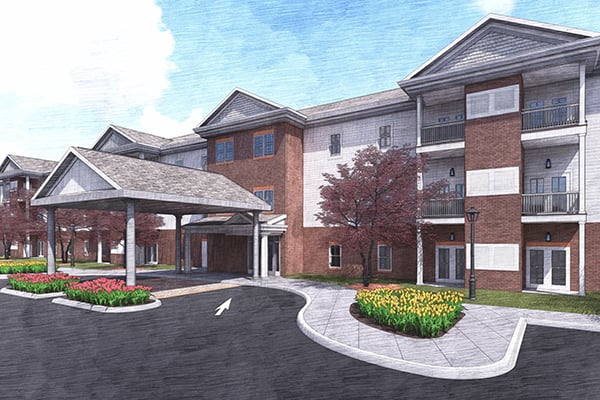 Charter House apartments at Quincy Village are now under construction! These spacious one- and two-bedroom apartments will blend modern style with a comfortable, traditional feel.
Apartment Features
Our goal is to have you be comfortable in your new apartment and that it be a reflection of you. In order to provide you with a comfortable, maintenance-free style of living, our senior living apartment homes include the following features:
Features
Dishwasher
In-Home High-Speed internet
Includes Basic Cable TV Hookup, Electric, Heat, and Water
Individually Controlled Heat and Air Conditioning
Microwave
Pet Friendly
Refrigerator/Freezer
Stove
Tobacco and Smoke Free
Washer/Dryer
At-Home Services
We provide in-home assistance with everyday tasks that may be difficult or unsafe for a resident to do alone. Professionally coordinated, our At-Home Services foster good health and will help to keep you independent.
At-Home Services are arranged for and provided by Quincy Village's staff who will work with you to develop a package of reasonably priced services tailored to meet your needs. Because we are on site, we don't charge for travel time so you get more time with staff for the money. Quincy Village also handles the criminal background checks, references, employee taxes and benefits, as well as insurance and workers compensation.
Features
Assistance with Morning or Evening Routines
Assistance with Reading and Correspondence
Caregiver Support Services
Companion Care
Companionship
Concierge Services
Gift wrapping
Help with Airport Check In, Pick Up, Packing, Unpacking
Holiday and Birthday Event Planning
Homemaker Services Non-Medical
House Sitting
Meal Management Services (menu planning, grocery shopping, meal prep)
Organization
Personal Errands (dry cleaning, prescription pick up, etc.)
Personal Laundry and Ironing
Plant care, watering
Seasonal decorating
Shopping and Decorating Assistance
Specialized Transportation
Support with Routine Pet Care and Pet Appointments
Supportive Care
Transportation to Medical and Other Appointments
Social Engagement
Quincy Village offers a wide variety of resident directed clubs, social and cultural opportunities. Some examples include:
Features
Book Clubs and Discussion Groups
Gardening
Resident Council
Woodworking Shop
And Much, Much More
Dining Services
Dining services at Minnich Manor offers residents, staff, and guests a relaxed, casual atmosphere in which to enjoy a unique and memorable dining experience. Our daily menu includes, but is not limited to, all you can eat soup and salad bar, regional and seasonal delights, and classic entrées. Whether it's our featured menu or other weekly specials, the dining services at Minnich Manor offer balanced meals that will help you maintain a healthy life.
Wellness Programs
We want to help you to feel free to create new friendships, embrace new hobbies, and achieve new goals. For this reason, Quincy Village offers a wide range of services to help you live an active and healthy life.
Wellness and fitness programs are available for residents living at Quincy Village. In addition, our Health Center employs professional, skilled nursing staff and volunteers who work to help residents remain independent in an accepting, supportive environment.