What is Assisted Living?
Assisted Living provides seniors with professional assistance when needed and a way to enjoy an active lifestyle while aging in place. Assisted Living at Parker House provides residents with the support they need at individually customized levels. Our staff works in harmony with residents and their families to ensure they meet each person's needs and can adjust care plans as those needs may change. You can expect our Assisted Living community to provide help with daily tasks like taking medications, bathing, dressing and maintaining a well-balanced diet. On top of daily necessities, Assisted Living at Parker House helps residents stay engaged and involved in activities around the campus and with their peers. We provide the opportunity for companionship for those who would rather not live alone and often host activities in a group setting to promote socialization.
What Does Assisted Living at Parker House Offer?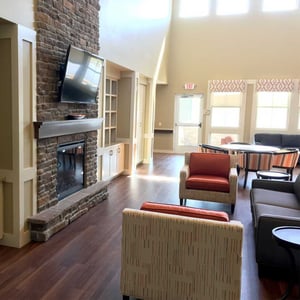 Parker House Assisted Living at Quincy Village is an innovative "small house" concept and the first licensed Assisted Living location in the area. Each of the three residential-style homes serves 16 residents and promotes independence and meaningful living enabling seniors to "age in place." That means if additional care is needed, Assisted Living regulations permit most of those services to be provided on-site.
This concept empowers staff to focus on helping residents feel at home. Large dining tables, for example, are important so staff and residents can share family-style meals and chat about their day. Residents have fewer life disruptions from not having to move from location to location for health services. Assisted Living at Parker House promotes a feeling of being at home with consistent, familiar staff, family and friends, which has been proven to increase feelings of self-esteem, satisfaction and security.
Parker House features a secure courtyard and a comfortable living room with a fireplace to encourage socialization — both indoors and out. There is a residential home design with a front hall, living room, dining room, kitchen, and den with short walking distances from bedrooms to living areas.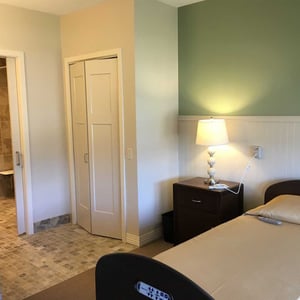 Levels of Service to Meet Your Needs
Parker House was designed for 16 residents who will be encouraged to personalize their suite, including bringing their own furnishings and belongings. The private suites are similar to a studio apartment in the sense that the resident will have a private bedroom with their own kitchenette and bathroom. Dynamic adaptation of services for each resident as needs change is critical to their ongoing well-being. Consistent, familiar staff trained to identify those changes and meet those needs as they arise is at the heart of Parker House Assisted Living.
Memory Support Available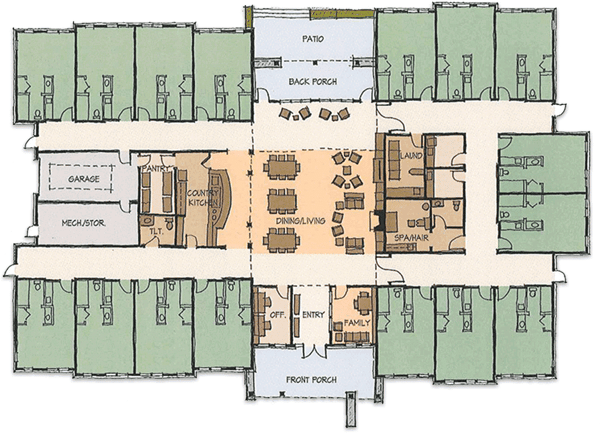 It's the nurturing support and care that makes a difference. The Parker House small house concept is designed to better suit Memory Care patients, minimizing wandering behavior and creating an easy to navigate home setting.
If your loved one is living with Alzheimer's Disease or other forms of memory impairment we would like to partner with you to capitalize on their strengths, enhance existing abilities, and experience moments of joy and comfort.
Beautiful, private maintenance-free residence with outdoor patios and walking areas
Spacious apartments with private bathrooms, showers, and kitchenettes
Individually controlled heat and air conditioning in each apartment
Private telephone, cable, and internet service
Fresh linen, personal laundry, and housekeeping services
Three delicious, chef-prepared meals each day with special diet accommodations, plus snacks
Individualized service plan designed by care team
24-hour staffing and emergency call system
Reminders, supervision, and assistance with activities of daily living such as bathing, dressing, eating, etc.
Assistance with scheduling medical appointments
On-site salon and barber services
Chaplain services and spiritual enrichment programs
Extensive event calendar including trips, clubs, games, and special entertainment
Sightseeing and off-campus shopping and day trips
On-site physician, podiatry, X-ray and laboratory services
On-site physical, occupational, and speech therapy services
Assistance with coordination of services following hospital or health center stay
How Much Does Assisted Living Cost?
Our Assisted Living floor plans range from 265 to 283 square feet and offer a wide array of amenities. Our Supportive Care services offer the support you need at individually customized levels. Veterans and surviving spouses who require Assisted Living may be eligible for assistance from the Veterans Administration. Parker House at Quincy Village offers assistance with obtaining these benefits should you qualify for them. Some long-term care insurance policies may also pay for Assisted Living.
Assisted Living
Starting at $187 per day!
265 to 283 square foot private studio suite with a private European style bathroom, kitchenette, living room/bedroom combination and a spacious closet.
Assisted Living Memory Care
Starting at $214 per day!
265 to 283 square foot private studio suite with a private European style bathroom, kitchenette, living room/bedroom combination and a spacious closet.
Memory Care at Parker House provides a small, intimate setting for those who need memory support. The home configurations and private apartments, along with specially trained staff, help create feelings of comfort and security.
What Makes Price Fluctuate?
People in Assisted Living are regularly assessed and may require additional time and services as they age. If necessary, a fee could be added for these services. Your care team will discuss this charge and the necessary services with you in advance. There are additional amenities available on-site that are not included in your base charge.