Residential Living: Live Your Life Your Way
55+ and MORE
Beyond What You Might Expect from a Retirement Community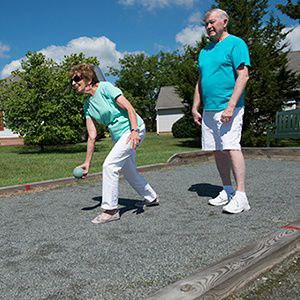 Maintenance free living with freedom from yard work and household repairs
Opportunities for activities, socialization and fun
Ready for help when you might need it providing peace of mind for your family
Engaging environment to pursue new interests
We're excited to help create an environment for you to discover new hobbies, set and achieve new goals, and establish lifelong friendships. Our commitment to you also recognizes the importance of comfortable, personalized surroundings. As a Continuing Care Retirement Community (CCRC), we offer a host of maintenance-free living options to fit your preferences – from floor plans to meal plans to monthly service plans and more. We offer one-bedroom and two-bedroom apartments with options for patios (on the ground floor), as well as one-bedroom and two-bedroom cottages with such premium features as garages and sunrooms. All residential living accommodations include basic cable TV hookup, electric, heat, and water.
For a closer look at our spacious accommodations, 69 spacious one- and two-bedroom apartments, and 50 comfortable one- and two-bedroom country cottages, view samples of our

"When people see something special they are often in 'AAW'. That has been my experience at Westminster Village: Active, Affordable and Welcoming. While the process of downsizing and moving had their stresses, the end result has been worth it!"
- M. McLane