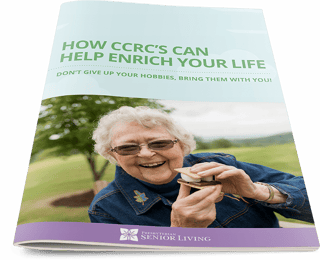 Engaging in hobbies and activities at Continuing Care Retirement Communities can enhance seniors' health and happiness, as well as reducing the rate of phsyical and mental decline.
In How CCRCs Can Help Enrich Your Life: Don't Give Up Your Hobbies, Bring Them with You! you'll learn more about:
How participating in engaging activities, hobbies and programs affects seniors' overall quality of life.
CCRC's provision of unique programming that feeds the mind, body and spirit.
Why so many senior adults choose to move to Continuing Care Retirement Communities while they're still active, independent and healthy.
The many benefits that CCRCs provide to seniors at a wide range of ages and abilities.
How the continuum of care provided in a CCRC benefits seniors at various stages of health.
The ways in which residents of Presbyterian Senior Living communities have a voice in crafting engaging activities and programming.
How hobbies like listening to music can provide specific physical and mental benefits for seniors.
Fill out the form to the right and find out for yourself how hobbies and activities are an integral part of Continuing Care Retirement Communities at Presbyterian Senior Living.
See How Hobbies Enrich Seniors' Lives in CCRCs

And How Residents Have a Hand in Shaping Their Activities
Worried About Your Information? We have you covered.
Your trust is vitally important to us at PSL. We take great care to protect your personal information and assets, and to keep your information confidential. To view our complete privacy policy
click here.