As the COVID-19 vaccine becomes more available to the staff and residents we serve, it is important to understand the facts. Below are some common questions and misconceptions that are answered by the Centers for Disease Control and Prevention (CDC).
As a faith-based organization, Presbyterian Senior Living (PSL) is founded on the belief that every human being is unique and of infinite worth. Based on this premise, Presbyterian Senior Living is committed to fully embracing the diversity of all persons served so that together, we can foster a culture of inclusion in an environment where all people are treated with dignity and respect.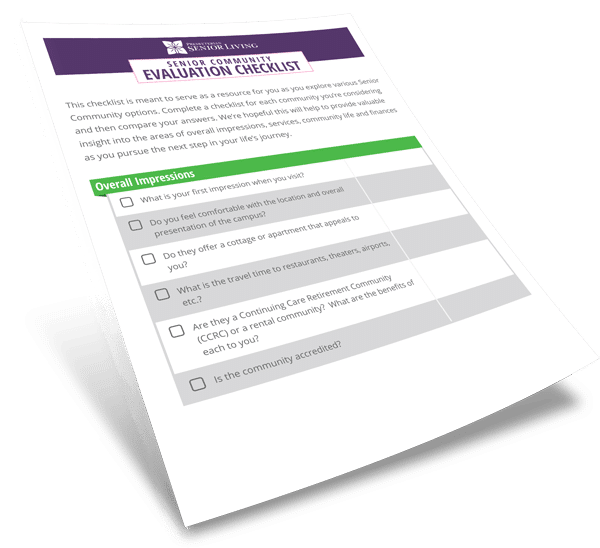 Are You Asking the Right Questions?
Subscribe to the Presbyterian Senior Living blog and receive our free Community Evaluation Checklist to ensure you ask what's most important to you.
The Thrive Wellness Steering Group (TWSG) met for the seventh time on December 2nd. During this meeting, the Thrive Wellness Community Committee charter was approved, and the 2021 rollout plan was discussed. In the first quarter of 2021, residents will be provided education about Thrive Wellness. First, Resident Councils will have a presentation from their Executive Director or Campus Administrator and their Thrive Wellness Steering Group member. After this presentation to the council, a Thrive Wellness presentation will be given to all residents via a virtual town hall, community newsletter, etc. Each PSL community will choose the form of communication that works best for them.
Christmas is celebrated in various ways throughout the United States— every family has unique traditions they follow each year.
Finance & Planning | Housing & Development
The fall home-selling season is a lot like the college football season – both normally end around Thanksgiving, but a smaller postseason keeps going long after that.
The season of giving is right around the corner! Although Christmas may look different this year, we still welcome the tradition of gift giving to family or friends living at our various communities! That being said, it is important we maintain safety protocols during this ongoing pandemic. Please continue reading to find out all of our gift giving guidelines for this 2020 holiday season!