Active Aging Week was October 5-11, 2020. It is an international celebration of active lifestyles organized by the International Council of Active Aging (ICAA.) This week-long celebration occurs annually and Presbyterian Senior Living (PSL) has participated for the past 8 years.
Searching for the right senior living community for your loved one can be difficult, especially if you've suddenly found yourself in the position to make the decision or if you're just starting your search. There are a lot of terms thrown around for each type of care or service offered at different communities, and they can get confusing. But there's one term you've probably come across a few times that tends to be more confusing than others: Personal Care.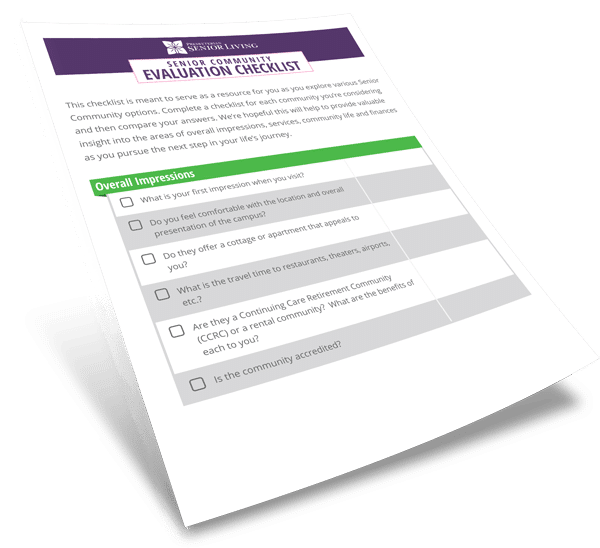 Are You Asking the Right Questions?
Subscribe to the Presbyterian Senior Living blog and receive our free Community Evaluation Checklist to ensure you ask what's most important to you.
All eleven of the Thrive Wellness focus groups across PSL have been completed, and resident feedback and input has been collected and stored. The Thrive Wellness Steering Group is listening, and residents' voices through surveys and focus groups are now being heard. Residents' ideas, suggestions, and recommendations are being taken into account during the development process of Thrive Wellness.
Quincy Village, a Presbyterian Senior Living (PSL) continuing care retirement community for seniors, is proud to announce that resident Bob Davis recently accepted the Pioneer Network and Rockport Healthcare Services Community Commitment Award on behalf of Quincy Village on September 3.
Getting a call that your mom or dad is in the hospital is usually not something you want to have happen. If it's unexpected, you can have a million thoughts flying through your mind at once. Questions about what happened, how serious it is, or what might come next will likely come to mind. With all this initial confusion, it's possible you might forget something important in your rush to the hospital. Knowing what to bring and what calls to make ahead of time can help you stay calm and focus on what's really important: your loved ones.
Suffering from a urinary tract infection at any age is a painful and unpleasant experience. But for seniors — and especially those with dementia — UTIs can result in additional, serious health concerns.