Scammers and fraud are nothing new, and unfortunately, they've been around for a long time. However, as technology gets more advanced and complicated, the scams people can come up with also get more complex. But even just a little knowledge can help you spot and outwit a scammer. Below are some of the most common scams, and what you should look out for in each of them.
Personal care homes provide seniors with professional assistance when needed and a way to enjoy an active lifestyle. Most personal care and assisted living communities offer meals, housekeeping and transportation services, assistance with the activities of daily living (ADL's), security and 24/7 on-call assistance. Personal care homes provide the opportunity for companionship for those seniors who would benefit from daily support and often host programming in a group setting to promote socialization. Many communities have been successful in adapting activities and engagement to adhere to social distancing guidelines.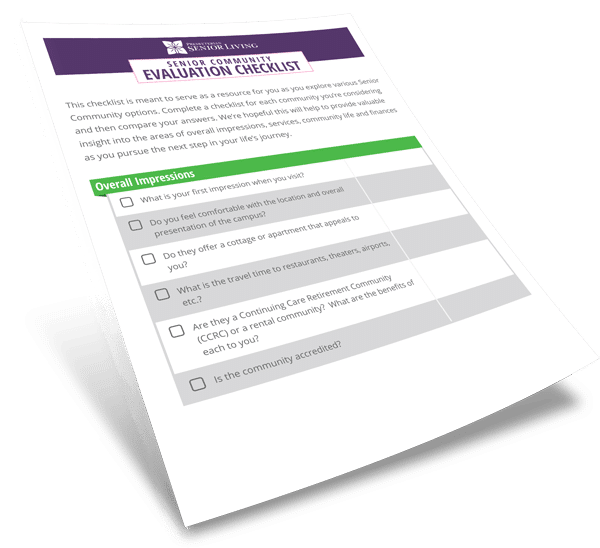 Are You Asking the Right Questions?
Subscribe to the Presbyterian Senior Living blog and receive our free Community Evaluation Checklist to ensure you ask what's most important to you.
As Presbyterian Senior Living continues on our journey towards belonging, we acknowledge that everyone has a bias. It is a part of who we all are. There are multiple resources available that speak to bias and help you understand bias and its role in the workplace or personal relationships.
Spring is officially here….and with this wonderful season comes longer days and a trend towards warmer days as well. Fresh air and vitamin D are just a few of the health benefits derived from walking outside. Consider going for a stroll around your neighborhood and community – get outside and really breathe in the fresh air.
You love your parents. You don't want anything to happen to them. When you see your mom getting behind the wheel, you feel scared every time she heads out to run an errand. What if she misses a red light? Or doesn't hear a siren coming up behind her?
National Nutrition Month is a time to learn more about how to make informed food choices and develop sound eating and physical activity habits. Set small, realistic goals that help you make positive changes to avoid becoming overwhelmed or being too restrictive. Try the following weekly goals in your daily routine during the next 4 weeks!