Living a life in which you are steadily suffering from hearing loss can be difficult. No longer being able to hear the voice of the one you love, or the voice of your children can be heartbreaking. Part of keeping yourself healthy in your senior years is ensuring that your hearing is also in check. Many seniors deny their hearing loss and put off getting their hearing checked which in turn, can prolong the effects of hearing loss.
Embarking on an exciting journey with ample opportunity, this year, residents of PSL are actively engaging with each other and team members to design an organization-wide, resident-led, holistic wellness program— Thrive Wellness. Officially, Thrive Wellness will launch in January 2021; however, between now and then, many special and essential steps are being taken as the development process begins— as it should, with a "grass-roots," resident-led approach.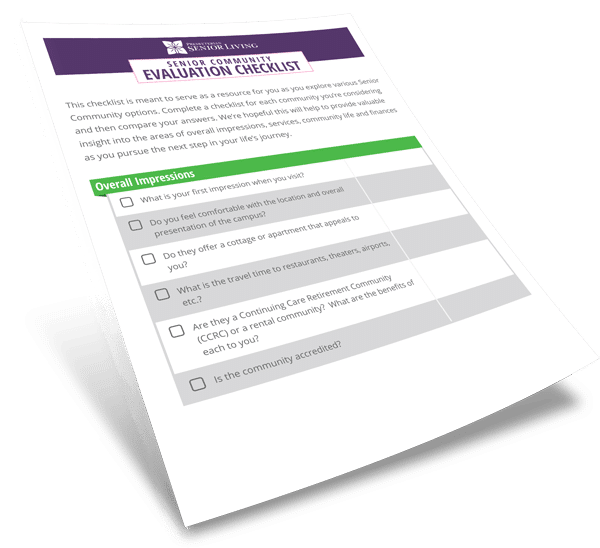 Are You Asking the Right Questions?
Subscribe to the Presbyterian Senior Living blog and receive our free Community Evaluation Checklist to ensure you ask what's most important to you.
Gay pride or LGBT pride is the promotion of the self-affirmation, dignity, equality, and increased visibility of lesbian, gay, bisexual, and transgender (LGBT) people as a social group. Pride, as opposed to shame and social stigma, is the predominant outlook that bolsters most LGBT rights movements. June is Pride Month and below are a few facts about why this month is celebrated.
There has been a lot of discussion recently surrounding the date of June 19. This holiday, Juneteenth, is significant to the African American community. Below are a few facts about this holiday.
Maintaining a healthy weight is not only more challenging, but even more important as we age. You can support your aging loved one's health and continued independence by supporting healthy lifestyle choices.
Caregiver Support | Health & Aging
With summer right around the corner, and many people spending lots of time outdoors, it is important to keep your health in mind. Summer is a time for the outdoors, but it can be easy to fall victim to heat-related health issues if you're not careful. The good news is there are a few summer safety tips you can follow to make sure that doesn't happen.