What Is Occupational Therapy? Occupational therapy is a treatment that teaches purposeful techniques you can use to overcome physical, emotional, or social problems experienced in the context of daily living. The techniques taught by occupational therapists benefit the whole person—body, mind, and spirit.
Caregiver Support | Personal Care/Assisted Living
When a loved one is diagnosed with Alzheimer's disease, the entire family is affected. And in ways that extend far beyond providing care. From concerns about daily supervision to talking with the senior about giving up driving, families face unique challenges.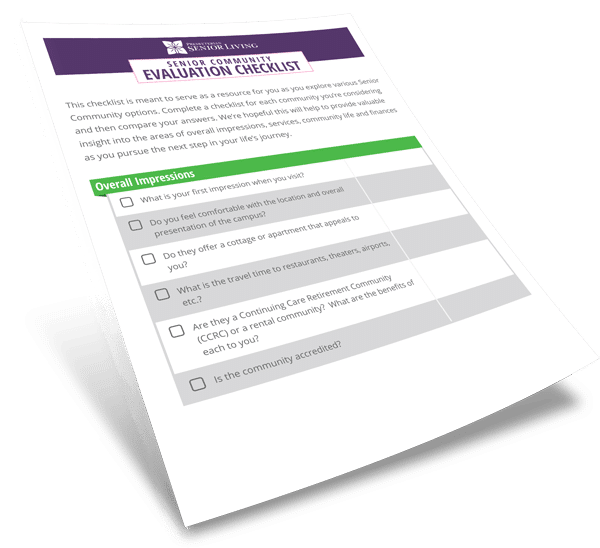 Are You Asking the Right Questions?
Subscribe to the Presbyterian Senior Living blog and receive our free Community Evaluation Checklist to ensure you ask what's most important to you.
Medicare's annual open enrollment period for 2022 is almost here. This 8-week period of time gives Medicare recipients an opportunity to make changes to their current health plan coverage. The window for making changes opens on October 15 and closes on December 7 every year.
National Hispanic Heritage Month honors the culture, heritage, and contributions of Hispanic Americans each year. The event began in 1968 when Congress deemed the week including September 15 and 16 National Hispanic Heritage Week to celebrate the contributions and achievements of the diverse cultures within the Hispanic community.
2021 has been an exciting year so far for Thrive Wellness, as community committees have been forming in Presbyterian Senior Living's Continuing Care Retirement Communities. Residents have been leading the efforts, inviting team members to join these important committees that meet monthly in each community.
What is meditation? Meditation is an extremely ambiguous term that we often hear thrown around frequently in our society. If you ask someone to define meditation, you are bound to get many different answers, but the central concept to take with you is that it's all about finding awareness and perspective through mindfulness. But, what is mindfulness? When you are practicing mindfulness (which I've found lends itself hand and hand to meditation) you are present, rested in the here and now, and fully engaged in the moment.