The Thrive Wellness Steering Group met for the fifth time on October 14th. It focused on developing key principles for Thrive based on the common elements, themes, and trends highlighted in the feedback data from all residents' surveys and focus groups. As previously mentioned in this monthly blog series - the steering group studied and analyzed all resident responses. As a result of this, they have been able to "pull" key ideas, common themes, and what PSL residents are saying is most important to them in their wellness journey.
CCRC | Miscellaneous | Presbyterian Senior Living
As the senior living industry as a whole continues to adjust to the "new normal" during this pandemic, I wanted to share what the Presbyterian Senior Living community teams are doing to connect residents to their own purpose and life meaning.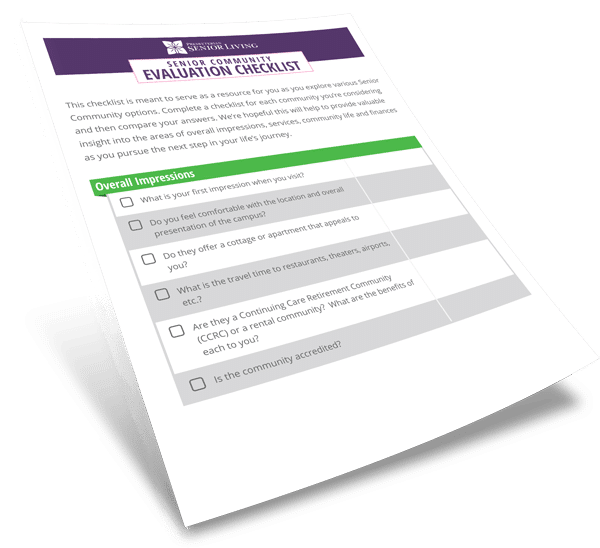 Are You Asking the Right Questions?
Subscribe to the Presbyterian Senior Living blog and receive our free Community Evaluation Checklist to ensure you ask what's most important to you.
Active Aging Week was October 5-11, 2020. It is an international celebration of active lifestyles organized by the International Council of Active Aging (ICAA.) This week-long celebration occurs annually and Presbyterian Senior Living (PSL) has participated for the past 8 years.
Searching for the right senior living community for your loved one can be difficult, especially if you've suddenly found yourself in the position to make the decision or if you're just starting your search. There are a lot of terms thrown around for each type of care or service offered at different communities, and they can get confusing. But there's one term you've probably come across a few times that tends to be more confusing than others: Personal Care.
All eleven of the Thrive Wellness focus groups across PSL have been completed, and resident feedback and input has been collected and stored. The Thrive Wellness Steering Group is listening, and residents' voices through surveys and focus groups are now being heard. Residents' ideas, suggestions, and recommendations are being taken into account during the development process of Thrive Wellness.
Quincy Village, a Presbyterian Senior Living (PSL) continuing care retirement community for seniors, is proud to announce that resident Bob Davis recently accepted the Pioneer Network and Rockport Healthcare Services Community Commitment Award on behalf of Quincy Village on September 3.