Quality Measures
One of the bedrock organizational values of Presbyterian Senior Living is to provide a high quality of life to the residents we serve. The effort to ensure this quality rests on our commitment to:
AAHSA Quality First
CARF-CCAC Accreditation
CMS Five-Star Rating
Association Involvement
Clinical Indicators
Leading Age Quality First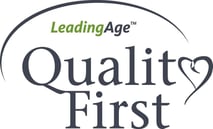 Presbyterian Senior Living's commitment to provide quality services is illustrated in our mission statement, vision statement, organizational values and through our affiliation with Leading Age's Quality First Initiative. Our commitment to meeting Leading Age's Quality First guidelines is demonstrated by:


The active collection of consumer input and measurement of customer satisfaction and expectations
Evaluation of performance as compared to external measurement and benchmarking
A commitment to quality improvement, accreditation and meeting all applicable state and federal regulations
As part of our Quality First initiative, we are continuing to proactively integrate "person-centered service" throughout our continuum where our definition of quality is "to exceed service expectations and maximize choice for the people we serve."
CARF-CCAC Accreditation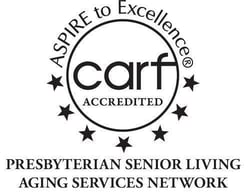 Founded in 1985, the Continuing Care Accreditation Commission (CCAC) is dedicated to fostering excellence, integrity and innovation in the aging services field. In 2003, the CCAC merged with the Commission on Accreditation of Rehabilitation Facilities (CARF), an independent, not-for-profit accrediting body promoting quality, value and optimal outcomes of services through a consultative accreditation process. The alignment of these respected organizations has been a positive step in creating an independent resource to help consumers identify high-quality care providers for older adults.
An organization receiving the CARF-CCAC Five-Year Accreditation has put itself through a rigorous peer review process and has demonstrated to a team of surveyors during an on-site survey that it is committed to conforming to CARF-CCAC's high standards. It is widely regarded as the national "seal of excellence" in identifying high quality programs and services to older adults.
Accreditation through CARF-CCAC Five-Year Accreditation (described above) embodies a quality measure that we believe best represents the interests of residents in senior living communities.
CMS Five-Star Rating
Many people are familiar with the Five-Star Rating system developed by the Centers for Medicaid and Medicare Services (CMS). Based on their formula for measuring Health Inspections, Quality Measures and Staffing, CMS provides an "Overall Quality" rating range from 1 star to 5 stars, with more stars indicating higher quality. While the Five-Star Rating System is controversial, we recognize that it is here to stay and so we are taking steps to ensure:
We are focused on improvement efforts where necessary,
that data used in the system is correct,
and that the evaluation and documentation measures are consistent with the requirements of the system.
It is our position that our decision to care for people with high acuity or end-of-life needs will not be driven by a flawed Five-Star Rating System. We expect ratings to fluctuate from one month to the next but are not anticipating the maximum rating as we have no plans to step away from seniors who require significant care. We serve many frail people with complicated needs and will continue to do so while striving for the highest possible quality of care and quality of life.
Association Involvement
Presbyterian Senior Living is active in several state, national and international not-for-profit long-term care associations. These organizations provide educational programs and research designed to improve quality of care for its members and the residents they serve. All Presbyterian Senior Living communities and locations are members of Leading Age and its state affiliates.
Clinical Indicators
Families appreciate the detailed clinical assessment provided for each of our health center residents upon admission and repeatedly throughout his or her stay with Presbyterian Senior Living. This assessment of "clinical indicators" offers us specific information on how to best focus staff efforts on individual resident's care needs and risk factors.