Partners in Mission Program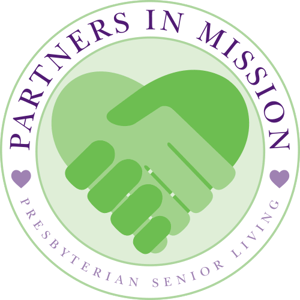 Since our beginnings in the 1920's Presbyterian Senior Living has been engaged in seeking philanthropic partners to help us in fulfilling our mission to provide housing and other supportive services to seniors.
Today, our vendors and business partners play an integral role in helping us to meet the needs of seniors. As our Partners in Mission, these donors have:
Supported the residents of Presbyterian Senior Living throughout all of our communities,
Helped to expand our mission of caring for residents as they exhaust their resources, and
Assisted communities within Presbyterian Senior Living in furthering their philanthropic mission through events, corporate support and vendor support.
We are most grateful to these many vendors and business supporters for all they do to further our mission.
PSL Platinum
Benchmark Construction™
Cura Hospitality, LLC.
Paul Davis Restoration
Prelude Services
The Robert Gunterberg Charitable Foundation
PSL Silver
Bank of America Merrill Lynch
McConkey Insurance & Benefits.
Flik Lifestyles
Select Rehabilitation, Inc.
UPMC
PSL Bronze
365 Hospice
CCM - The Medicine Shoppe
Corl Communications
Cozen O'Connor
Encompass Health of Altoona
F&M Trust
Freedom Valley Restoration
HealthPRO Heritage
Masterpiece Living, LLC
McNee's, Wallace & Nurick, LLC
Orrstown Bank
P J Dick Incorporated
Stumpo Construction Inc.
Wohlsen Construction Company
Special Thanks
Many thanks to the other sponsors who help to make our services possible:
8th Ward Beneficial Association
A1 Hardscape
Abel Communications
ACIA
Arnett Carbis Toothman
Bay Country Landscape

Board of Pensions of the Presbyterian Church (U.S.A.)

Brechbill & Helman Construction
Cherryworks, LTD
Complete Insurance Services – John Eichelberger
Conrad Siegel
Country Chrysler Dodge Jeep Ram
Direct Supply HealthCare Equipment
Edward J Collins Jr Funeral Home
ELA Group
First National Bank
Highmark
The Hite Company
ITP of USA
Jdog Junk Removal
Keller Engineers
KirCon Breco Service, LLC
loanDepot
Lusk & Associates, Sotheby International Realty
Meadow Valley Electric
McKonly & Asbury
Mobilex
Monarch Risk Management
Nicklaus and Hohenadel
Noelker & Hull
Oxford Plumbing
Parkland Nurseries
Prime Transfer Inc.
R Brooks Mechanical
RGS
Rhodes Development Group
Riverside Camping
R.S. Mowery & Sons
Sheetz
Sherpa
Snyder Funeral Homes
Spiezel Architectural Group
Tenured Construction
Tomlinson & Bomberger
Two Dudes Painting
UPMC Altoona
Ward Transportation & Logistics
Warfel Construction
Waynesboro Construction
William McMorran, Green Oak Consulting Group