Subscribe
16 Wellness Classes for Seniors in Bethlehem, PA
Are you looking for classes focused on senior wellness in the Bethlehem, PA, area? For seniors, it can be a challenge to balance staying active with having physical limitations. You may want to stay healthy, but you don't want to choose a workout regimen that's too demanding. Here are some senior wellness Bethlehem, PA, area classes designed specifically for you and your fitness needs.Bethlehem Township Community Center
Bethlehem Township Parks and Recreation offers a number of senior programs at the Bethlehem Township Community Center that could be the perfect opportunity to get up and moving. Four classes in particular are designed specifically for seniors and their ideal activity levels. Three of the classes are sessions from SilverSneakers®, a nationwide group of health and fitness programs for seniors. If you're worried about different exercise programs being too demanding, these SilverSneakers programs could be perfect for your fitness needs.
SilverSneakers Classic - The SilverSneakers Classic class is ideal for any senior. This basic course was designed to help seniors increase muscle strength, increase their range of movement, and build the stamina needed to tackle the activities of daily living. In this class, participants will use small free weights, elastic tubing with handles, and resistance balls. There are even some activities designed to be done seated in a chair or standing by a chair and using it for support. (Time: Monday, Tuesday, and Thursday from 12:15 p.m. to 1:15 p.m.)
SilverSneakers Yoga - For some seniors, the thought of doing yoga might seem intimidating. In reality, yoga can be the perfect activity to increase flexibility and balance and build joint strength. SilverSneakers Yoga organizes a series of seated and standing poses, so seniors with all levels of mobility can participate. The session also includes breathing exercises and concludes with a relaxation time to help reduce stress and increase mental clarity. (Time: Wednesday all year from 12:00 p.m. to 12:45 p.m.; Friday from Labor Day to Memorial Day from 1:00 p.m. to 1:45 p.m.)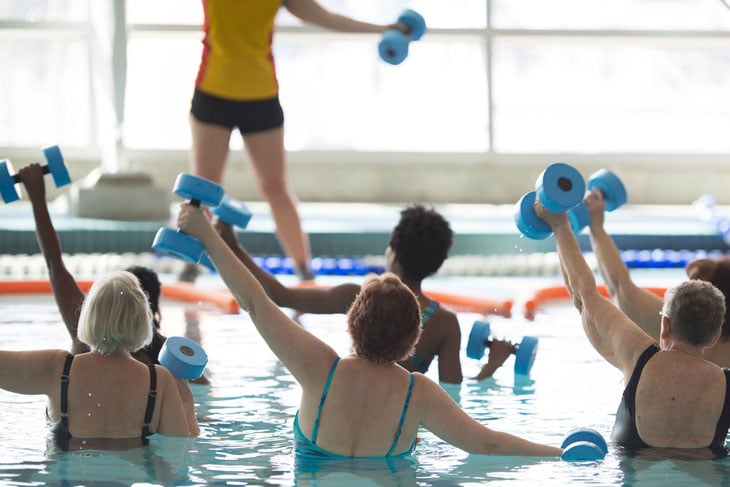 SilverSneakers Splash - Aquatic aerobics is a great way for seniors to get moving and add some variety to their exercise plans. SilverSneakers Splash is a low-impact workout that's a lot of fun. If you can't swim, don't worry. This aquatic workout keeps you in the shallow end and uses basic aerobic moves to increase agility, flexibility and cardiovascular endurance. You'll also use a kickboard to develop muscle strength, balance, and coordination. If you want an out-of-the-box exercise experience, this is the perfect class to attend. (Time: Contact Bethlehem Township Parks and Recreation for more information.)
Zumba Gold - Zumba is one of the most popular workouts today for people of all ages, and if you've ever been to a Zumba session, you know why. This is a dance-based aerobics class that's just as fun as it is beneficial. This Zumba class is designed specifically for seniors and offers a lower intensity workout than the more challenging classes. Dancing will get your heart rate up and help to improve your balance. You'll be having so much fun that you won't even feel like you're working out. (Time: Friday all year from 11:45 a.m. to 12:45 p.m.; Wednesday from Labor Day to Memorial Day from 1:00 p.m. to 1:45 p.m.)
Lehigh Valley Active Life
Lehigh Valley Active Life is a center where senior members can tap into a wealth of health and fitness opportunities. For seniors who want plenty of opportunities to socialize, this community center, a short drive from Bethlehem, is a great place to connect with others and try new things. A lifetime membership is $150, and a regular membership is only $25.
One of the greatest benefits of becoming an Active Life member is the access to a variety of classes at different levels of impact. Some of the valuable classes LVAL offers include:
Dance Classes and Dance Nights
You can attend Wednesday afternoon dance classes twice a month (usually the first and third Wednesday). You can also go to Saturday night dances three times a month. For a small cover charge, you can enjoy hours of dancing and free refreshments. It's the perfect way to connect with other seniors in the Lehigh Valley area and stay active.
Aerobics and Strength Training
Bands, Bell and Balls - Using resistance bands, free weights, and medicine balls, you can build your muscular strength, increase your range of motion, lose weight, and improve balance. (Contact LVAL for class times.)
Strength Training - This SilverSneakers Muscle Strength and Range of Movement class helps with general fitness, like staying in shape, increasing flexibility, and enhancing balance. It can also help seniors heal from injuries as they work at their own pace and within their own physical limits. (Contact LVAL for class times.)
Low-Impact Aerobics - Aerobics is perfect for losing weight and burning calories, but you don't want to strain yourself too much. This low-impact aerobics class is ideal for adults over 55. (Contact LVAL for class times.)
Pickleball - Pickleball is a fun alternative to traditional workouts. If you've ever played tennis, racquetball, or ping pong, Pickleball can be a great choice for you. (Time: Beginner Lessons - Wednesdays at 4:00 p.m.; Court is available Tuesday and Thursday from 4:00 p.m. to 5:30 p.m.)
Lap Swimming and Water Aerobics - Seniors can visit the Muhlenberg College pool to swim laps and enjoy the indoor, warm water. (Time: Monday, Wednesday, and Friday from 10:00 a.m. to 11:00 a.m.)
Zumba Gold - LVAL also offers a Zumba Gold class, ideal for seniors. (Contact LVAL for class times.)
Yoga
Ashtanga Yoga - These classes combine a number of different yoga practices and techniques to provide a holistic approach to improving everything from balance to fall prevention to digestion and more. You can practice at your own pace to ensure you're comfortable. (Contact LVAL for class times.)
Gentle Yoga - This Gentle Yoga course is a therapeutic, beginner class with calming, basic yoga poses. (Contact LVAL for class times.)
Gentle Chair Yoga - Chair yoga is perfect for all seniors. You don't have to sit on the floor or exert yourself too much. You can use a chair to support you through the class. (Contact LVAL for class times.)
Tai Chi
Tai Chi Exercise - Do you want the beneficial meditative qualities of traditional Tai Chi while still getting your blood flowing? Tai Chi Exercise coordinates breath and movement to increase strength. (Contact LVAL for class times.)
Traditional Tai Chi - Tai Chi uses flowing movements to improve balance, coordination, joint health, and mental calmness. Movements used in Tai Chi classes can be modified to accommodate any level of mobility. (Contact LVAL for class times.)
With the right class, you can stay healthy and enjoy interacting with other seniors. You can also look to local senior communities like Kirkland Village for an environment that promotes healthy senior living. At Kirkland Village, you can engage with other seniors, participate in fitness classes, and still have access to the benefits of independent living.
---
Want to learn more about the benefits of a senior living community? Schedule your visit now.