Searching for the right senior living community for your loved one can be difficult, especially if you've suddenly found yourself in the position to make the decision or if you're just starting your search. There are a lot of terms thrown around for each type of care or service offered at different communities, and they can get confusing. But there's one term you've probably come across a few times that tends to be more confusing than others: Personal Care.
Quincy Village, a Presbyterian Senior Living (PSL) continuing care retirement community for seniors, is proud to announce that resident Bob Davis recently accepted the Pioneer Network and Rockport Healthcare Services Community Commitment Award on behalf of Quincy Village on September 3.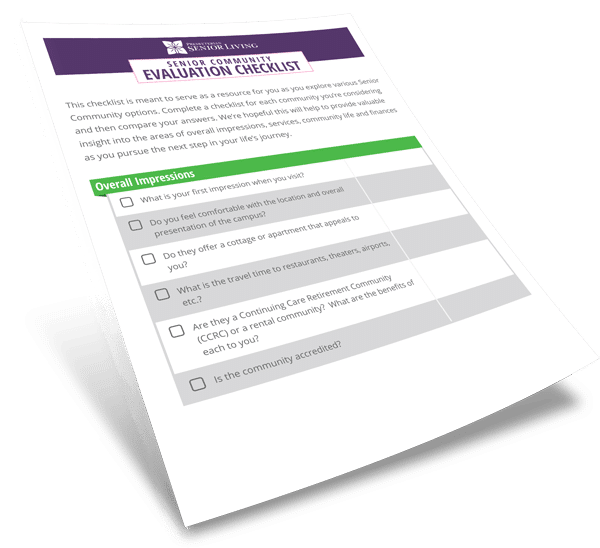 Are You Asking the Right Questions?
Subscribe to the Presbyterian Senior Living blog and receive our free Community Evaluation Checklist to ensure you ask what's most important to you.
Getting a call that your mom or dad is in the hospital is usually not something you want to have happen. If it's unexpected, you can have a million thoughts flying through your mind at once. Questions about what happened, how serious it is, or what might come next will likely come to mind. With all this initial confusion, it's possible you might forget something important in your rush to the hospital. Knowing what to bring and what calls to make ahead of time can help you stay calm and focus on what's really important: your loved ones.
Suffering from a urinary tract infection at any age is a painful and unpleasant experience. But for seniors — and especially those with dementia — UTIs can result in additional, serious health concerns.
Technology use among seniors is continuously on the rise. According to an updated poll by the Pew Research Center, adults over the age of 65 are more digitally connected than ever before. And some groups of seniors are even as connected as their under-65 counterparts. However, even with the growing tech-savvy senior population, it can be difficult to know what technology is most useful or beneficial for seniors. The following technologies can improve a senior's life in many ways, from connecting with family to helping with cognitive function.
Planning for retirement can't begin soon enough. In fact, any good professional financial advisor will strongly recommend having enough social security, pension and investment income to remain financially afloat for at least 20 years following retirement.