Scammers and fraud are nothing new, and unfortunately, they've been around for a long time. However, as technology gets more advanced and complicated, the scams people can come up with also get more complex. But even just a little knowledge can help you spot and outwit a scammer. Below are some of the most common scams, and what you should look out for in each of them.
You love your parents. You don't want anything to happen to them. When you see your mom getting behind the wheel, you feel scared every time she heads out to run an errand. What if she misses a red light? Or doesn't hear a siren coming up behind her?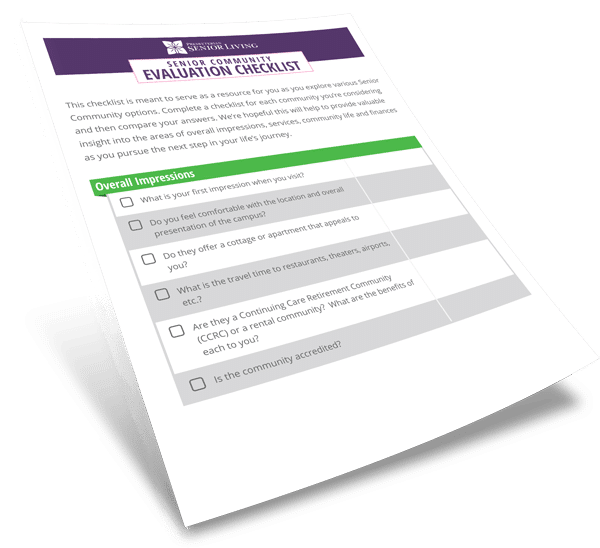 Are You Asking the Right Questions?
Subscribe to the Presbyterian Senior Living blog and receive our free Community Evaluation Checklist to ensure you ask what's most important to you.
February is American Heart Health Month, but it's important to remember the benefits of keeping your heart healthy all year long. The goal of American Heart Health Month is to save lives by preventing one million heart attacks and strokes in the U.S. by the year 2117. As you'll see, maintaining a healthy heart is incredibly important. But thankfully, it's also relatively easy.
It has been well publicized in recent years that a sedentary lifestyle can increase the likelihood of adverse medical conditions. Some of these conditions include diabetes, heart attack, certain cancers, stroke, cognitive decline, and osteoporosis.
Christmas is celebrated in various ways throughout the United States— every family has unique traditions they follow each year.
Caregiver Support | Health & Aging
Often times, seniors need extra attention during winter because they are especially vulnerable to colder temperatures, slipping and falling on snow or becoming homebound and isolated. By implementing winter preparation strategies before snow and frigid temperatures settle in, you can keep your aging loved one safe, healthy and as independent as possible in case you cannot be there when the weather is bad.