Have you been scratching your head over what to get your senior loved one for Christmas? With the holiday season right around the corner, we've compiled a list of gift ideas that are sure to satisfy those with all sorts of interests!
What Is Occupational Therapy? Occupational therapy is a treatment that teaches purposeful techniques you can use to overcome physical, emotional, or social problems experienced in the context of daily living. The techniques taught by occupational therapists benefit the whole person—body, mind, and spirit.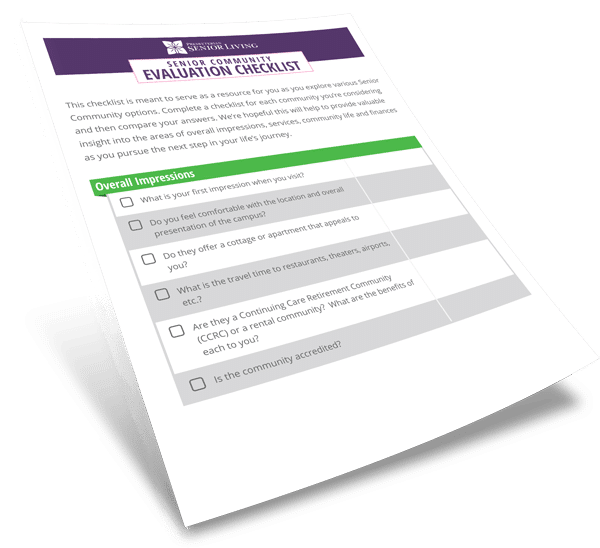 Are You Asking the Right Questions?
Subscribe to the Presbyterian Senior Living blog and receive our free Community Evaluation Checklist to ensure you ask what's most important to you.
What is meditation? Meditation is an extremely ambiguous term that we often hear thrown around frequently in our society. If you ask someone to define meditation, you are bound to get many different answers, but the central concept to take with you is that it's all about finding awareness and perspective through mindfulness. But, what is mindfulness? When you are practicing mindfulness (which I've found lends itself hand and hand to meditation) you are present, rested in the here and now, and fully engaged in the moment.
Heart disease is the leading killer of Americans, claiming more lives than all forms of cancer combined. This fact is a scary reality that far too many have to face. To start, let's talk about what coronary heart disease is.
Reasons to move your senior loved one into a nursing home can vary from high and low. For whatever reason you have chosen to seek out a nursing home for your senior loved one, it is important to know that you are moving them into a place where they will get the best care possible.
Caregiver Support | Health & Aging
As summer is in full swing and the outside temperature heats up, it's a perfect time to start talking about preventing dehydration throughout the summer months. Older adults face an increased risk of dehydration due to reduced ability to conserve water, a decrease in thirst, and a decreased daily fluid intake. Chronic illnesses and medication use increase risk as well, so seniors suffering from diabetes or dementia or taking certain medications may be at higher risk of dehydration.