Subscribe
Your Senior Holiday Gift Guide
Have you been scratching your head over what to get your senior loved one for Christmas? With the holiday season right around the corner, we've compiled a list of gift ideas that are sure to satisfy those with all sorts of interests!
---
Techie Ted
Do you have a senior in your life who loves tech? If the person you are shopping for has a smartphone, order them a personalized phone case with their favorite photo on it! Whether the case features family, a pet, or their favorite item, this gift will allow them to bring fond memories with them everywhere they go!
If the senior you're shopping for loves to take pictures and might be ready to take it up a notch, try the Canon Powershot G7 X Mark II. This camera offers high quality with an easy-to-use interface. The small size of this camera also makes it easy to take on the go.
Another good gift for a techie (and maybe sometimes forgetful) senior is the Tile Mate. The Tile Mate connects to a smartphone and can help you find lost items. Can't find your keys? Grab your smartphone and ring the Tile Mate and the sound will lead you right to its location!
---
Foody Fran
If the senior you are shopping for spends a lot of the time in the kitchen, these gifts are great options! For a personalized touch, order a customized cutting board. You can get a family recipe, family name, or whatever else you want to be inscribed on a variety of cutting board shapes.
When you spend hours on your feet in the kitchen, it can wreak havoc on your joints. For the senior who spends hours each week in the kitchen, look into gifting a GelPro Elite floor mat. These anti-fatigue mats were designed for those who suffer from back, hip, leg or foot discomfort or anyone who wants to enjoy what they do while standing on hard flooring.
Another idea to spice up the kitchen for a cooking lover is to gift a ceramic KitchenAid mixing bowl. Many people who spend time in the kitchen own a KitchenAid mixer that comes with standard stainless steel or glass bowls. They make a variety of fun and decorated bowls that will add a flare to the kitchen counter and would make a great gift for a loved one!
---
Crafty Carol
There are lots of options when shopping for a crafty senior this Christmas season, but these three are great for many types of crafting! If the person you are shopping for crafts with a wide variety of small materials, a storage solution would be a great gift! This practical gift will allow your avid crafter to get organized and they will thank you for it!
The next gift that could be great for the crafter in your life is a workstation table. This table from Studio Designs provides three drawers, an adjustable working surface, and lower storage at an affordable price!
If the senior you're shopping for does a lot of painting or canvas work, it's safe to say they could always use more canvases! Try gifting a variety pack of canvases to make sure they have plenty of supplies to last them far into the new year.
---
Bookworm Brian
If the senior you're shopping for is a lover of all things books, try some creative gifts this Christmas season. To bring out those nostalgic scents of spending hours turning pages, gift a old book scented candle! This is an easy gift that any book lover will appreciate!
If you want to buy the bookworm in your life a new book, but don't know where to start, consider gifting them a subscription to Scribd! This is a gift that keeps on giving, as a subscription provides unlimited access to books, audiobooks, and documents so they will never run out of new things to read. Just make sure the person you are gifting this to has a smart device that they can read or listen to books on.
A fun and inexpensive gift idea for a book lover is a finger pointer bookmark! This silly little gift is also equally practical, as it allows you to mark exactly where on the page you left off.
---
Trendy Theresa
If the senior you're shopping for loves to keep up with the latest trends, here are some great gift ideas to get you started! For a sentimental touch, gift a customizable birthstone necklace. Danique Jewelry offers a fully customizable necklace with options for metal type, number and type of birthstones, chain type, chain length and clasp choice. Include the birthstones of all of your family for a gift anyone is sure to love!
If you're looking for an inexpensive gift to get the senior woman in your life, look into a silk neck scarf! There are hundreds of pattern options and sizes out there that can be worn in a wide variety of ways to spice up any outfit!
For a more practical gift for the senior fashionista in your life, try buying a quality pair of winter fashion boots. Eddie Bauer's Lodge Boot offers both style and comfort for those that need great support in their shoes.
---
Animal Lover Anne
If you are shopping for an animal lover this Christmas season, you're in luck! There are a lot of products on the market that a great for animal lovers of all types.
Consider gifting a set of animal themed ring holders. These whimsical trinkets are cute and add spunk to any surface! Ring holders come in a wide variety of styles from foxes to cats and everything in between.
If the senior you're shopping for has a pet they particularly adore, think about getting them a custom pair of socks with a printed image of their best buddy on them! When the recipient goes to slide these on they will love to know their pet is always with them wherever they go!
Another option is to get a mug with a illustrated version of your loved one's pet. This gift serves well for both animal and coffee/tea lovers!
---
Mixologist Michael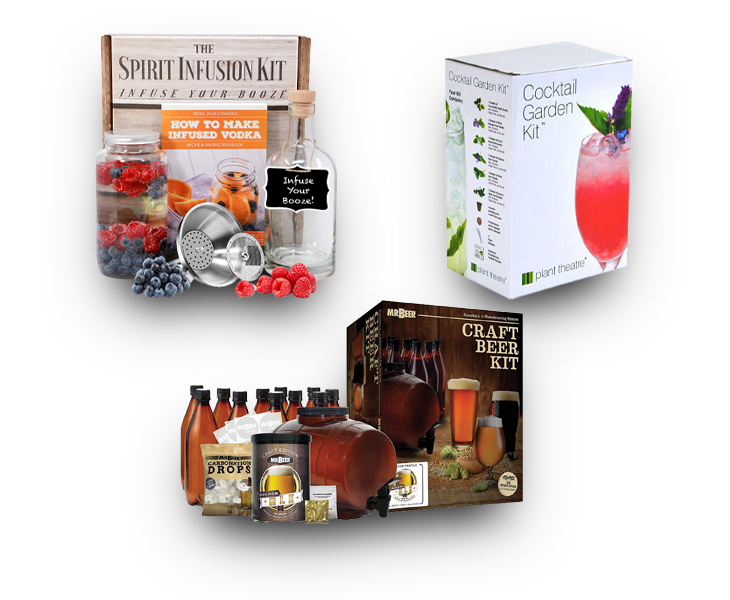 If the senior you're shopping for loves to dabble in mixology, consider gifting them a do-it-yourself kit. For the spirit lover, check out gifting a spirit infusion kit, designed to allow them to create their own custom flavors to incorporate into their favorite cocktails!
For those mixologists with a green thumb, check out a cocktail garden kit to make sure their drinks have fresh herbs all year round.
Does the senior you're shopping for love beer? Consider gifting them a craft beer kit to create a custom beer they can enjoy and share with their friends.
All three of these options not only provides customizable drink elements but also let's the recipient enjoy an interactive activity!
---
Gamer Gary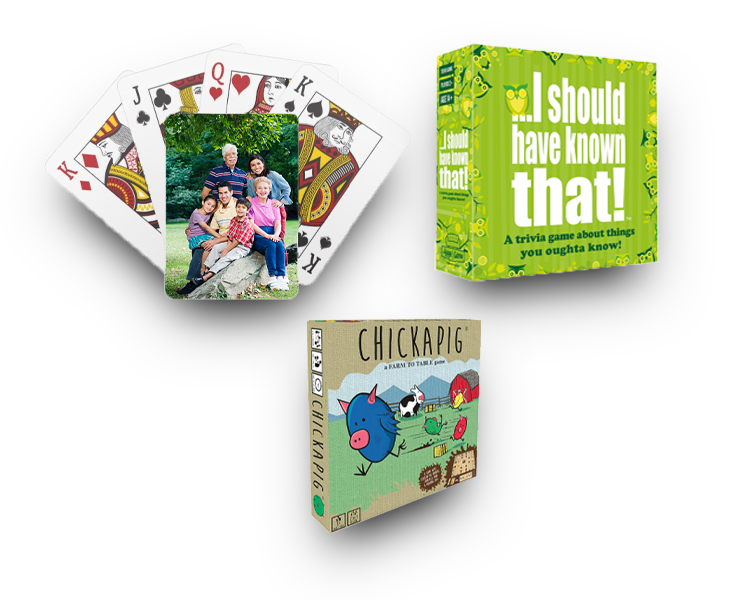 Many people absolutely love to play games. If you're shopping for a senior who enjoys playing cards, check out ordering a customized deck of cards. Whether you upload a family photo or the logo of their favorite sports team, this gift is sure to be a hit!
Shopping for someone who always loves to share fun facts? Gift the ... I Should Have Known That! game so they can test out all that they know and add some more fun facts to their repertoire. This gift is a fun game that can grow their knowledge base while allowing them to connect with friends and family.
If you're looking for an out-of-the-box gift to give your game-loving senior this season, check out Chickapig! This game developed in partnership with Dave Matthews takes a hybrid spin on the traditional games of checkers and chess with a farming theme. With almost 5-stars on Amazon, this game is sure to be a hit.
---
Traveling Tom
Many seniors spend lots of time traveling, whether it be to visit family, to work/ volunteer, or just to explore the world! If the senior you're shopping for this season spends ample time traveling, look into gifting an ultra-light suitcase. IT Luggage sells a suitcase weighing only 4 pounds with 8 wheels, making it easy to maneuver 360 degrees without strain.
Another must-have for any type of travel is a high-quality neck pillow. Sleep Number makes an extremely high-quality neck pillow designed with travelers in mind. Gift this memory foam and down alternative filled pillow and let the recipient toss their old airport brand travel pillow.
Traveling can be exhausting for anyone, so think about gifting a cane-walking seat to the jet setter in your life this season. This item is low profile so it's easy to navigate around an airport or train station and provides a place to sit at any time so you can rest your joints.
---
Fitness Faye
If the senior you are shopping for loves fitness, then we have some great options for you! To provide an all-inclusive at-home exercise machine, check out ordering a Chair Gym. This piece of equipment provides so many options for resistance exercise for all activity levels. It is also a less expensive alternative to buying large pieces of gym equipment and is portable and collapsible so it won't take up much room!
Another great gift for those seniors looking to stay fit is a portable desk cycle. These compact exercise machines allow you to stay moving while watching movies, reading a book, or getting some work done! This is also an excellent alternative to purchasing a much pricer indoor cycle machine and serves the same purpose.
If the senior you are shopping for experiences pain in their hands or wrists, this gift is the one for them! This healthy hand therapy kit provides equipment and exercises to combat and prevent arthritis in the hands, a common problem that many seniors face.
---
Cozy Carla
If the person you are shopping for loves being cozy, a great gift would be a heated blanket! There are tons of heated blankets on the market with a wide variety of colors and patterns to suit the taste of whoever you're shopping for. Heated blankets are great for taking the chill out of a cold winter night!
A great way to keep your senior loved one cozy is to gift a pair or two of gripped socks! Check out this set from Amazon that includes a stylish design while remaining practical with the grippers on the bottom, keeping your loved one safe on slippery floors.
Another awesome Christmas gift option for the cozy-obsessed senior is a wax warmer with the snuggly sweater wax cubes from Target. Wax warmers are a safer alternative to candles with an open flame and do a great job of filling your home with your favorite scent. The snuggly sweater scent from Target features comforting notes of warm wool wrapped around lavender and rose as it rests on a base of white amber, vanilla and musk. This perfect combination will make you want to snuggle up with a good book all day long.
---
Gardener Glen
Do you have a senior in your life who loves to garden? Consider ordering a compost bin to allow them to not only reduce food waste, but reuse it to fertilize their own garden! This is an extremely practical gift for the gardener in your life.
Another great gift for a gardener is a garden kneeler seat. Songmics makes a collapsible garden seat that can be used in a kneeling or seated position to ensure comfort no matter what the garden task. This seat also comes with storage to carry all of the needed garden tools.
Even if you live in an area where the winter months get very cold, that doesn't mean that gardening has to stop. Consider gifting a tabletop sunlite garden to allow the gardener in your life to practice their trade all year round! This fun component will also bring some green into the kitchen during those cold winter months!
---
The Christmas season is a time for giving, but that doesn't mean you have to spend money. If you are unable to purchase loved ones monetary gifts, spend some quality time with them! Your time is just as valuable and creating memories that will last is priceless.
In addition to spending time with your senior loved one, the winter months are especially important to keep your loved ones safe. For more information on how to prepare your aging loved one for winter, download our free eBook today!