Subscribe
5 Life-Altering Effects of Occupational Therapy for Seniors
What Is Occupational Therapy?

Occupational therapy is a treatment that teaches purposeful techniques you can use to overcome physical, emotional, or social problems experienced in the context of daily living. The techniques taught by occupational therapists benefit the whole person—body, mind, and spirit.
For people over the age of 55, occupational therapy proves to be a meaningful form of therapy—maximizing quality of life for those who choose to reap its benefits. From improving cognitive function to strengthening coordination, balance, and physical ability, occupational therapy can help adults overcome many of the debilitating problems that arise with older age.
According to the American Occupational Therapy Association (AOTA), occupational therapy can slow the aging process, improve overall health, and is helpful in preventing senior falls. In addition, when made part of chronic care management for persons with traumatic brain injury, multiple sclerosis, spinal cord injury, diabetes, autism, and stroke, occupational therapy greatly improves health outcomes.
5 Life-Altering Effects of Occupational Therapy for Seniors

1. Occupational therapy is different from physical therapy.

In contrast to physical therapy that treats actual impairments, occupational therapy focuses on treating impairments in daily living situations. Occupational therapists (OTs) and physical therapists (PTs) can work together to help a person fully recover from debilitating problems they may face.
2. Occupational therapy can help improve social engagement.
As we age, there are definite changes in how we cope with life events. Finding meaning in life and the things we once loved to do tends to diminish in our later years. From travel desires to interests in hobbies and educational goals, occupational therapists can help you regain your vigor for life by providing suggestions that can help you improve social engagement.
3. Occupational therapy can help improve self-care.
Whether it's personal hygiene or managing finances, occupational therapists can help you carry out everyday tasks—teaching you effective organizational skills like the use of lists to help aid in memory recall. For people living with mental health disorders, Parkinson's disease, or depression, occupational therapy has been proven to increase quality of life, making it easier to perform activities of daily living (ADL).
4. Occupational therapy helps seniors age-in-place.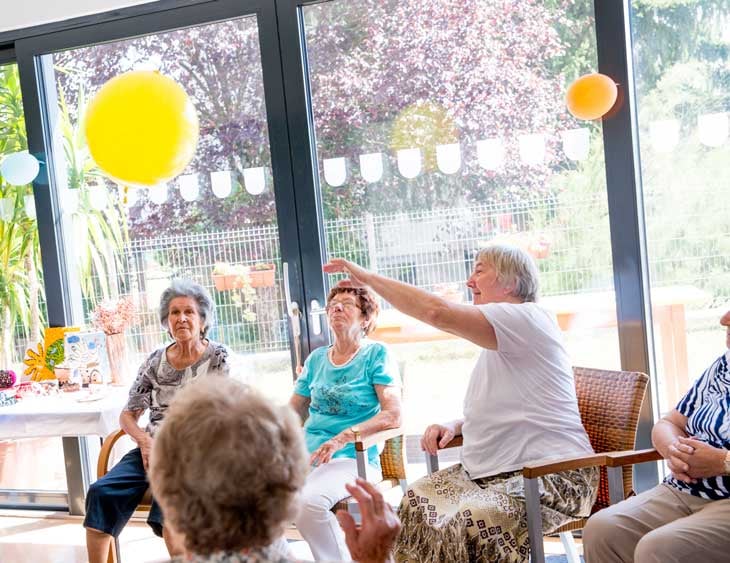 Alzheimer's and other forms of memory impairment can impact how a person functions in their environment. Occupational therapists play a valuable, much-needed role in helping people with Alzheimer's disease live productive lives. Occupational therapists can assess an individual's ability to complete routine tasks and provide suggestions for adapting the environment to meet their needs. Incorporating assistive devices such as a grab bar or user-centered technology that encourage finger dexterity and fine motor skills, occupational therapists can work with seniors and their caregivers to eliminate environmental hazards and social constraints.
5. Occupational therapy assists caregivers.
Occupational therapists can help alleviate the pressures caregivers feel when it comes to helping loved ones maintain active and independent lives. Because occupational therapists work one-on-one with patients—developing a care plan to meet their individual needs—caregivers will no longer feel the strain of having to manage a loved one's care on their own. After assessing the environment, an occupational therapist can develop a plan to mitigate some of the day-to-day challenges seniors may face—giving caregivers a much-needed respite break. With less focus on core caregiving responsibilities, caregivers are able to make better-informed decisions about their loved one's care, which gives them more time to enjoy life.
How We Can Help

Although everyone defines health differently, one thing remains the same; we all want to continue doing the things we love—well into our later years. Occupational therapy, combined with other supportive care services to help seniors age-in-place, contributes to a person's overall quality of living.
The communities of Presbyterian Senior Living can help you live life to its fullest. Located throughout the mid-Atlantic region of Pennsylvania, Maryland, Delaware, and Ohio, we offer not only occupational therapy but a full range of supportive care services for seniors and their caregivers.
---
Use our interactive community chooser to find a community that best fits your needs!