Subscribe
Fall Prevention: Is there a Magic Bullet?
Exercise has long been recognized for a wide array of health improving benefits. From lowering your risk for developing diabetes, heart disease, or cancer to improving bone density, mental performance exercise has also been proven to be one of the best preventative health treatments available. According to Frank Hu, Associate Professor of Nutrition and Epidemiology at the Harvard School of Public Health, "The single thing that comes close to a magic bullet, in terms of its strong and universal benefits, is exercise."

It is also no secret that for many older adults, experiencing a fall is a major concern for several reasons. According to the Center for Disease Control, among older adults aged 65 or over, falls are the leading cause of fatal and non-fatal injuries, and one out of three older adults experience a fall each year.
Even for those who are not physically injured during a fall, a debilitating fear of falling may develop in response to a fall. This fear can have a cascading effect; individuals may limit their activities of daily living, which may lead to inactivity, reduced mobility and a loss of physical fitness. All of these things combined can increase an individual's actual risk of falling.

For those who are concerned with maintaining their independence, it turns out that the magic bullet for fall prevention may be as simple as getting out and going for a walk.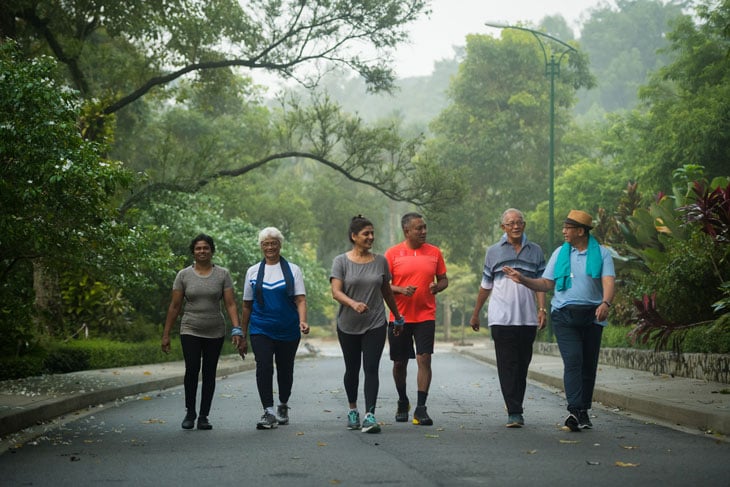 In a study published in Geriatrics & Gerontology International, researchers in Japan studied 90 older adults over 16 months to examine the effects on an individual's balance when they participated in either a walking-based exercise program or a balance and strength training based exercise program.
The researchers found that the individuals who participated in the walking exercise program had a significant reduction in their risk of falling compared to those who participated in the balance and strength training program.

However, the researchers cautioned that because walking may induce more trips, walking should not be recommended for older adults who are susceptible to falling or frailty. For those individuals who are frail or at high risk for falling they should seek the guidance of a physical therapist or an exercise professional.

A great alternative to walking or traditional strength training that can also provide a wide array of benefits is tai chi.

Tai chi—a gentle form of martial arts combining deep, diaphragmatic breathing and flowing, and dancelike poses—can be a very effective workout for people of many ages. In various recent studies and reviews, tai chi has been found to improve individuals' balance, leg strength, cardiovascular endurance, pulse rate, muscular flexibility, immune system response, sleep habits, happiness, sense of self-worth, and ability to concentrate and multitask during cognitive tests.

In a study published in Frontiers in Aging Neuroscience, researchers in China compared the brains of older adults who had been practicing tai chi for several years with the brains of similarly aged sedentary older adults. The tai chi participants showed greater connectivity and other measures of health in portions of the brain known to be involved in decision-making and attention then the volunteers who had never done tai chi.

Another study conducted by researchers at the University of North Carolina Chapel Hill School of Medicine looked at the effectiveness of the Arthritis Foundation's Tai Chi for Arthritis program in providing relief to individuals with various types of arthritis. Those who participated in an eight-week session that included two classes per week showed moderate improvements in pain, fatigue, and stiffness. They also had an increased sense of well-being, improved reach, and enhanced balance. From this, one may ascertain that tai chi may help prevent senior falls.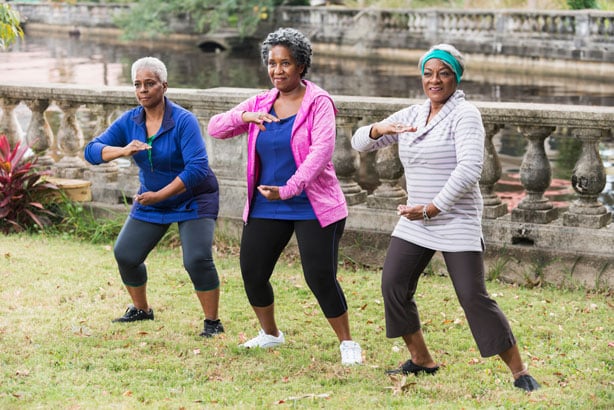 Similarly, in a study published in The New England Journal of Medicine, researchers at Tufts Medical Center in Boston found that after 12 weeks of tai chi, patients with fibromyalgia did significantly better in measurements of pain, fatigue, physical functioning, sleeplessness, and depression than a comparable group given stretching exercises and wellness education. Tai chi patients were also more likely to sustain improvement three months later. Overall, tai chi "can improve both physical and psychosocial health," said Dr. Chenchen Wang, the director of the Center for Complementary and Integrative Medicine at Tufts Medical Center.

Scientists, however, haven't yet determined whether tai chi is substantially better for you than other types of light-to-moderate exercise such as walking, yoga, or weight training. Comparative effectiveness studies pitting the activities against one another are limited and more research is needed. Nonetheless, tai chi is better than no or very light activity. "Our work does suggest that Tai Chi produces far better outcomes compared to low-impact activities such as stretching," says Dr. Wang.
---
Many senior living communities, YMCAs, and martial art centers nationwide offer low-cost classes. For more information on finding a senior friendly fitness center, download out free checklist!