Active Aging Week was October 5-11, 2020. It is an international celebration of active lifestyles organized by the International Council of Active Aging (ICAA.) This week-long celebration occurs annually and Presbyterian Senior Living (PSL) has participated for the past 8 years.
Suffering from a urinary tract infection at any age is a painful and unpleasant experience. But for seniors — and especially those with dementia — UTIs can result in additional, serious health concerns.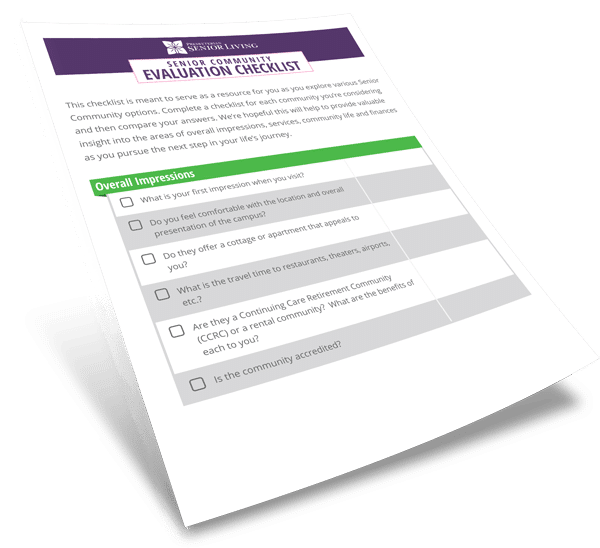 Are You Asking the Right Questions?
Subscribe to the Presbyterian Senior Living blog and receive our free Community Evaluation Checklist to ensure you ask what's most important to you.
Technology use among seniors is continuously on the rise. According to an updated poll by the Pew Research Center, adults over the age of 65 are more digitally connected than ever before. And some groups of seniors are even as connected as their under-65 counterparts. However, even with the growing tech-savvy senior population, it can be difficult to know what technology is most useful or beneficial for seniors. The following technologies can improve a senior's life in many ways, from connecting with family to helping with cognitive function.
Health & Aging | Personal Care/Assisted Living
Have you found yourself suddenly faced with the decision of having to choose a long term care facility for mom or dad? With so many options and so little time, how does one decide what's best for their current situation?
Living a life in which you are steadily suffering from hearing loss can be difficult. No longer being able to hear the voice of the one you love, or the voice of your children can be heartbreaking. Part of keeping yourself healthy in your senior years is ensuring that your hearing is also in check. Many seniors deny their hearing loss and put off getting their hearing checked which in turn, can prolong the effects of hearing loss.
Maintaining a healthy weight is not only more challenging, but even more important as we age. You can support your aging loved one's health and continued independence by supporting healthy lifestyle choices.