As the COVID-19 vaccine becomes more available to the staff and residents we serve, it is important to understand the facts. Below are some common questions and misconceptions that are answered by the Centers for Disease Control and Prevention (CDC).
Caregiver Support | Health & Aging
Often times, seniors need extra attention during winter because they are especially vulnerable to colder temperatures, slipping and falling on snow or becoming homebound and isolated. By implementing winter preparation strategies before snow and frigid temperatures settle in, you can keep your aging loved one safe, healthy and as independent as possible in case you cannot be there when the weather is bad.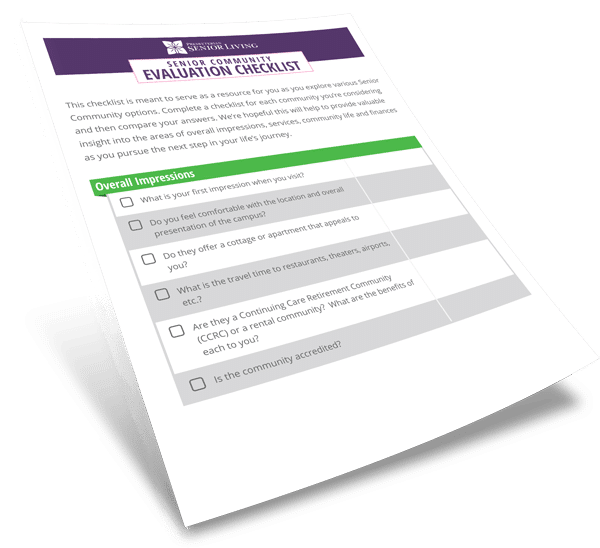 Are You Asking the Right Questions?
Subscribe to the Presbyterian Senior Living blog and receive our free Community Evaluation Checklist to ensure you ask what's most important to you.
In accordance with CDC guidance, PSL is reminding all staff and residents to consider how your holiday plans can be modified to reduce the spread of COVID-19 to keep your friends, families, and communities healthy and safe.
Health & Aging | Housing & Development
PSL is pleased to provide Compassionate Touch® during this pandemic to reduce resident loneliness, build relationships, and enhance engagement. Compassionate Touch® is an evidence-informed approach combining skilled touch with compassionate presence to enhance quality of life.
Active Aging Week was October 5-11, 2020. It is an international celebration of active lifestyles organized by the International Council of Active Aging (ICAA.) This week-long celebration occurs annually and Presbyterian Senior Living (PSL) has participated for the past 8 years.
Suffering from a urinary tract infection at any age is a painful and unpleasant experience. But for seniors — and especially those with dementia — UTIs can result in additional, serious health concerns.