Health & Aging | Personal Care/Assisted Living
Have you found yourself suddenly faced with the decision of having to choose a long term care facility for mom or dad? With so many options and so little time, how does one decide what's best for their current situation?
Living a life in which you are steadily suffering from hearing loss can be difficult. No longer being able to hear the voice of the one you love, or the voice of your children can be heartbreaking. Part of keeping yourself healthy in your senior years is ensuring that your hearing is also in check. Many seniors deny their hearing loss and put off getting their hearing checked which in turn, can prolong the effects of hearing loss.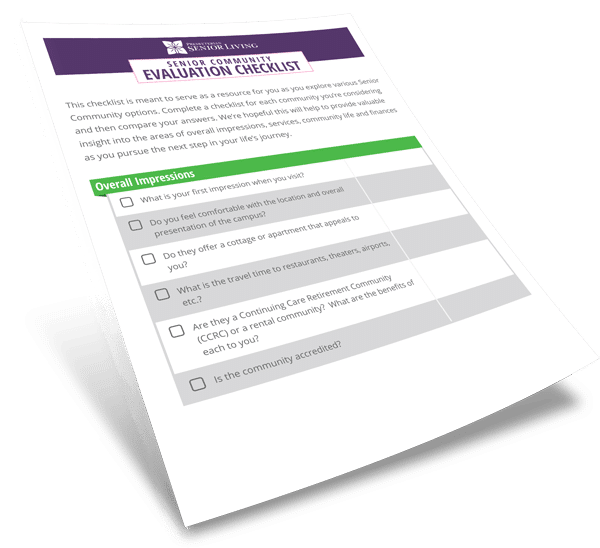 Are You Asking the Right Questions?
Subscribe to the Presbyterian Senior Living blog and receive our free Community Evaluation Checklist to ensure you ask what's most important to you.
Maintaining a healthy weight is not only more challenging, but even more important as we age. You can support your aging loved one's health and continued independence by supporting healthy lifestyle choices.
Caregiver Support | Health & Aging
With summer right around the corner, and many people spending lots of time outdoors, it is important to keep your health in mind. Summer is a time for the outdoors, but it can be easy to fall victim to heat-related health issues if you're not careful. The good news is there are a few summer safety tips you can follow to make sure that doesn't happen.
CCRC | Health & Aging | Miscellaneous
With the current COVID-19 pandemic taking over our lives, it has becoming increasingly difficult to see friends and family, and find things to keep us occupied. This is when technology becomes your best friend! Here are some ways to use technology to help keep you occupied during the current COVID-19 regulations.
Most likely, dementia does not increase risk for COVID-19, the respiratory illness caused by the new coronavirus, just like dementia does not increase risk for flu. However, dementia-related behaviors, increased age and common health conditions that often accompany dementia may increase risk.