Health & Aging | Miscellaneous
If the term life plan community isn't familiar to you, the phrase continuing care retirement community (CCRC) might be. LeadingAge®, an association of nonprofit organizations designed to support and enhance the lives of older adults, surveyed people to see how they felt about the use of CCRC and continuing care retirement community to describe senior living. Unsurprisingly, many older adults weren't so excited about it.
Health & Aging | Miscellaneous
The upcoming holidays are eagerly anticipated seasons of the year. Many people decorate their homes with candles, twinkling lights, and fresh scented trees. It's a welcome way to gather with friends and loved ones.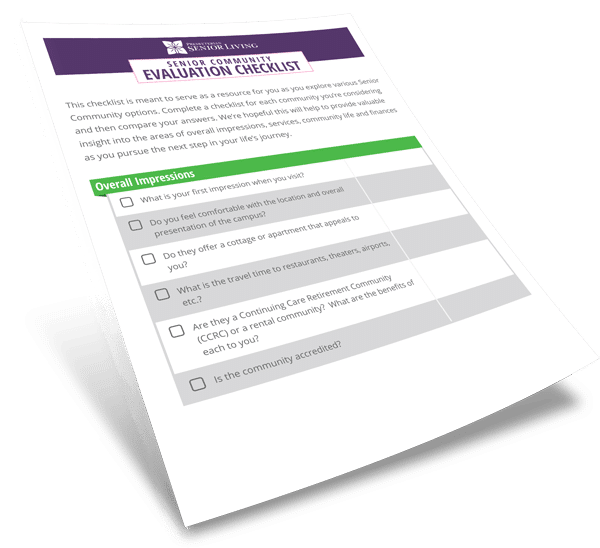 Are You Asking the Right Questions?
Subscribe to the Presbyterian Senior Living blog and receive our free Community Evaluation Checklist to ensure you ask what's most important to you.
Caregiver Support | Health & Aging
Halloween is a night celebrated in many neighborhoods across the country with a variety of traditions being practiced. Decorating homes and yards, hosting a block party, and donning costumes to go trick-or-treating are just a few. The festivities are usually fun for people of all ages.
A cough, fever, and body aches are telltale signs of the seasonal flu. As the world's attention remains focused on fighting the coronavirus, it's important not to forget that flu season is upon us. The flu virus may begin making the rounds in early October, though peak flu season is usually December through February.
What Is Occupational Therapy? Occupational therapy is a treatment that teaches purposeful techniques you can use to overcome physical, emotional, or social problems experienced in the context of daily living. The techniques taught by occupational therapists benefit the whole person—body, mind, and spirit.
What is meditation? Meditation is an extremely ambiguous term that we often hear thrown around frequently in our society. If you ask someone to define meditation, you are bound to get many different answers, but the central concept to take with you is that it's all about finding awareness and perspective through mindfulness. But, what is mindfulness? When you are practicing mindfulness (which I've found lends itself hand and hand to meditation) you are present, rested in the here and now, and fully engaged in the moment.