CCRC | Health & Aging | Miscellaneous
With the current COVID-19 pandemic taking over our lives, it has becoming increasingly difficult to see friends and family, and find things to keep us occupied. This is when technology becomes your best friend! Here are some ways to use technology to help keep you occupied during the current COVID-19 regulations.
Most likely, dementia does not increase risk for COVID-19, the respiratory illness caused by the new coronavirus, just like dementia does not increase risk for flu. However, dementia-related behaviors, increased age and common health conditions that often accompany dementia may increase risk.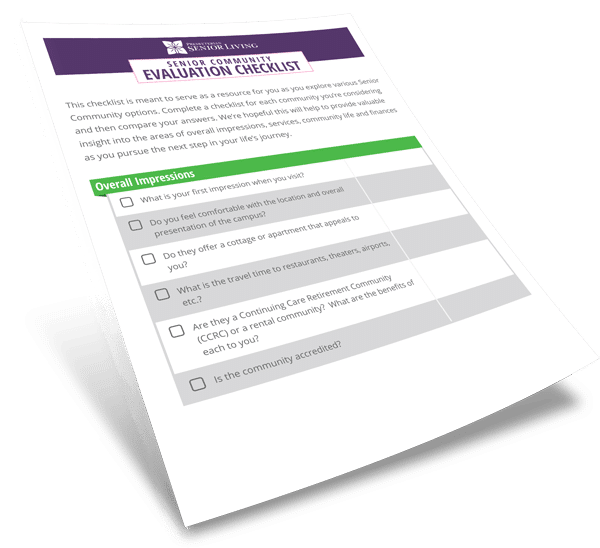 Are You Asking the Right Questions?
Subscribe to the Presbyterian Senior Living blog and receive our free Community Evaluation Checklist to ensure you ask what's most important to you.
Stress and anxiety have increased for almost everyone while we are attempting to practice social distancing and self-isolation to protect ourselves from the spread of COVID-19. Stress is a feeling of physical or emotional tension while anxiety is a natural response to stress and a feeling of fear of what is about to happen. It is important for us to remember to practice emotional self-care during these stressful times. Here are 7 ideas that can help you manage stress and anxiety while you are at home.
In the midst of the current public health emergency, it is important to stay educated and take precautionary measures to protect both you and those around you. Early data suggest older people are twice as likely to have serious COVID-19 illness. This may be because immune systems change with age, making it harder to fight off diseases and infection. Older adults also are more likely to have underlying health conditions that make it harder to cope with and recover from illness. Presbyterian Senior Living communities have implemented restrictions and procedures to help reduce the spread of this virus, but we realize that many seniors are living on their own. To help with your at-home preparedness and prevention, the following are precautionary guidelines for seniors published by the Centers for Disease Control and Prevention.
One of the biggest fears many seniors face is falling without the ability to get back up. According to the National Council on Aging, one in four Americans aged 65 or older falls each year. This statistic is one that should make seniors think more intentionally about their own balance. As we age, we lose muscle strength and joint flexibility, as well as reduced vision and reaction time. The combination of these losses creates a perfect recipe for a fall. Thankfully, there are many easy things you can do in your daily life to help reduce your risk of falling.
Anyone who's ever owned a pet knows that animals offer incomparable companionship. But they offer even more than that, particularly for the elderly. There's no better time to highlight the value of pet ownership for seniors than with today's observation of National Love Your Pet Day Let's take a closer look at why your aging loved one and a pet may be the perfect pair, along with tips for helping seniors find a Fido or Mittens of their own.