Gratitude journaling is a simple but powerful tool for promoting a positive mindset and well-being as you age. This practice packs a plethora of mental, emotional, and even physical benefits for anyone willing to pick up a pen or turn on a computer.
Caregiver Support | Health & Aging | Presbyterian Senior Living
The holidays are a time when adult children often travel home to celebrate the season with aging parents. For some families, it's the first time in months they have been together. If you've been wondering how well your loved one is managing their health and home, this visit can provide you with a low-key way to determine that firsthand.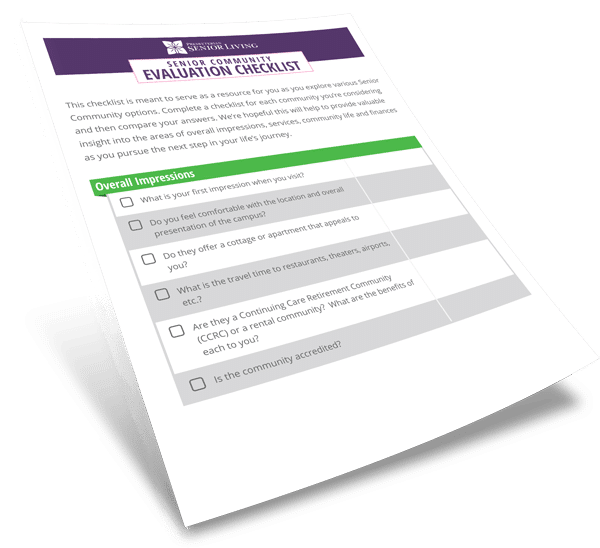 Are You Asking the Right Questions?
Subscribe to the Presbyterian Senior Living blog and receive our free Community Evaluation Checklist to ensure you ask what's most important to you.
Miscellaneous | Pine Run Village | veteran
During the Korean War, Tom Barnett, an Army draftee, received a privileged assignment. After basic training he was assigned to the 3rd Infantry Regiment at Fort Myer, Arlington, Virginia, the home for guards of the Tomb of the Unknown Soldier at Arlington National Cemetery.
Health & Aging | Miscellaneous | Presbyterian Senior Living
Prioritizing mental health and well-being is necessary for seniors to maintain a fulfilling and happy life. In recognition of the recent World Mental Health Day on October 10, Nancy Pilkington, MSW, LSW, Presbyterian Senior Living Corporate Director of Resident Services, shares three keys to mental health and well-being for seniors:
Finance & Planning | Health & Aging | Miscellaneous | Presbyterian Senior Living
The annual Medicare open enrollment period has arrived! This eight-week process begins on October 15th each year and runs through December 7th. During this time, Medicare recipients can make changes to their existing plan. If you are preparing to review your current Medicare coverage or help a parent with theirs, it's common to feel confused and unsure about how to begin.
Across Presbyterian Senior Living communities, an array of learning opportunities have taken shape over the decades, most initiated and conducted by residents. From wood shop classes to fitness opportunities, instrumental music groups to arts and crafts gatherings, a variety of chances to continue to learn abound.