With Giving Tuesday coming up next month on November 29th, we wanted to share one of the ways that Presbyterian Senior Living (PSL) supports not just the organization itself, but the people who truly make PSL what it is. Who's that, you may ask? Our wonderful staff!
Breast cancer is one of, if not the most, common types of cancer. The American Cancer Society predicted there would be about 287,850 new cases in 2022 for women alone. During the month of October, Breast Cancer Awareness Month, we want to bring up ways to help prevent the disease as well as ways to increase awareness.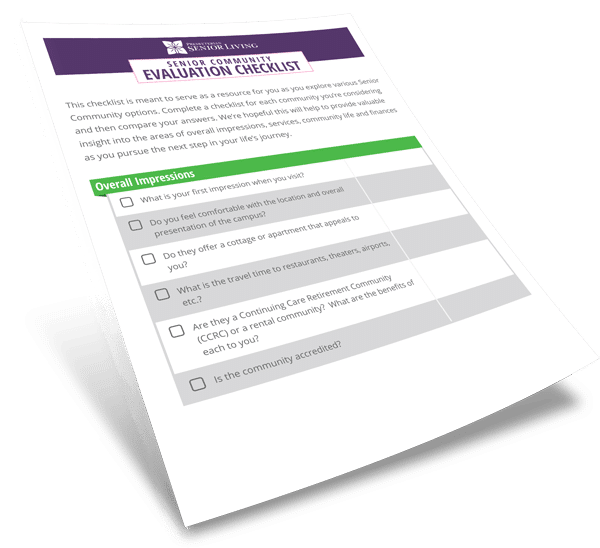 Are You Asking the Right Questions?
Subscribe to the Presbyterian Senior Living blog and receive our free Community Evaluation Checklist to ensure you ask what's most important to you.
The horrific images coming out of Ukraine over the last few months have left people around the world shocked and heartbroken, including the residents from Long Community at Highland in Lancaster, Pennsylvania. "When the war first started back in late February," explains Community Life Coordinator Connie Hazeltine, "we would talk about and pray for Ukraine and its people during our devotions."
Caregiver Support | Health & Aging
An essential component of a life plan community is compassionate memory support. When a loved one has Alzheimer's or another form of dementia, finding a care partner that understands the disease and how to promote individual success is vital.
Caregiver Support | Health & Aging
The phrase "Every minute counts" is a warning to heed if you suspect someone close to you is having a stroke. Getting immediate medical help is vital. So much so that researchers call the first hour after stroke symptoms appear the "golden hour." If a person can get to the hospital during that first hour, their chances of survival and recovery are much greater. According to the American Stroke Association, strokes are the second leading cause of death globally.
Health & Aging | Thrive Wellness
Committing to a healthy lifestyle is a goal people often set for themselves. It's not only important for looking and feeling your best, but for enjoying a longer, better quality life. Unfortunately, not many of us are able to stick with that goal despite having the best of intentions. Experts say there are many reasons why people fail and it often boils down to having clear, attainable objectives.