Caregiver Support | Health & Aging
The phrase "Every minute counts" is a warning to heed if you suspect someone close to you is having a stroke. Getting immediate medical help is vital. So much so that researchers call the first hour after stroke symptoms appear the "golden hour." If a person can get to the hospital during that first hour, their chances of survival and recovery are much greater. According to the American Stroke Association, strokes are the second leading cause of death globally.
Health & Aging | Thrive Wellness
Committing to a healthy lifestyle is a goal people often set for themselves. It's not only important for looking and feeling your best, but for enjoying a longer, better quality life. Unfortunately, not many of us are able to stick with that goal despite having the best of intentions. Experts say there are many reasons why people fail and it often boils down to having clear, attainable objectives.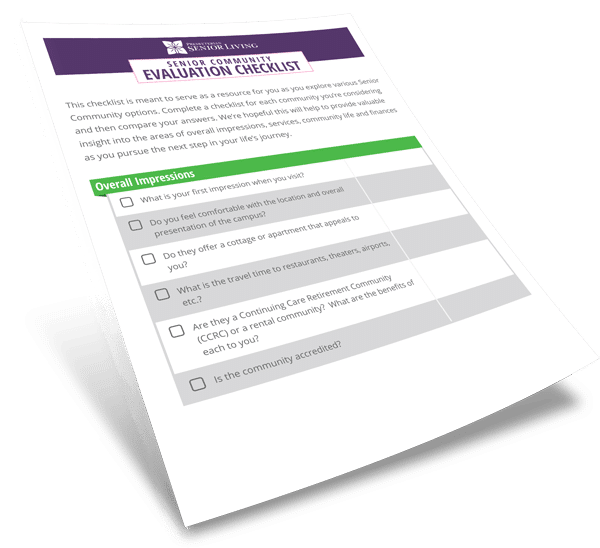 Are You Asking the Right Questions?
Subscribe to the Presbyterian Senior Living blog and receive our free Community Evaluation Checklist to ensure you ask what's most important to you.
During the COVID-19 crisis, many people turned to technology for support with necessities. From online grocery shopping to virtual physician appointments, different types of technologies made the pandemic easier to navigate. Even those older adults who were previously reluctant to embrace tech products started using video-chat services, like Zoom and Skype, to safely connect with loved ones.
Community News | Miscellaneous
There's an old saying that if you treat employees like they make a difference, they will. This is a tenet that is practiced at all Presbyterian Senior Living communities and one which leads to high team member satisfaction. But even the most loyal of employees don't usually reach the milestone one team member recently hit. After 45 years at the Ware Presbyterian Village in Oxford, Pennsylvania, Carol Carter is retiring.
Caregiver Support | Health & Aging
Since the COVID-19 pandemic required most of us to stay at home for long periods of time, there's been an increase in the number and types of businesses that deliver. From grocery deliveries to pet food supply drop-offs, we've rounded up some of the best services to support aging adults or caregivers.
Health & Aging | Miscellaneous
Baby boomers have redefined aging since the first members of this large demographic group started retiring in 2012. The term baby boomer comes from the spike in birth rates following the end of World War II. Over the last decade, almost 30 million adults born between the years 1946 and 1964 have retired.