Green Ridge Village | Miscellaneous
In celebration of National Model Railroad Month, Presbyterian Senior Living (PSL) is highlighting Green Ridge Village's Model Railroad – the Green Ridge & Big Springs HO Scale Model Railroad. Green Ridge Village along with Quincy Village and Ware Presbyterian Village all have Model Railroad Clubs for residents to participate in and enjoy.
Every year, we take the time to recognize the men and women who have bravely served our country. Did you know that currently, in the US – there are more than 11 million seniors that have served in the military, which is over 15% of the current senior population.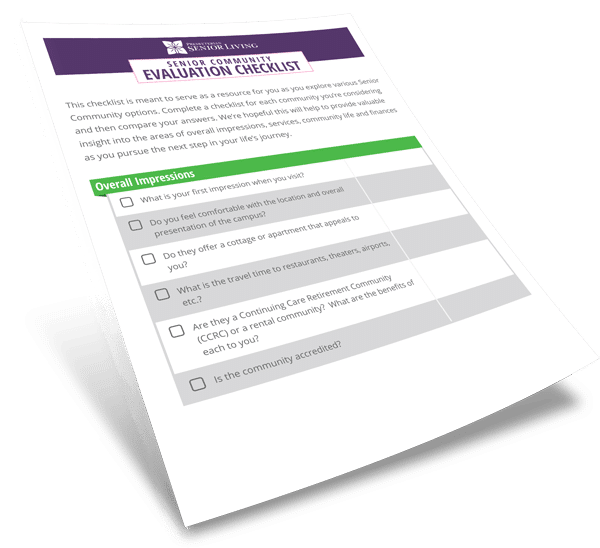 Are You Asking the Right Questions?
Subscribe to the Presbyterian Senior Living blog and receive our free Community Evaluation Checklist to ensure you ask what's most important to you.
With Giving Tuesday coming up next month on November 29th, we wanted to share one of the ways that Presbyterian Senior Living (PSL) supports not just the organization itself, but the people who truly make PSL what it is. Who's that, you may ask? Our wonderful staff!
Breast cancer is one of, if not the most, common types of cancer. The American Cancer Society predicted there would be about 287,850 new cases in 2022 for women alone. During the month of October, Breast Cancer Awareness Month, we want to bring up ways to help prevent the disease as well as ways to increase awareness.
The horrific images coming out of Ukraine over the last few months have left people around the world shocked and heartbroken, including the residents from Long Community at Highland in Lancaster, Pennsylvania. "When the war first started back in late February," explains Community Life Coordinator Connie Hazeltine, "we would talk about and pray for Ukraine and its people during our devotions."
Caregiver Support | Health & Aging
An essential component of a life plan community is compassionate memory support. When a loved one has Alzheimer's or another form of dementia, finding a care partner that understands the disease and how to promote individual success is vital.