Health & Aging | Thrive Wellness
During the month of October, residents and team members from across all PSL communities will participate in the second annual PSL Thrive Wellness Olympics.
Health & Aging | Thrive Wellness
Committing to a healthy lifestyle is a goal people often set for themselves. It's not only important for looking and feeling your best, but for enjoying a longer, better quality life. Unfortunately, not many of us are able to stick with that goal despite having the best of intentions. Experts say there are many reasons why people fail and it often boils down to having clear, attainable objectives.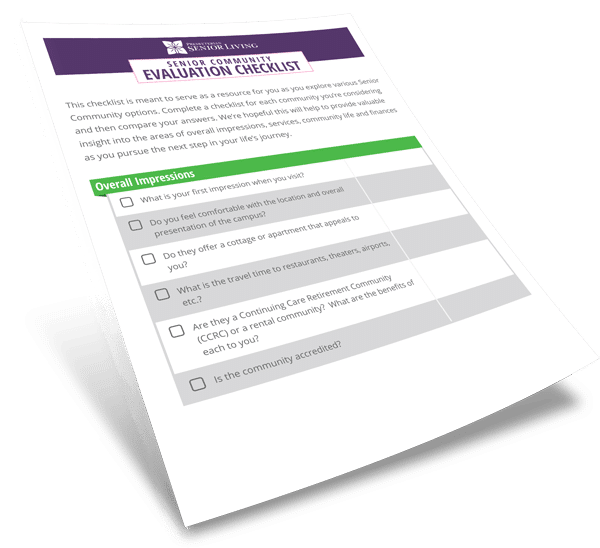 Are You Asking the Right Questions?
Subscribe to the Presbyterian Senior Living blog and receive our free Community Evaluation Checklist to ensure you ask what's most important to you.
Every August we celebrate "National Wellness Month" which focuses on self-care, stress management, and creating healthy routines. There is no better time to focus on your wellness than now.
Health & Aging | Thrive Wellness
The dog days of summer are upon us, and for many, that means spending time outside enjoying backyard BBQs and family get-togethers, pool parties, trips to the beach and outdoor sporting events. Summer is also the time of year when we are most at risk for damage to our skin and eyes from the sun's Ultraviolet rays. July is the American Academy of Ophthalmology's Ultraviolet Safety Awareness Month, and it is its mission to spread awareness about the dangers of UV rays and educate on how to protect our skin and eyes from these harmful rays.
For many of us, as the spring flowers of May start to give way to the warmer temperatures of June, our thoughts turn towards annual pilgrimages to the beach, camping trips in the woods or getaways to secluded mountain retreats. Traditionally June is a time when we turn our attention to recreating outdoors, and in 2019, the U.S. Senate officially declared June as National Great Outdoors Month.
June 21, 2022, in the northern hemisphere, marks the summer solstice, the longest day of the year. According to Britannica, "During the summer solstice, the path of the sun in the sky is farthest north in the Northern Hemisphere and travels the longest path through the sky, and that day, therefore, has the most daylight." "Each year, the Alzheimer's Association promotes the summer solstice and "The Longest Day" with the saying, "The day with the most light is the day we fight." On June 21, thousands of participants from across the world come together to fight the darkness of Alzheimer's through an activity of their choice. Together, they use their creativity and passion to raise funds and awareness for the care, support and research efforts of the Alzheimer's Association."