Caregiver Support | Health & Aging
As summer is in full swing and the outside temperature heats up, it's a perfect time to start talking about preventing dehydration throughout the summer months. Older adults face an increased risk of dehydration due to reduced ability to conserve water, a decrease in thirst, and a decreased daily fluid intake. Chronic illnesses and medication use increase risk as well, so seniors suffering from diabetes or dementia or taking certain medications may be at higher risk of dehydration.
As the weather gets warmer, people often find themselves spending more time outdoors than they did in the past months. Summer is right around the corner, which brings the promise of afternoon walks, water activities, and picnics. The opportunities are endless! With these activities also come the dangers of the sun's harmful rays. In this blog post, we look at some easy ways to protect your skin during the summer months, along with some common misconceptions about skin protection!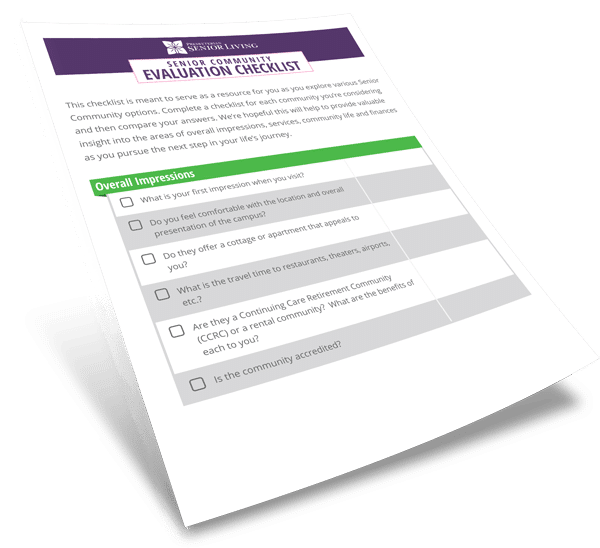 Are You Asking the Right Questions?
Subscribe to the Presbyterian Senior Living blog and receive our free Community Evaluation Checklist to ensure you ask what's most important to you.
Spring brings the promise of warmer weather, outdoor activities, chirping birds, and longer days, but with it also comes the chores you've been putting off all winter. Whether it's giving your car a deep clean or reorganizing your "junk drawer," spring is the best time to dive into your long-awaited cleaning projects and get your home feeling fresh and new. In this blog, we have compiled some helpful spring cleaning tips for seniors.
National Nutrition Month is a time to learn more about how to make informed food choices and develop sound eating and physical activity habits. Set small, realistic goals that help you make positive changes to avoid becoming overwhelmed or being too restrictive. Try the following weekly goals in your daily routine during the next 4 weeks!
February is American Heart Health Month, but it's important to remember the benefits of keeping your heart healthy all year long. The goal of American Heart Health Month is to save lives by preventing one million heart attacks and strokes in the U.S. by the year 2117. As you'll see, maintaining a healthy heart is incredibly important. But thankfully, it's also relatively easy.
It has been well publicized in recent years that a sedentary lifestyle can increase the likelihood of adverse medical conditions. Some of these conditions include diabetes, heart attack, certain cancers, stroke, cognitive decline, and osteoporosis.