Caregiver Support | Health & Aging
With summer right around the corner, and many people spending lots of time outdoors, it is important to keep your health in mind. Summer is a time for the outdoors, but it can be easy to fall victim to heat-related health issues if you're not careful. The good news is there are a few summer safety tips you can follow to make sure that doesn't happen.
With Mother's Day right around the corner, many of us are feeling disappointed about not spending Mother's Day with the moms we love most in our lives. Although you may not be able to visit the mother in your life, there are plenty of things to do virtually to make the most out of this situation and make Mother's Day as special as any other year! Check out our list below, where we've compiled five fun and unique ways to spend this holiday during such unusual times.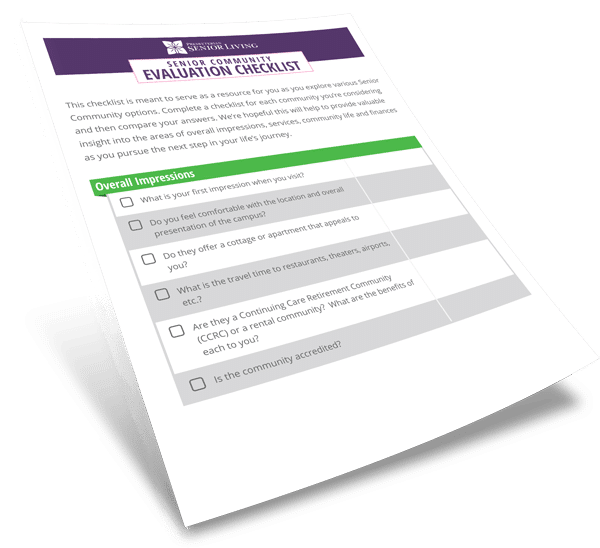 Are You Asking the Right Questions?
Subscribe to the Presbyterian Senior Living blog and receive our free Community Evaluation Checklist to ensure you ask what's most important to you.
Caregiver Support | Personal Care/Assisted Living
When my mom got diagnosed with dementia, I wasn't exactly sure what to expect when her condition got worse. In the beginning things weren't so bad, but over time it's gotten a lot more serious. I knew she was really declining about a year ago, when she got lost for the first time.
Caregiver Support | Health & Aging
As summer is in full swing and the outside temperature heats up, it's a perfect time to start talking about preventing dehydration throughout the summer months. Older adults face an increased risk of dehydration due to reduced ability to conserve water, a decrease in thirst, and a decreased daily fluid intake. Chronic illnesses and medication use increase risk as well, so seniors suffering from diabetes or dementia or taking certain medications may be at higher risk of dehydration.
Caregiver Support | Health & Aging
One in seven middle-aged adults are part of what we've frequently begun to call the "Sandwich Generation." It's a term that was first coined in 1981 by social worker Dorothy A. Miller and originally meant to describe women in their thirties and forties caring for their young children and aging parents. Fast forward some 34 years and 71% of those sandwiched between their parents and children fall between the ages of 40 and 59—consisting of both men and women caregivers.
Trusting in long-distance care for your senior loved one can be tough. How do you know your loved one will be well cared for? How do you know what questions to ask the caregiver, and how will you know if they will actually carry out you and your loved one's wishes?