Caregiver Support | Health & Aging
Often times, seniors need extra attention during winter because they are especially vulnerable to colder temperatures, slipping and falling on snow or becoming homebound and isolated. By implementing winter preparation strategies before snow and frigid temperatures settle in, you can keep your aging loved one safe, healthy and as independent as possible in case you cannot be there when the weather is bad.
Getting a call that your mom or dad is in the hospital is usually not something you want to have happen. If it's unexpected, you can have a million thoughts flying through your mind at once. Questions about what happened, how serious it is, or what might come next will likely come to mind. With all this initial confusion, it's possible you might forget something important in your rush to the hospital. Knowing what to bring and what calls to make ahead of time can help you stay calm and focus on what's really important: your loved ones.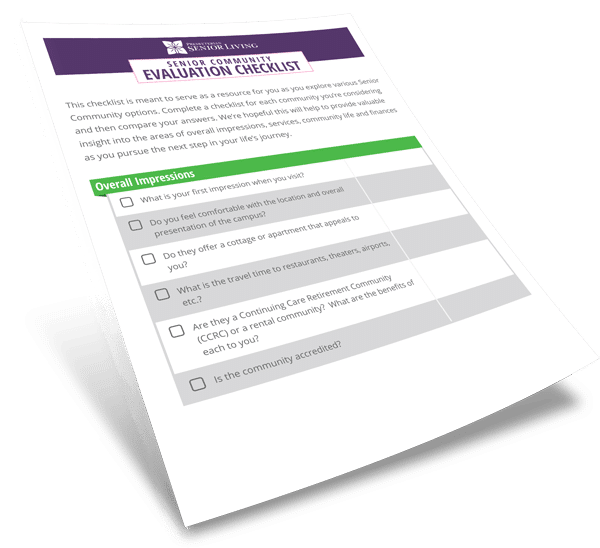 Are You Asking the Right Questions?
Subscribe to the Presbyterian Senior Living blog and receive our free Community Evaluation Checklist to ensure you ask what's most important to you.
Caregiver Support | Finance & Planning
As your parents grow older you may find yourself worrying about their financial situation. Whether it's because of declining health or because their savings are running low, these can be stressful times. But they don't have to be. There are a few simple things you can do to help your parents with their finances that can put them in a more stable situation and give you peace of mind.
Caregiver Support | Personal Care/Assisted Living
Taking on the role of caregiver for a senior loved one can be challenging. You're faced with a number of new responsibilities and unfamiliar feelings, like worrying about handling the additional obligations that come with caregiving, or fear about the future. You may feel guilt for not being able to do more or even anger and resentment towards your senior loved one.
Being a caregiver for an aging loved one can be challenging. As he or she continues to need more care, you may start scolding yourself for not spending enough time with your loved one, or for not having the energy or patience needed to give your loved one the kind of one-on-one care they require. When you are feeling exceptionally stressed, tired and worn out, you might even think your loved one is deliberately making it harder for you to care for them properly by being demanding, irritable or unreasonable.
Caregiver Support | Health & Aging
With summer right around the corner, and many people spending lots of time outdoors, it is important to keep your health in mind. Summer is a time for the outdoors, but it can be easy to fall victim to heat-related health issues if you're not careful. The good news is there are a few summer safety tips you can follow to make sure that doesn't happen.