Caregiver Support | Personal Care/Assisted Living
When a loved one is diagnosed with Alzheimer's disease, the entire family is affected. And in ways that extend far beyond providing care. From concerns about daily supervision to talking with the senior about giving up driving, families face unique challenges.
Medicare's annual open enrollment period for 2022 is almost here. This 8-week period of time gives Medicare recipients an opportunity to make changes to their current health plan coverage. The window for making changes opens on October 15 and closes on December 7 every year.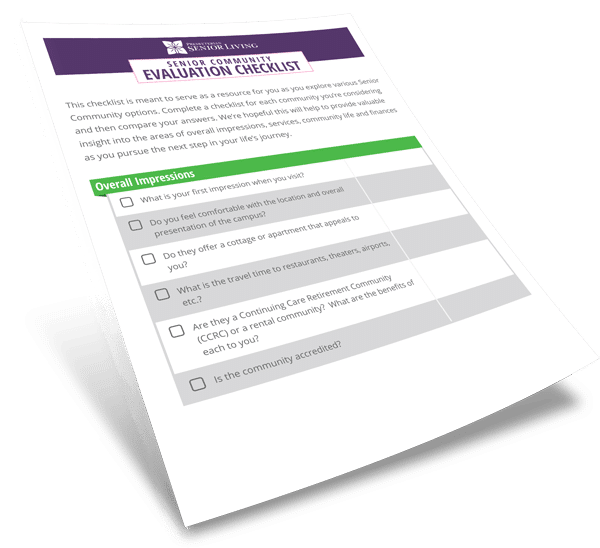 Are You Asking the Right Questions?
Subscribe to the Presbyterian Senior Living blog and receive our free Community Evaluation Checklist to ensure you ask what's most important to you.
Reasons to move your senior loved one into a nursing home can vary from high and low. For whatever reason you have chosen to seek out a nursing home for your senior loved one, it is important to know that you are moving them into a place where they will get the best care possible.
Caregiver Support | Health & Aging
As summer is in full swing and the outside temperature heats up, it's a perfect time to start talking about preventing dehydration throughout the summer months. Older adults face an increased risk of dehydration due to reduced ability to conserve water, a decrease in thirst, and a decreased daily fluid intake. Chronic illnesses and medication use increase risk as well, so seniors suffering from diabetes or dementia or taking certain medications may be at higher risk of dehydration.
Are you searching for a budget friendly gift for family and friends or just looking for some easy crafts to do with your senior loved one? We have compiled 5 do-it-yourself (DIY) projects that are fast, fun, and functional for everyday life. These DIY's can be made for yourself or made to be given as an affordable gift!
You love your parents. You don't want anything to happen to them. When you see your mom getting behind the wheel, you feel scared every time she heads out to run an errand. What if she misses a red light? Or doesn't hear a siren coming up behind her?