Caregiver Support | Health & Aging | Miscellaneous | Personal Care/Assisted Living
If you are preparing for a parent's move to a senior living community, you might be wondering what your role in their life will be after this transition. Will you still be their caregiver? Should you stay involved in their care? Or is it time to step back and let the professionals take over? After being responsible for supporting an aging parent's needs, it can be tough to imagine what comes next.
Caregiver Support | Miscellaneous
Quality of life is a top priority for those who serve residents at Presbyterian Senior Living. March is Social Work Month, a time to celebrate those who help create and advocate for improved quality of life. At Presbyterian Senior Living, social workers play a vital role in uplifting seniors in every area of their lives.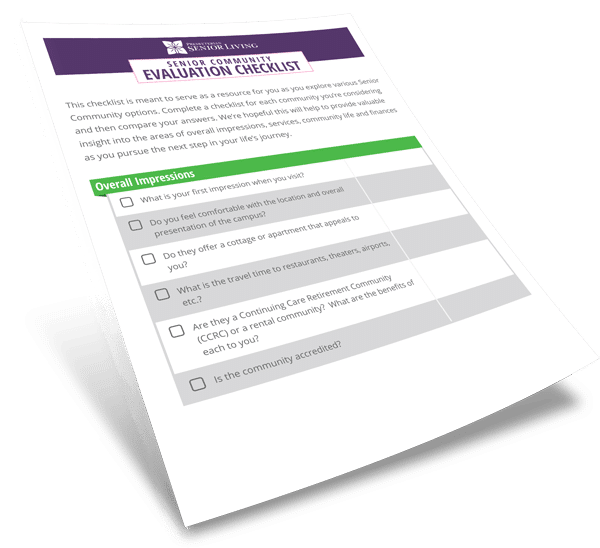 Are You Asking the Right Questions?
Subscribe to the Presbyterian Senior Living blog and receive our free Community Evaluation Checklist to ensure you ask what's most important to you.
If you are the caregiver for a family member, your days are likely busy with little time to spare. This is especially true if you work outside the home or are raising a family. According to the Family Caregiver Alliance, over 53 million people in this country held the role of the unpaid family caregiver in 2020. That translates to 21% of the population and an increase of 9.5 million people since 2015.
Caregiver Support | Health & Aging
An essential component of a life plan community is compassionate memory support. When a loved one has Alzheimer's or another form of dementia, finding a care partner that understands the disease and how to promote individual success is vital.
Caregiver Support | Health & Aging
The phrase "Every minute counts" is a warning to heed if you suspect someone close to you is having a stroke. Getting immediate medical help is vital. So much so that researchers call the first hour after stroke symptoms appear the "golden hour." If a person can get to the hospital during that first hour, their chances of survival and recovery are much greater. According to the American Stroke Association, strokes are the second leading cause of death globally.
Caregiver Support | Health & Aging
Since the COVID-19 pandemic required most of us to stay at home for long periods of time, there's been an increase in the number and types of businesses that deliver. From grocery deliveries to pet food supply drop-offs, we've rounded up some of the best services to support aging adults or caregivers.