For the 40.4 million people in the United States caring for a senior loved one, practicing a healthy lifestyle might not be a high priority. From tending to a family member's personal care needs to tracking a medication schedule, caregiving responsibilities can be stressful and time-consuming.
Caregiver Support | Personal Care/Assisted Living
If you are an adult child who acts as the primary caregiver for an aging parent, you are probably the sibling most attuned to their needs. And you are likely aware of how quickly those needs can change. Long-distance siblings and those who don't participate in caregiving might not be as aware of the type and extent of care your parent requires. They might also be in denial about the parent's decline in health, and unaware that a move to assisted living may be on the horizon.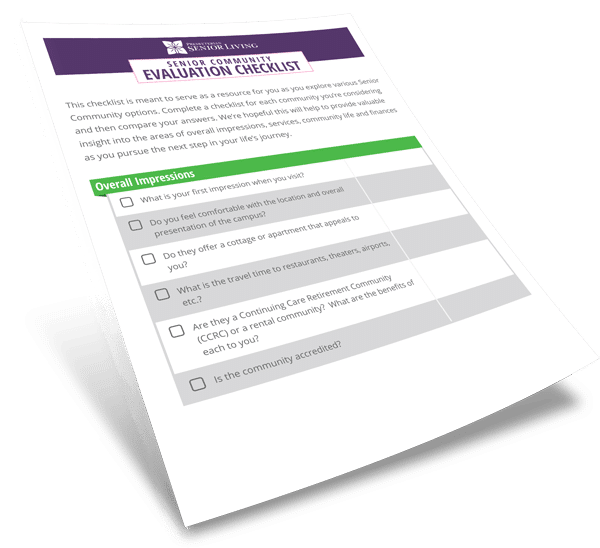 Are You Asking the Right Questions?
Subscribe to the Presbyterian Senior Living blog and receive our free Community Evaluation Checklist to ensure you ask what's most important to you.
Caregiver Support | Personal Care/Assisted Living
As a parent grows older, an adult child may wonder what options are available to keep their loved one safe and happy. While many people are familiar with the term assisted living, also referred to as personal care, fewer understand what it entails and when it's time to consider it. The same is true for in-home care.
Caregiver Support | Health & Aging
Halloween is a night celebrated in many neighborhoods across the country with a variety of traditions being practiced. Decorating homes and yards, hosting a block party, and donning costumes to go trick-or-treating are just a few. The festivities are usually fun for people of all ages.
Caregiver Support | Personal Care/Assisted Living
When a loved one is diagnosed with Alzheimer's disease, the entire family is affected. And in ways that extend far beyond providing care. From concerns about daily supervision to talking with the senior about giving up driving, families face unique challenges.
Medicare's annual open enrollment period for 2022 is almost here. This 8-week period of time gives Medicare recipients an opportunity to make changes to their current health plan coverage. The window for making changes opens on October 15 and closes on December 7 every year.