Caregiver Support | Health & Aging | Miscellaneous | Personal Care/Assisted Living
If you are preparing for a parent's move to a senior living community, you might be wondering what your role in their life will be after this transition. Will you still be their caregiver? Should you stay involved in their care? Or is it time to step back and let the professionals take over? After being responsible for supporting an aging parent's needs, it can be tough to imagine what comes next.
Caregiver Support | Personal Care/Assisted Living
When a senior in the family has dementia, it's important to give careful consideration to how you can meet their needs now and into the future. Primary care doctors often suggest adult children explore memory support programs well before it is necessary to utilize one.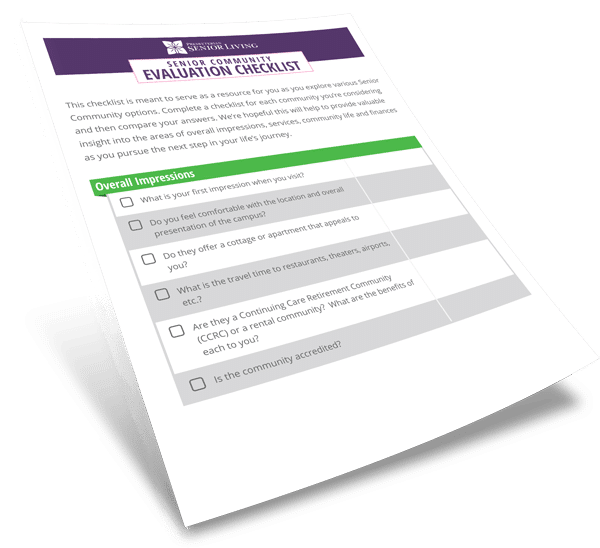 Are You Asking the Right Questions?
Subscribe to the Presbyterian Senior Living blog and receive our free Community Evaluation Checklist to ensure you ask what's most important to you.
Caregiver Support | Personal Care/Assisted Living
If you are an adult child who acts as the primary caregiver for an aging parent, you are probably the sibling most attuned to their needs. And you are likely aware of how quickly those needs can change. Long-distance siblings and those who don't participate in caregiving might not be as aware of the type and extent of care your parent requires. They might also be in denial about the parent's decline in health, and unaware that a move to assisted living may be on the horizon.
Caregiver Support | Personal Care/Assisted Living
As a parent grows older, an adult child may wonder what options are available to keep their loved one safe and happy. While many people are familiar with the term assisted living, also referred to as personal care, fewer understand what it entails and when it's time to consider it. The same is true for in-home care.
Caregiver Support | Personal Care/Assisted Living
When a loved one is diagnosed with Alzheimer's disease, the entire family is affected. And in ways that extend far beyond providing care. From concerns about daily supervision to talking with the senior about giving up driving, families face unique challenges.
Health & Aging | Personal Care/Assisted Living
You may be in a situation where someone you care about, may that be a spouse, parent, relative, or friend, is struggling to care for themselves. Perhaps you realize living at home is not the ideal situation for your senior loved one, but you aren't sure how to start the conversation about seeking out a senior living community. If you feel like you can relate to the circumstance outlined above, you're in luck. In this article, we'll cover how to address this often touchy subject and give you tips on navigating the process.