Caregiver Support | Personal Care/Assisted Living
When a loved one is diagnosed with Alzheimer's disease, the entire family is affected. And in ways that extend far beyond providing care. From concerns about daily supervision to talking with the senior about giving up driving, families face unique challenges.
Health & Aging | Personal Care/Assisted Living
You may be in a situation where someone you care about, may that be a spouse, parent, relative, or friend, is struggling to care for themselves. Perhaps you realize living at home is not the ideal situation for your senior loved one, but you aren't sure how to start the conversation about seeking out a senior living community. If you feel like you can relate to the circumstance outlined above, you're in luck. In this article, we'll cover how to address this often touchy subject and give you tips on navigating the process.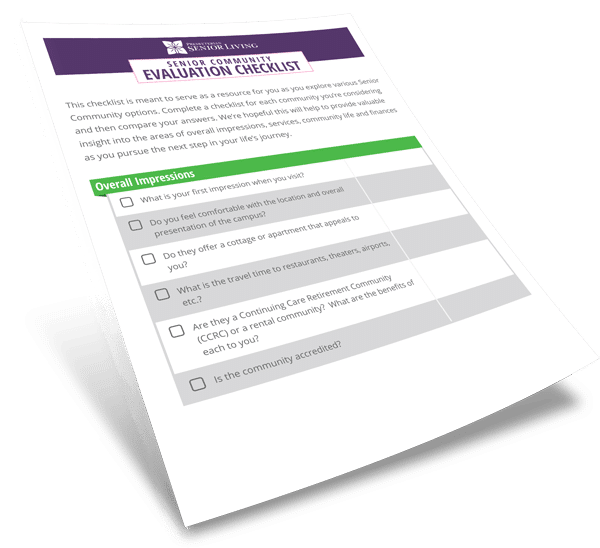 Are You Asking the Right Questions?
Subscribe to the Presbyterian Senior Living blog and receive our free Community Evaluation Checklist to ensure you ask what's most important to you.
CCRC | Personal Care/Assisted Living
With Father's Day approaching this weekend, many of us may still be coming up with last-minute plans to help dad feel special. Although many people are back to in-person visits, it's likely that some may still be celebrating dad's holiday from afar. If this is still the case for you, you're in luck! We've put together some ideas for celebrating your dad, no matter the distance.
Personal care homes provide seniors with professional assistance when needed and a way to enjoy an active lifestyle. Most personal care and assisted living communities offer meals, housekeeping and transportation services, assistance with the activities of daily living (ADL's), security and 24/7 on-call assistance. Personal care homes provide the opportunity for companionship for those seniors who would benefit from daily support and often host programming in a group setting to promote socialization. Many communities have been successful in adapting activities and engagement to adhere to social distancing guidelines.
Searching for the right senior living community for your loved one can be difficult, especially if you've suddenly found yourself in the position to make the decision or if you're just starting your search. There are a lot of terms thrown around for each type of care or service offered at different communities, and they can get confusing. But there's one term you've probably come across a few times that tends to be more confusing than others: Personal Care.
Caregiver Support | Personal Care/Assisted Living
Taking on the role of caregiver for a senior loved one can be challenging. You're faced with a number of new responsibilities and unfamiliar feelings, like worrying about handling the additional obligations that come with caregiving, or fear about the future. You may feel guilt for not being able to do more or even anger and resentment towards your senior loved one.