Searching for the right senior living community for your loved one can be difficult, especially if you've suddenly found yourself in the position to make the decision or if you're just starting your search. There are a lot of terms thrown around for each type of care or service offered at different communities, and they can get confusing. But there's one term you've probably come across a few times that tends to be more confusing than others: Personal Care.
Caregiver Support | Personal Care/Assisted Living
Taking on the role of caregiver for a senior loved one can be challenging. You're faced with a number of new responsibilities and unfamiliar feelings, like worrying about handling the additional obligations that come with caregiving, or fear about the future. You may feel guilt for not being able to do more or even anger and resentment towards your senior loved one.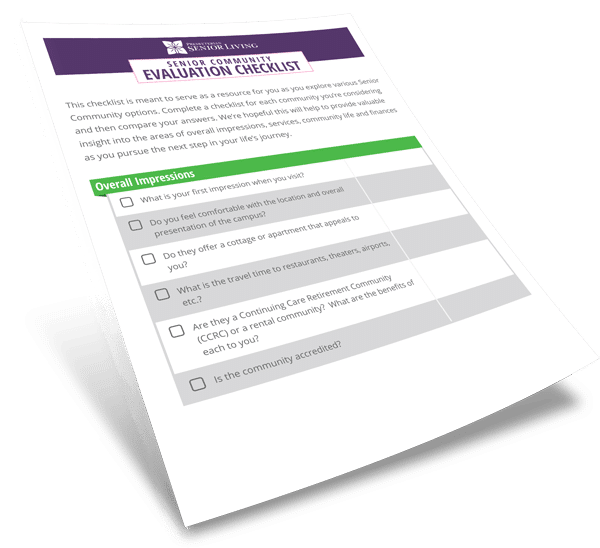 Are You Asking the Right Questions?
Subscribe to the Presbyterian Senior Living blog and receive our free Community Evaluation Checklist to ensure you ask what's most important to you.
Health & Aging | Personal Care/Assisted Living
Have you found yourself suddenly faced with the decision of having to choose a long term care facility for mom or dad? With so many options and so little time, how does one decide what's best for their current situation?
Life can get tricky. Balancing your own life is hard enough, but add caring for your aging loved one to the mix, and you might find yourself exhausted. Having a parent, family member, or friend who is getting older and needs extra care and assistance can sometimes require more of you than you can provide. You do not have to experience your role as a caregiver alone. There are many caregiver resources available, and one great option to give yourself a much-needed rest is respite care.
Health & Aging | Personal Care/Assisted Living
You may be in a situation where someone you care about, may that be a spouse, parent, relative, or friend, is struggling to care for themselves. Perhaps you realize living at home is not the ideal situation for your senior loved one, but you aren't sure how to start the conversation about seeking out a senior living community. If you feel like you can relate to the circumstance outlined above, you're in luck. In this article, we'll cover how to address this often touchy subject and give you tips on navigating the process.
Caregiver Support | Personal Care/Assisted Living
When my mom got diagnosed with dementia, I wasn't exactly sure what to expect when her condition got worse. In the beginning things weren't so bad, but over time it's gotten a lot more serious. I knew she was really declining about a year ago, when she got lost for the first time.