In the midst of the ongoing pandemic, Presbyterian Senior Living, and the senior living industry as a whole, has received a large influx of questions regarding COVID-19. Here, our CEO, Jim Bernardo, answers ten frequently asked questions.
In an email this weekend a resident remarked to me– "It is indeed unsettling how quickly and scary the world has suddenly become. And the isolation from one another increases the distress, of course." Those words express the feelings of many as we continue to face the COVID-19 situation, with all its uncertainty, inconvenience and economic impact. We wonder: To whom do we tell our fears? In what do we place our hopes? Where do we find refuge?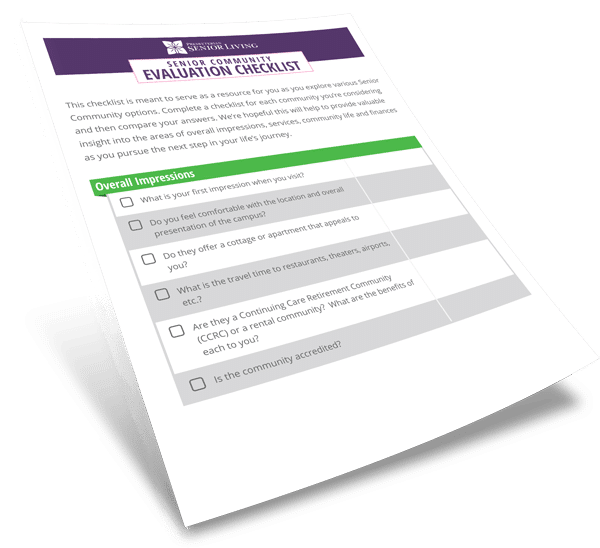 Are You Asking the Right Questions?
Subscribe to the Presbyterian Senior Living blog and receive our free Community Evaluation Checklist to ensure you ask what's most important to you.
Presbyterian Senior Living (PSL) is proud to announce that Pinnacle Quality Insight has awarded 12 PSL communities with its distinguished 2020 Customer Experience Award™. Communities that have been awarded have exceeded in qualifying categories of independent living, personal care/assisted living and skilled nursing.
In 2019, we had a lot of visitors on our blog — 62,000 to be exact! At Presbyterian Senior Living, we strive to provide reliable and resourceful information for those interested in the senior living industry. Whether you're a future resident looking to navigate a move to a senior living community, a caregiver feeling stressed, or a medical care provider looking for information to share with your patients, we're here to help. Here's a small recap of our most visited blogs in 2019!
DILLSBURG, Pa. – October 23, 2019 – The Board of Trustees of Presbyterian Senior Living (PSL), a leading not-for-profit provider of senior and retirement care services based in Dillsburg, PA, has elected James Bernardo to serve as President and Chief Executive Officer.
We are proud to announce that twelve of our communities are recipients of the Pinnacle Quality Insight's 2019 Customer Experience AwardTM. Qualifying in multiple categories, Presbyterian Senior Living displays a continued dedication to providing Best in Class senior healthcare services.