When you or an older loved one are exploring senior living and care options, one difference you'll likely discover lies in the ownership structure of the companies. Some are owned by non-profit organizations, and others by for-profit corporations. While there are certainly for-profit entities that provide excellent residential and care services, the reality is that for-profit providers are a business compromised of investors or shareholders who expect a return on their investment.
Today we celebrate those veterans who served our country. We owe you our thanks, but more than that, we owe you our freedom. There's no way to thank our veterans for everything they sacrificed for our freedom, but on Veterans Day, we have to try. So, thank you to all our service men and women! Below we have highlighted a few stories from veteran residents at our various communities.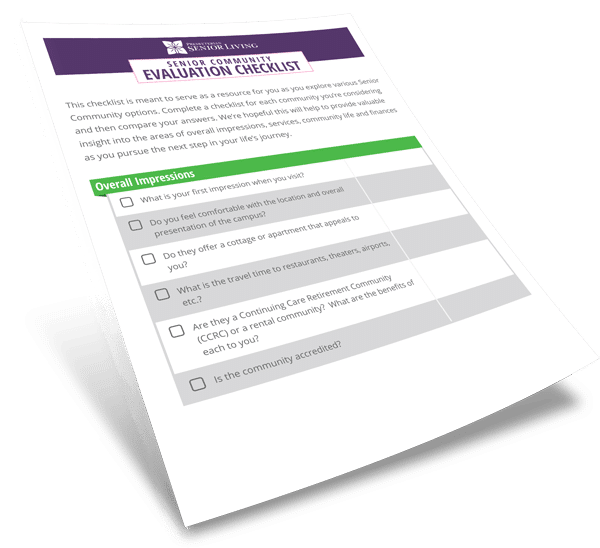 Are You Asking the Right Questions?
Subscribe to the Presbyterian Senior Living blog and receive our free Community Evaluation Checklist to ensure you ask what's most important to you.
CCRC | Miscellaneous | Presbyterian Senior Living
As the senior living industry as a whole continues to adjust to the "new normal" during this pandemic, I wanted to share what the Presbyterian Senior Living community teams are doing to connect residents to their own purpose and life meaning.
In the midst of the ongoing pandemic, Presbyterian Senior Living, and the senior living industry as a whole, has received a large influx of questions regarding COVID-19. Here, our CEO, Jim Bernardo, answers ten frequently asked questions.
In an email this weekend a resident remarked to me– "It is indeed unsettling how quickly and scary the world has suddenly become. And the isolation from one another increases the distress, of course." Those words express the feelings of many as we continue to face the COVID-19 situation, with all its uncertainty, inconvenience and economic impact. We wonder: To whom do we tell our fears? In what do we place our hopes? Where do we find refuge?
Presbyterian Senior Living (PSL) is proud to announce that Pinnacle Quality Insight has awarded 12 PSL communities with its distinguished 2020 Customer Experience Award™. Communities that have been awarded have exceeded in qualifying categories of independent living, personal care/assisted living and skilled nursing.