Health & Aging | Miscellaneous | Presbyterian Senior Living
Fall is a favorite time of year for many people. The days can be sunny, crisp, and invigorating. After the busy days of summer, most people settle back into a comfortable daily routine. One less welcome part of fall, however, is that viruses begin to make the rounds again. As people spend more time indoors, the risk for contracting colds, flu, and COVID-19 is higher.
Health & Aging | Miscellaneous | Presbyterian Senior Living
Eyes are the windows to the world. They enable us to perceive the beauty around us and to perform daily tasks, from reading to cooking to driving.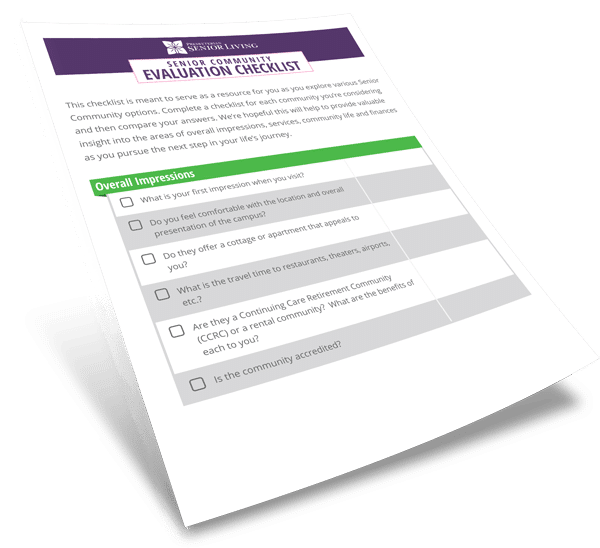 Are You Asking the Right Questions?
Subscribe to the Presbyterian Senior Living blog and receive our free Community Evaluation Checklist to ensure you ask what's most important to you.
Health & Aging | Miscellaneous | Presbyterian Senior Living
While the flu vaccine is top of mind in the fall, autumn is also a good time to think about what other vaccines you may need. As people age, their immune system weakens, making them more susceptible to diseases and infections. This is why vaccinations are crucial for the elderly population. Vaccines not only help prevent illnesses but also reduce the risk of complications and hospitalizations.
Miscellaneous | Presbyterian Senior Living
People being civil to other people is what makes the world a better place and is the key focus of National Civility Month, which is held in August each year. National Civility Month was founded to help the world remember to treat others the way we wish to be treated ourselves — with kindness, empathy, and respect. What does it mean to treat each other with civility? It means to be civil in public discourse and behavior, be respectful of others whether or not you agree with them; it means standing against incivility when you see it.
Family Guidance | Health & Aging | Miscellaneous | Presbyterian Senior Living
Coping with the death of a spouse or partner is one of life's most difficult journeys. Whether it's a longtime marriage or a committed partnership, finding your way alone is a major adjustment. The weeks and months can bring a roller coaster of emotions. The bereaved might have a few days or even several weeks when they begin to feel stronger and experience a new normal. Then a memory or event triggers the sadness of the loss and the struggle begins again.
Diversity & Inclusion | Miscellaneous | Presbyterian Senior Living
We celebrate International Day of the World's Indigenous People on August 9. We need indigenous communities for a better world. There are an estimated 476 million indigenous peoples in the world living across 90 countries. They speak an overwhelming majority of the world's estimated 7,000 languages and represent 5,000 cultures. They make up less than 5 percent of the world's population, yet account for 15 percent of the poorest. Indigenous peoples have sought recognition of their identities, their way of life, and their right to traditional lands, territories and natural resources for years.