Planning for retirement can't begin soon enough. In fact, any good professional financial advisor will strongly recommend having enough social security, pension and investment income to remain financially afloat for at least 20 years following retirement.
Caregiver Support | Finance & Planning
As your parents grow older you may find yourself worrying about their financial situation. Whether it's because of declining health or because their savings are running low, these can be stressful times. But they don't have to be. There are a few simple things you can do to help your parents with their finances that can put them in a more stable situation and give you peace of mind.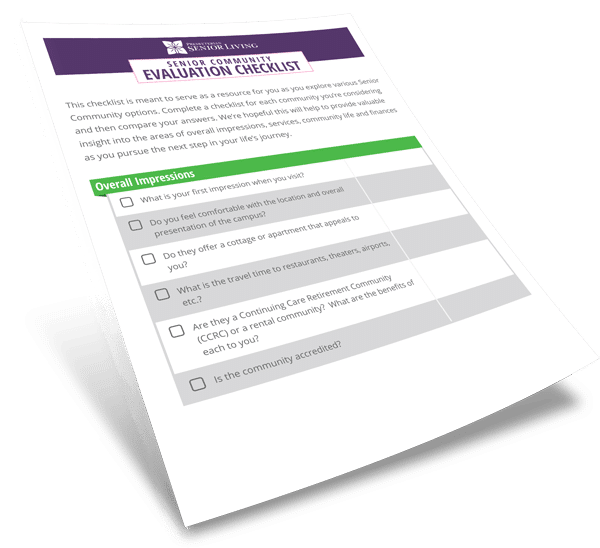 Are You Asking the Right Questions?
Subscribe to the Presbyterian Senior Living blog and receive our free Community Evaluation Checklist to ensure you ask what's most important to you.
It's no secret that Americans aren't saving enough for retirement. According to Forbes, if we do nothing in the next 12 years, 40 percent of middle-class older workers will be poor and near poor elders.
Finding a senior living community that is right for you or a loved one can be intimidating and overwhelming. How do you know you're picking the right one for you or a family member? How can you make sure you have all the information you need to make the right decision? To help, we have come up with the 12 great questions to ask when touring a senior living community.
The Social Security Administration (SSA) pays out billions of dollars every month to retirees, disabled workers, and their family members. But what are social security benefits and how do you know if you qualify for them? By knowing and understanding how social security benefits are calculated and paid out, you may be eligible for more than you think.
There are many types of senior living communities, but two of the most popular are Independent Living and Continuing Care Retirement Communities (CCRC), also known as Life Plan Communities. While neither is inherently better than the other, you may find that one will be a better fit for you and your individual needs.