Health & Aging | Housing & Development | Miscellaneous
Moving to a senior living community in the spring can be an exciting and transformative experience. Spring is a time of renewal and new beginnings, making it the perfect season to start a new chapter in your life. Whether you are downsizing, looking for a change of scenery, or simply seeking a sense of community and belonging, senior living communities offer a wealth of benefits for seniors.
Finance & Planning | Housing & Development
The fall home-selling season is a lot like the college football season – both normally end around Thanksgiving, but a smaller postseason keeps going long after that.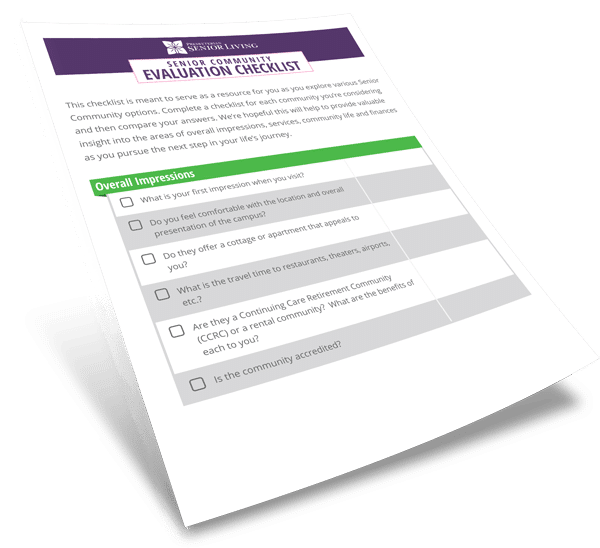 Are You Asking the Right Questions?
Subscribe to the Presbyterian Senior Living blog and receive our free Community Evaluation Checklist to ensure you ask what's most important to you.
Health & Aging | Housing & Development
PSL is pleased to provide Compassionate Touch® during this pandemic to reduce resident loneliness, build relationships, and enhance engagement. Compassionate Touch® is an evidence-informed approach combining skilled touch with compassionate presence to enhance quality of life.
Health & Aging | Housing & Development
Do you feel like it's time to make a change in your living situation, but you're not quite ready to give up your independence? You're not alone. AARP estimates that 77% of seniors plan to stay in their own homes as they age. While this is a comfortable option, it isn't always the safest, healthiest choice for seniors. A retirement patio home is the perfect compromise between staying in your own home and an apartment rental designed with seniors in mind. Continue reading to learn more about what a patio home is, and why this could be the perfect choice for your season of retirement.
Housing & Development | Presbyterian Senior Living
At Presbyterian Senior Living, we believe that caring for people also means we must care for the Earth. It is one of the reasons why sustainability is such an important initiative for us. We recently started a company-wide environmental stewardship program, and our communities have committed to make sure we meet our goals.
Built to take advantage of Pennsylvania's picturesque landscape while providing an exceptionally wholesome community in which older adults can thrive, St. Andrew's Village needed a makeover to further improve its capacity to enhance and nourish the lives of its residents. Beginning in 2013, the $10 million renovation of the village emphasized a unique design model that applies the physical and emotional benefits of home living, having immediate access to the outdoors and a cozier, family-type feel to the community.