What gets you out of bed in the morning? At Presbyterian Senior Living, we strive to support individuals to find purpose in their day and have a meaningful life. Whether it is ensuring a team member feels supported, appreciated and that their job has meaning or supporting residents by providing opportunities to try new things or continue pursuing a skill, it requires focusing on multiple aspects daily.
The season of giving is right around the corner! Although Christmas may look different this year, we still welcome the tradition of gift giving to family or friends living at our various communities! That being said, it is important we maintain safety protocols during this ongoing pandemic. Please continue reading to find out all of our gift giving guidelines for this 2020 holiday season!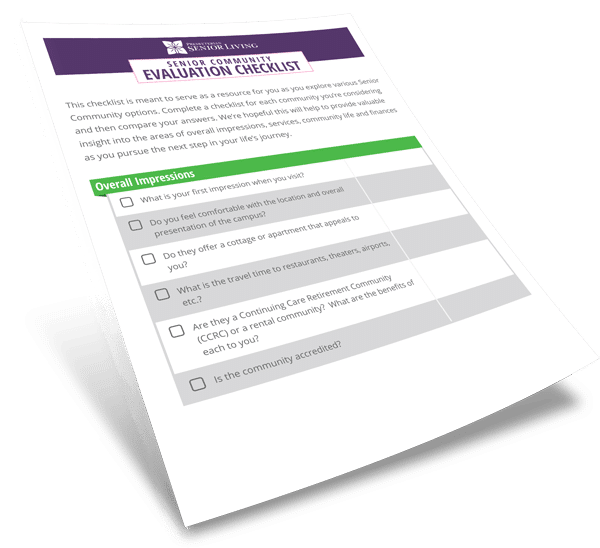 Are You Asking the Right Questions?
Subscribe to the Presbyterian Senior Living blog and receive our free Community Evaluation Checklist to ensure you ask what's most important to you.
CCRC | Miscellaneous | Presbyterian Senior Living
As the senior living industry as a whole continues to adjust to the "new normal" during this pandemic, I wanted to share what the Presbyterian Senior Living community teams are doing to connect residents to their own purpose and life meaning.
Quincy Village, a Presbyterian Senior Living (PSL) continuing care retirement community for seniors, is proud to announce that resident Bob Davis recently accepted the Pioneer Network and Rockport Healthcare Services Community Commitment Award on behalf of Quincy Village on September 3.
The senior living industry and nursing homes, in particular, have received an enormous amount of bad press during the COVID-19 pandemic. The picture painted does not accurately portray the reality of life within a community and the benefits afforded to those who live there.
CCRC | Health & Aging | Miscellaneous
With the current COVID-19 pandemic taking over our lives, it has becoming increasingly difficult to see friends and family, and find things to keep us occupied. This is when technology becomes your best friend! Here are some ways to use technology to help keep you occupied during the current COVID-19 regulations.