Subscribe
How PSL Continues Resident Enrichment During COVID-19 Distancing
Presbyterian Senior Living | Miscellaneous | CCRC
As the senior living industry as a whole continues to adjust to the "new normal" during this pandemic, I wanted to share what the Presbyterian Senior Living community teams are doing to connect residents to their own purpose and life meaning.
The Centers for Medicare and Medicaid Services (CMS) and the Department of Health have required nursing homes, personal care homes, and assisted living to not have resident groups for communal large group programming because of the fear of spreading COVID-19. We know that this virus is highly contagious and communicable through airborne particles. We know that masks, handwashing, and physical distancing are crucial to reducing the spread.
Did you know that PSL, while following the CMS and regulating requirements, has been able to have group programs physically distanced successfully? Did you know that PSL communities have been able to continue to help residents find purpose and meaning daily during this pandemic?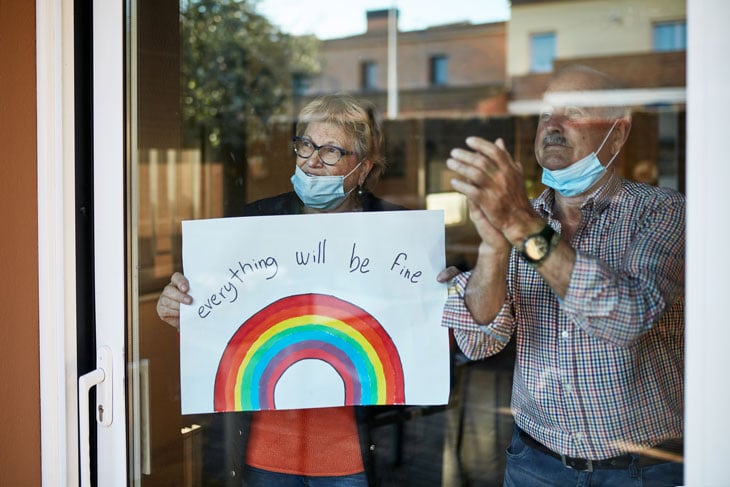 Our community life team members assess resident interests upon admission, with significant changes in condition, and on an annual basis. Purpose finding goals exist for each resident. Our social workers assess each resident's cognitive ability and mood on admission, quarterly, annually and as needed when significant changes are present.

With the community life team and social work team working hand in hand, we can assure that resident care goes beyond physical care needs and maintains a holistic approach. We can also work to achieve person-centered/person-directed living where each resident can dictate how their day progresses with purpose and meaning.

Residents who live in our communities have the opportunity to self-recreate as they desire. Sometimes these are individuals focused on being with us for short term rehabilitation with the goal to return home. Sometimes these are individuals who have been "introverts" their whole lives… why would we try to change them? Instead, we support them. We provide the tools they need to find their purposes, such as books, drawing supplies, paint, magazines, music, craft projects, puzzles, religious studies, rehab sessions, and games. We do our best to find a way to obtain the items they desire within reason or contact their families to help us obtain the items.

While not all residents can self-recreate, we do our best to identify those who need more support and assistance. Suppose someone can engage and enjoys engaging in a group such as bingo, craft classes, music, singing, bible study, exercise, current events, trivia, or other games. In that case, we have been matching them up with peers who live nearby in the same hallway/neighborhood. We host neighborhood programming using the EverSound© system at most of our locations.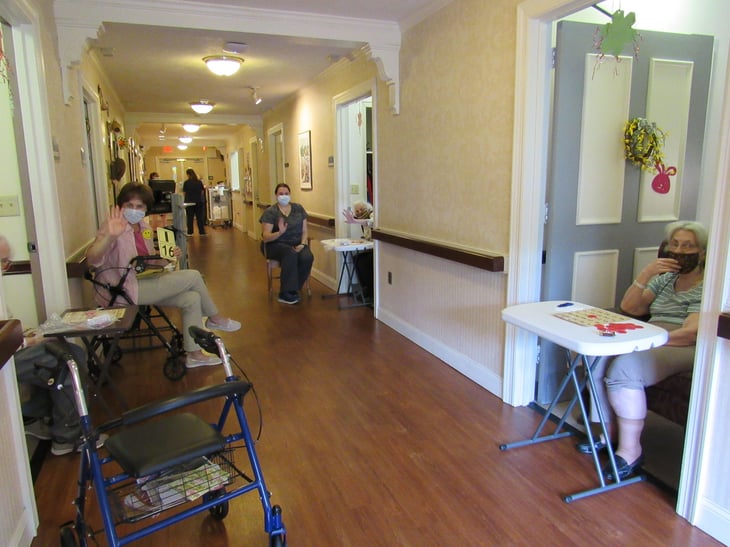 With this system, we can support ten residents at a time to engage while wearing masks and staying physically distant from each other from their room or doorway. Each resident wears a headset that can be adjusted to their preference. The group facilitator wears a microphone, and when he/she speaks into the microphone, only those residents wearing the headsets hear him/her and can participate, which makes it easier not to disturb those who are not interested.
We have been fortunate enough to do this throughout the pandemic with residents who are not suspected or under investigation of having COVID-19. (Often, you will hear us call this area/neighborhood a "green zone.") We physically distance, and the socialization continues, just differently than before.

Some residents can not attend group programs because of their own medical or emotional needs. These individuals require a little extra TLC (Tender Loving Care.) Our Community Life team visits them 2-3 times a week or more often to engage them individually. They may play games, read a story together, go for walks outside, porch sit, reminisce, sing, make a craft, pray together, aromatherapy, or utilize Compassionate Touch©. They will do what the resident indicates verbally or nonverbally as enjoyment.

Often, families can provide us with insight into the individuals' interests if the resident cannot. While our team members visit and show care and concern to your loved one, we know that we can not replace your love, only supplement it. Please continue to visit virtually, by window, or outdoors with your loved one. To check the status of your loved one's community visitation guidelines, visit our COVID-19 updates page.

Please continue to send letters, cards, artwork, and special treats to your loved one. Please continue to call for updates from the care team and give us suggestions on how to make life better. Please know that we will continue to do our best to be there and that we, too, can not wait for the day when we can open the doors and welcome everyone to visit in person. We miss you too.
---