What gets you out of bed in the morning? At Presbyterian Senior Living, we strive to support individuals to find purpose in their day and have a meaningful life. Whether it is ensuring a team member feels supported, appreciated and that their job has meaning or supporting residents by providing opportunities to try new things or continue pursuing a skill, it requires focusing on multiple aspects daily.
Health & Aging | Housing & Development
PSL is pleased to provide Compassionate Touch® during this pandemic to reduce resident loneliness, build relationships, and enhance engagement. Compassionate Touch® is an evidence-informed approach combining skilled touch with compassionate presence to enhance quality of life.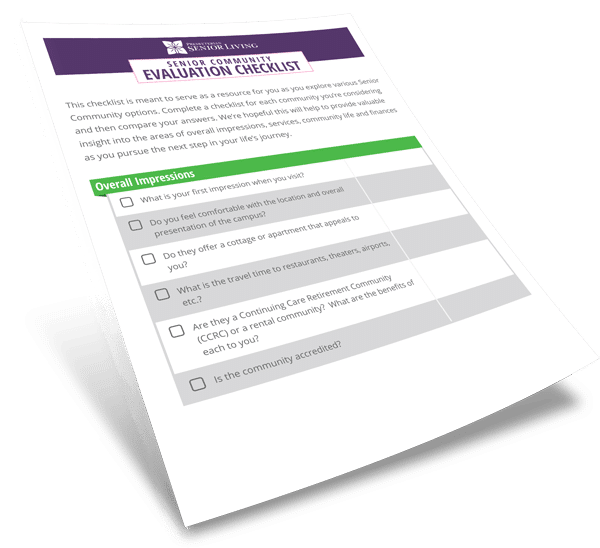 Are You Asking the Right Questions?
Subscribe to the Presbyterian Senior Living blog and receive our free Community Evaluation Checklist to ensure you ask what's most important to you.
CCRC | Miscellaneous | Presbyterian Senior Living
As the senior living industry as a whole continues to adjust to the "new normal" during this pandemic, I wanted to share what the Presbyterian Senior Living community teams are doing to connect residents to their own purpose and life meaning.
Active Aging Week was October 5-11, 2020. It is an international celebration of active lifestyles organized by the International Council of Active Aging (ICAA.) This week-long celebration occurs annually and Presbyterian Senior Living (PSL) has participated for the past 8 years.
"When can I visit (my parent, my spouse, my best friend, my child) in person and hold their hand or hug them?" is a question we hear throughout the day. At this time, the answer relies on many different variables that are unfortunately out of our control. What we do know is that being able to connect with your loved one is essential to you, the resident and to us.
Health & Aging | Reflections & Leadership
Recognizing excellence in dementia care by direct care professionals in the healthcare field. The Julie H.C. Bailey PRIDE award is given annually to one worthy recipient in each of the states the Delaware Chapter of the Alzheimer's Association serves: Delaware, Southern New Jersey, and Southeastern Pennsylvania. This prestigious award is presented to the winners at one of the annual Alzheimer's Association annual conferences to highlight and celebrate their extraordinary examples of excellence in dementia care.