Subscribe
5 Tips to Ensure Your Home Sells in the Winter
Finance & Planning | Housing & Development
The fall home-selling season is a lot like the college football season – both normally end around Thanksgiving, but a smaller postseason keeps going long after that.
It used to be that spring and summer were the hot times to buy or sell houses, but not anymore. "If you want to sell your house these days, you don't necessarily have to wait until spring to put it on the market," says Brad Knapp, an agent with Henkle Schueler & Associates in suburban Cincinnati and was previously a National Association of Realtors regional vice president.
True, most would-be home buyers and sellers in colder climates still call it quits from late November until late February or so. But Knapp says consumers who face job relocations, divorces or other situations requiring an immediate move keep the market humming all winter long. What's the best month for home sellers? "There are fewer buyers and sellers in the marketplace during the winter, but they're all serious buyers and sellers," he says. "They all have a sense of urgency or they wouldn't be in the market."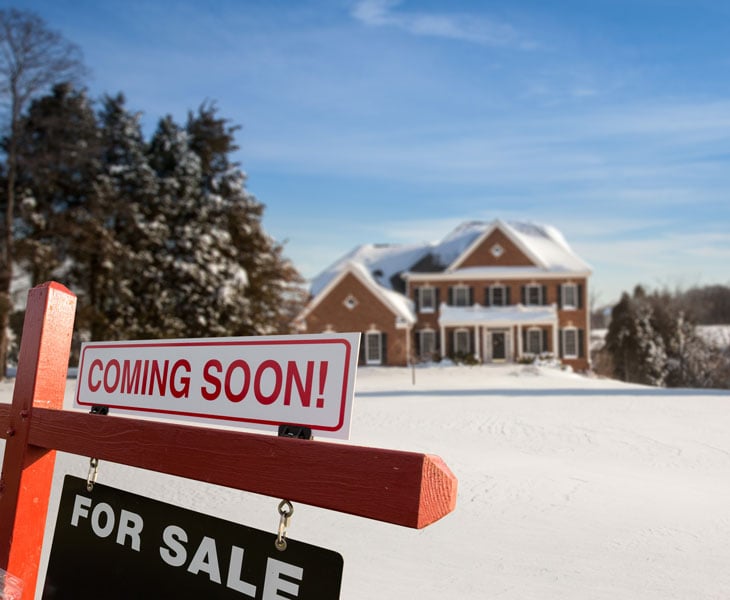 With record low interest rates, the 2020 real estate market is booming. It's a true seller's market, often resulting in bidding wars and frequently, above list price offers. This past year, homes have been known to sell in 24 hours or less. Sometimes before the listing officially hits the market. The trend doesn't seem to be slowing as we head into the holiday season.
But how can a would-be seller attract a buyer when there's ice on a home's walkway, snow covering the flower beds and little natural light to make a place look bright? Here are five things Knapp says homeowners must do if they want to heat up the chances of selling a property this winter:
1. Set a Realistic Price
House hunters often expect discount prices in the winter, because they assume that any homeowner who lists a property during the period really needs to sell. Knapp recommends that sellers list their homes at realistic prices to begin with – without any extra 'air' for haggling.
Despite being in a seller's market, you still want to leverage the expertise of your realtor and rely on competitive market analysis to come to an appropriate list price for your home. An overpriced home won't garner the same attention from potential buyers as one that is priced competitively.
2. Advertise with Snow-free Pictures
If possible, you or your agent should commission your home's advertising photos before it snows. If that's not feasible, make arrangements to have a photographer come out the first time the snow melts – even if it's just a brief winter thaw. You can also have a photographer digitally alter photos to take out snow, but proceed with caution. Too much digital editing can open you or your agent up to allegations of deceptive advertising.
3. Maximize Curb Appeal
You always want your home to have good 'curb appeal' - a nice appearance that's apparent from the moment a would-be buyer pulls up to the curb – but winter snow and gloom make that tough. To make the most of your home's wintertime look, Knapp recommends making sure all autumn leaves and any dead tree branches are gone. Keep your home's driveway and paths free of snow and ice and put a nice, clean doormat in front. "Your home might not have the same beautiful landscaping that it does in June, but you can at least make sure the property looks halfway decent," Knapp says.
4. Stage the Interior for Winter
A good real estate agent or professional home stager can help you make your home's interior look warm and friendly no matter how dreary it is outside. Knapp says you should start by decluttering the home, putting as much stuff as possible away – preferably in off-site storage — to make your home look clean and roomy. The same rules apply in the winter as they do in the summer. A dirty, cluttered space invites buyers to (often wrongly) assume there's something wrong with the house. This can result in a less than optimal offer.
Remove all family photos, sports memorabilia and the like so would-be buyers can picture themselves – not you – living in the home. And don't go overboard with holiday decorations if you're listing your home in December.
Contrary to popular belief, the holidays are a great time to list your home for sale. It is often the one time of year we pay extra-special attention to the details. Homeowners typically have cleaned up for the holidays, decorated nicely, and with it being baking season the home smells wonderful and is warm.
5. Have Good Interior Lighting
You always want your home to look as bright as possible to potential buyers, but sparse winter sunlight can make that a real challenge. Maximize all available lighting by having your home's windows professionally cleaned – inside and out before you put your place on the market. Don't forget the storm windows.
Also consider replacing your light bulbs and put all lights on before every showing. "you want to make sure there's plenty of light," Knapp says. "You don't want an agent who's not familiar with the home showing it to a client and having to paw around to find the light switches." Today's high efficient LED bulbs are much less costly to run than incandescent and offer brighter lighting. Consider swapping out the old style bulbs with new LEDs.
Pandemic Preparation
2020 has brought an entirely new set of challenges for homeowners looking to sell. Speak with your listing agent about local requirements for maximum number of people in your home, how buyer's agents will address infection prevention, and what you should have on handy in case someone forgets. Often realtors are required to wear masks (and ensure their clients do as well), carry hand sanitizer, and wipe down all the surfaces their clients touch when they have toured your home. However, it would be prudent to leave a bottle of hand sanitizer or a box of latex gloves by the entry door with a note to would be buyers they are welcome to use the protective gear.
---
In today's market, selling your home in the winter is easier than ever. Are you considering making the move to a senior living community? Check out our interactive community chooser and find a community near you that fits all of your wants and needs!