Subscribe
Is a Patio Home the Right Choice for Your Retirement Lifestyle?
Health & Aging | Housing & Development
Do you feel like it's time to make a change in your living situation, but you're not quite ready to give up your independence? You're not alone. AARP estimates that 77% of seniors plan to stay in their own homes as they age. While this is a comfortable option, it isn't always the safest, healthiest choice for seniors. A retirement patio home is the perfect compromise between staying in your own home and an apartment rental designed with seniors in mind. Continue reading to learn more about what a patio home is, and why this could be the perfect choice for your season of retirement.
What is a Patio Home?
Many seniors who have reached retirement want the benefits of senior living communities without giving up their homes or independence. While staying in your home is the most comfortable option, many seniors want to downsize or can no longer manage the upkeep of their homes themselves.
Retirement patio homes can meet both of these needs. Patio homes are single-family homes, often within a senior living community. They have manageable, senior-friendly floor plans, and often provide landscaping services, minimizing upkeep for the residents. This reduces the burden on senior residents, allowing them to fully enjoy their homes and lifestyles.
What are the Benefits of Living in a Patio Home?
While there are a number of senior living options like assisted living homes or nursing homes that could be the right options for some seniors, a patio home could be the perfect option for your future. Here are some benefits that come with living in a retirement patio home.
Independence - The comfort, privacy, and independence of living in your own single-family home is difficult to recreate in a senior living community. If you don't need regular or constant supervision as you go through daily life, a patio home helps you maintain your independence. Also, you can bring as many of the possessions you have now to make your new home comfortable and welcoming.

Safety - As seniors age, the chance of a fall or injury increases. This risk is a common reason seniors leave their homes and choose other senior living options. However, if you choose a patio home, especially one located within or close to a senior living community, you have constant access to healthcare professionals in the event of a fall or injury. You can stay safe and healthy, without giving up your independent lifestyle.

Minimal Upkeep - Has the upkeep for your home become too much? Straining yourself with tasks like maintenance and landscaping can lead to poor health or even injury. When you choose a retirement patio home, many of these maintenance services are provided for you. From your landscaping to changing a light bulb, you have maintenance professionals on hand to alleviate these burdens. Plus, if you like gardening, don't worry! Your home will still have an area for you to garden without doing the heavy lifting in the rest of your yard.

Multiple Floor Plans - Are you worried that the patio home you choose won't really feel like home? Fortunately, patio homes, like the ones available at Glen Meadows Retirement Community, offer a wide range of floor plans to choose from in a variety of sizes. There are both one and two bedroom options, ranging from 658 square feet to 1,024 square feet, with plenty of sizes in between. You can find any option that fits your space requirements and truly feels like home to you.

At-Home Service - If you do need help with daily tasks like laundry, bathing, grooming, or practically anything else, you can also request and schedule these services through the retirement community. Even if you are primarily independent but still need a little support, a patio home is a wise option. A skilled team member at the community can visit your home and provide as much support as you need.

Community Amenities - The amenities associated with retirement patio homes are numerous, especially if you choose an option like Glen Meadows, which offers some of the most beautiful views in Baltimore County. You also have access to all the socialization, fitness, and entertainment opportunities offered in assisted living communities. From book clubs to yoga to game nights, you will always have plenty of activities to fill up your time.
A retirement patio home is a wonderful option for many seniors, especially those who value their independence. If you think this could be the right choice for your future, talk to your family. Gain their input, and put a list together of potential retirement patio homes to consider.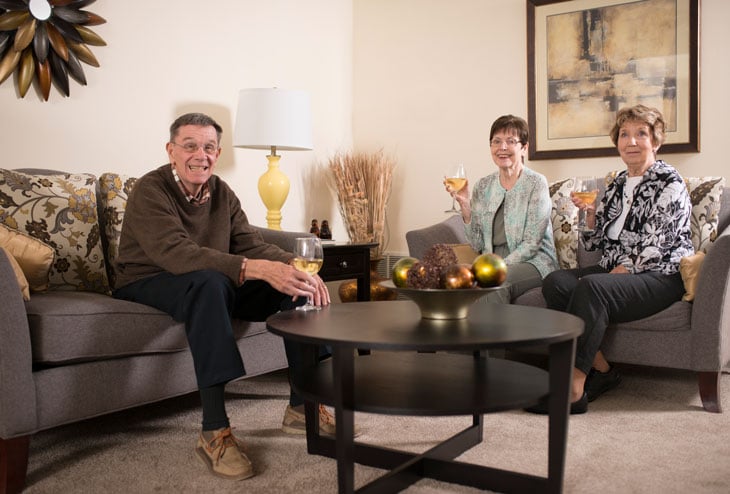 You should also look closely at your budget to determine what you can afford. If you are going to sell your current house or a vehicle, this could help you easily afford your new patio home. And remember, many of the costs, like property upkeep will be included in the cost of your home. So, in many ways this is a wise financial decision, as well as an exciting personal decision.
Ultimately, the best way to determine if a retirement patio home is the best option for you is to visit some homes in person. Seeing a retirement patio home for yourself allows you to decide which floor plan you like best and whether or not you can see yourself enjoying life in a community of retirement patio homes. Many communities will schedule a time for you to come visit and see the home for yourself, so be sure to take advantage of this opportunity.
A retirement patio home could be the perfect option for your retirement years, and an exciting opportunity to start a new chapter in your life. When you find the right community, you can enjoy your new home without the burden of upkeep and benefit from all the socialization and entertainment features the community has to offer.
---
See Glen Meadows' Retirement Patio Homes in person. Schedule your visit now and find out if this is the best option for your next home.