The Social Security Administration (SSA) pays out billions of dollars every month to retirees, disabled workers, and their family members. But what are social security benefits and how do you know if you qualify for them? By knowing and understanding how social security benefits are calculated and paid out, you may be eligible for more than you think.
There are many types of senior living communities, but two of the most popular are Independent Living and Continuing Care Retirement Communities (CCRC), also known as Life Plan Communities. While neither is inherently better than the other, you may find that one will be a better fit for you and your individual needs.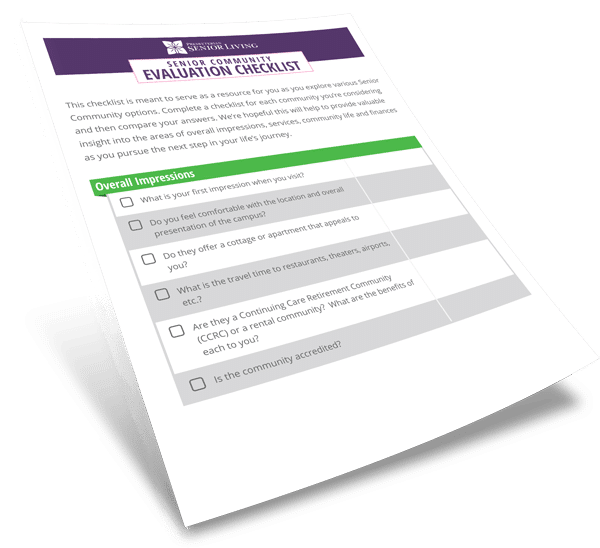 Are You Asking the Right Questions?
Subscribe to the Presbyterian Senior Living blog and receive our free Community Evaluation Checklist to ensure you ask what's most important to you.
Moving in to a senior living community means going to a completely new home. This might seem like a scary transition, but it doesn't have to be! While you may feel like you're giving up a part of your life, the opposite is actually true. By finding the community that is right for you, you add community, friendship and much more to your life. But how do you know if the communities you're considering are truly great?
Seniors on fixed incomes might find themselves looking for quick and easy ways to save money, and one of the first places people look is to the heating bill. While turning down the heat can save a few bucks, it's not always the best course of action for seniors. And, as it turns out, there are other, more efficient ways you can lower your monthly bill.
There are so many important factors that come into play when picking a place to call home, and location will be near the top of the list. The good news is Pennsylvania is a great place for senior living, with a lower-than-average cost of living, beautiful scenery, and more. But what is the best place for senior living in PA? It ultimately depends on what you want to do, so we've compiled a list to help you figure that out.
Choosing a senior living community can be a monumental decision. From where to begin to which questions to ask, the list of considerations can be overwhelming. And while it's not an easy process, it's not insurmountable, either -- particularly if you understand all of the elements that go into finding the right living arrangements for seniors and the people who love them.