Seniors on fixed incomes might find themselves looking for quick and easy ways to save money, and one of the first places people look is to the heating bill. While turning down the heat can save a few bucks, it's not always the best course of action for seniors. And, as it turns out, there are other, more efficient ways you can lower your monthly bill.
There are so many important factors that come into play when picking a place to call home, and location will be near the top of the list. The good news is Pennsylvania is a great place for senior living, with a lower-than-average cost of living, beautiful scenery, and more. But what is the best place for senior living in PA? It ultimately depends on what you want to do, so we've compiled a list to help you figure that out.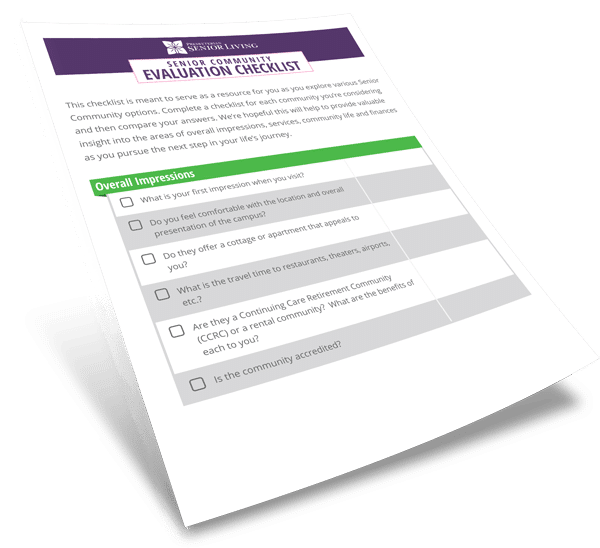 Are You Asking the Right Questions?
Subscribe to the Presbyterian Senior Living blog and receive our free Community Evaluation Checklist to ensure you ask what's most important to you.
Choosing a senior living community can be a monumental decision. From where to begin to which questions to ask, the list of considerations can be overwhelming. And while it's not an easy process, it's not insurmountable, either -- particularly if you understand all of the elements that go into finding the right living arrangements for seniors and the people who love them. To that end, we've rounded up 23 factors to keep in mind when evaluating senior living communities.
Planning for retirement can't begin soon enough. In fact, any good professional financial advisor will strongly recommend having enough social security, pension and investment income to remain financially afloat for at least 20 years following retirement.
For many people, the idea of "downsizing" causes stress, eliciting thoughts of packing up and leaving a beloved home and possessions. As we age, though, downsizing can be a positive step toward a healthy, happy retirement that focuses on fulfilling experiences and relationships.
When many people hear the words "estate planning," they think of extravagant mansions and grand inheritances. However, estate planning is far from the exclusive domain of the extremely wealthy. In fact, it offers benefits for all people -- regardless of the size of their assets. Let's take a closer look at what's involved in estate planning, along with why it's so important.