Finance & Planning | Miscellaneous
The 2021 tax deadline is fast approaching. Your return must be filed by midnight on Monday, April 18, 2022. While you do have a few extra days to finish your taxes this year, this is a task few people look forward to even if they use a tax preparer or accountant. Added to the stress of tax time is a complication that has popped up in recent years—identity theft. Many seniors aren't even aware of this concern.
Finance & Planning | Housing & Development
The fall home-selling season is a lot like the college football season – both normally end around Thanksgiving, but a smaller postseason keeps going long after that.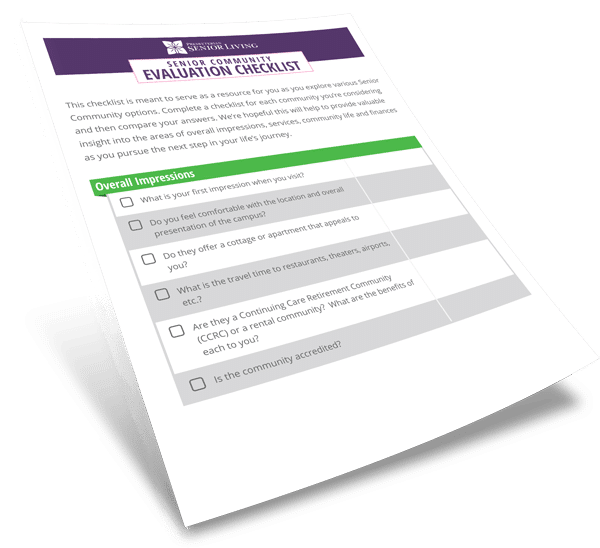 Are You Asking the Right Questions?
Subscribe to the Presbyterian Senior Living blog and receive our free Community Evaluation Checklist to ensure you ask what's most important to you.
Planning for retirement can't begin soon enough. In fact, any good professional financial advisor will strongly recommend having enough social security, pension and investment income to remain financially afloat for at least 20 years following retirement.
Caregiver Support | Finance & Planning
As your parents grow older you may find yourself worrying about their financial situation. Whether it's because of declining health or because their savings are running low, these can be stressful times. But they don't have to be. There are a few simple things you can do to help your parents with their finances that can put them in a more stable situation and give you peace of mind.
It's no secret that Americans aren't saving enough for retirement. According to Forbes, if we do nothing in the next 12 years, 40 percent of middle-class older workers will be poor and near poor elders.
Finding a senior living community that is right for you or a loved one can be intimidating and overwhelming. How do you know you're picking the right one for you or a family member? How can you make sure you have all the information you need to make the right decision? To help, we have come up with the 12 great questions to ask when touring a senior living community.