For many people, the idea of "downsizing" causes stress, eliciting thoughts of packing up and leaving a beloved home and possessions. As we age, though, downsizing can be a positive step toward a healthy, happy retirement that focuses on fulfilling experiences and relationships.
When many people hear the words "estate planning," they think of extravagant mansions and grand inheritances. However, estate planning is far from the exclusive domain of the extremely wealthy. In fact, it offers benefits for all people -- regardless of the size of their assets. Let's take a closer look at what's involved in estate planning, along with why it's so important.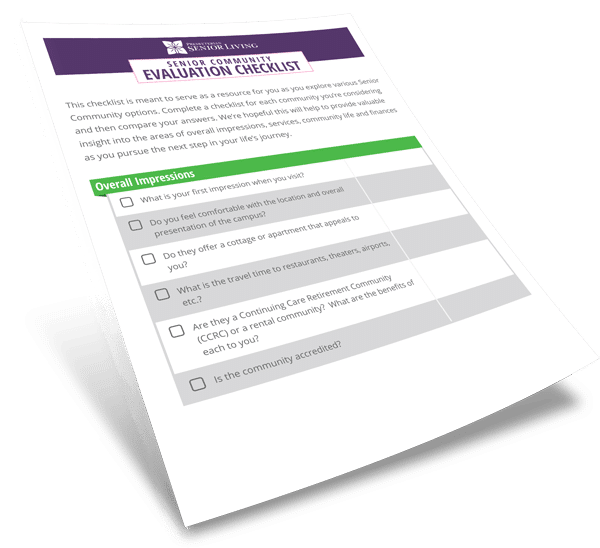 Are You Asking the Right Questions?
Subscribe to the Presbyterian Senior Living blog and receive our free Community Evaluation Checklist to ensure you ask what's most important to you.
This Sunday is Appreciate Your Social Security Check Day (time to celebrate). Did you know that over 59 million Americans receive benefits from Social Security? The Social Security Administration reportedly pays out over $72 billion in benefits each month to retirees, disabled workers, and their family members. Are you getting everything you deserve?
Condensing a lifetime of memories, mementos and life experiences while downsizing into a smaller space can be an overwhelming experience for many seniors. Oftentimes you are moving from a home you have lived in for 30+ years. You have seen your children grow up in this home and many holidays and celebrations have taken place in your living and dining rooms. The decision to leave can be a difficult one. We at Presbyterian Senior Living want to assist you with this major decision. Our team of design specialists and move in coordinators can help ease the transition to senior living by providing you with a new, personalized custom home; a home that will host the next adventure in your life.
Often, the communities of Presbyterian Senior Living are blessed to receive gifts from individuals that have made a provision in their estate plans to support our mission. Ordinary people show extraordinary generosity by leaving legacy gifts that will make a difference in the lives of future residents and patients that we will serve. The stories of these individuals show that kindness is evident in people from all walks of life – with different income levels, professions, and passions.
For many people, the idea of downsizing seems daunting because of all the physical "stuff" they've collected over the years. Often, seniors continue to live in the family home where they've been for decades, and the sheer mass of items to sort through is enough to make anyone want to crawl back into bed and put the whole thing off until another day.