September 11, 2001 is a day that forever changed our nation. From the increase in security screenings nationwide to the enactment of the Patriot Act, a tragedy that brought with it fear and grief, ultimately fostered an environment for unity and strength. On the 17th anniversary of 9/11, we live in an age where many people were not even born on the day of this event. As the years continue, we must not leave the memories of this tragic day behind. The best way we can honor the 2,977 people who lost their lives that day is to remember and tell your story. Today, six Presbyterian Senior Living residents tell their stories.
Outperforming State and National Benchmarks in the Minimal Use of Antipsychotics.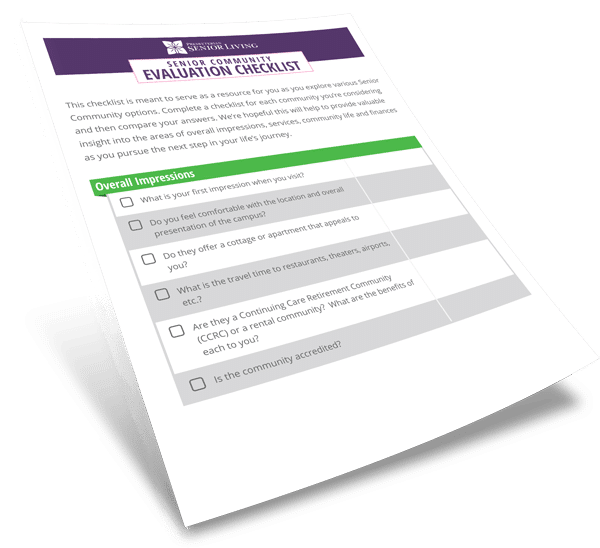 Are You Asking the Right Questions?
Subscribe to the Presbyterian Senior Living blog and receive our free Community Evaluation Checklist to ensure you ask what's most important to you.
"Everything in an organization is about what happens next. Nothing we do is accomplished without people." – Steve Proctor, CEO
Resident satisfaction is an important goal at every one of Presbyterian Senior Living's communities. As part of our mission, we strive to provide "compassionate, vibrant and supportive communities and services to promote wholeness of body, mind and spirit." An aspect of resident satisfaction that some people may not consider right away is the dining experience. A great dining experience significantly strengthens resident satisfaction. That's why not one, but TWO PSL communities have been working to enhance the dining experience to benefit the people they serve.
CCRC | Presbyterian Senior Living
When looking at a retirement community you want to consider all aspects of that community, from the amenities, to the food options, and everything in between. One of the most important aspects of a community is its location. And while proximity to loved ones may be an important factor when choosing a location, you may also want to consider if the area is thriving.
To the PSL Family; I am saddened to report that Al Schartner, former CEO of Presbyterian Homes has died after a short illness.