Resident satisfaction is an important goal at every one of Presbyterian Senior Living's communities. As part of our mission, we strive to provide "compassionate, vibrant and supportive communities and services to promote wholeness of body, mind and spirit." An aspect of resident satisfaction that some people may not consider right away is the dining experience. A great dining experience significantly strengthens resident satisfaction. That's why not one, but TWO PSL communities have been working to enhance the dining experience to benefit the people they serve.
Loneliness is not something people often think about, but it is unfortunately common among older adults. In 2014, the U.S. Census Bureau reported that 11 million, or 34 percent, of people aged 65 or older lived alone. Loneliness is a risk factors in seniors that may cause illness, depression or even death, particularly in the winter months. Although loneliness is a serious concern, there are several easy ways to prevent your senior from feeling lonely. By combining as many of the following steps as possible, you will have the best chance of fending off loneliness for your senior loved one.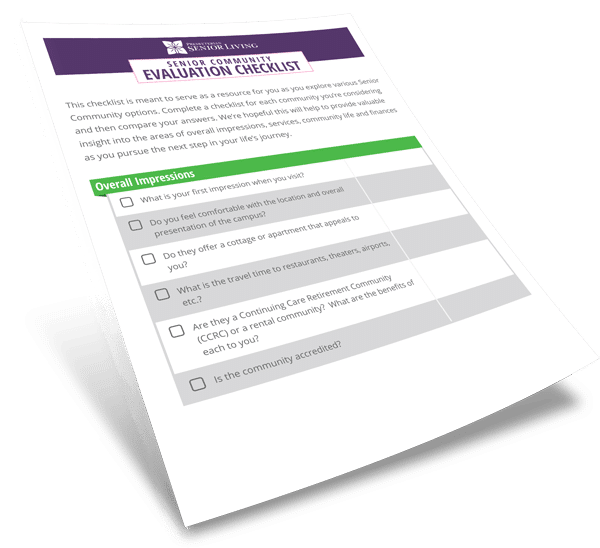 Are You Asking the Right Questions?
Subscribe to the Presbyterian Senior Living blog and receive our free Community Evaluation Checklist to ensure you ask what's most important to you.
Sometimes, age can surprise us. You may have noticed it in your own body; one week you're doing fine, and the next you have some unexplained back or knee pain. Or maybe you keep forgetting where you put your keys. With seniors, these changes can come even quicker. If you don't see your senior loved ones often, it's possible the issues started a while ago but you didn't notice until a recent visit. You may be wondering what you can do to help.
When you are in pain it's safe to say you're not enjoying that part of your day and you are looking for relief. Unfortunately, preventing pain 100% of the time is not possible. The good news is that it is possible to effectively manage pain. That was the goal for staff at Presbyterian Senior Living's Windy Hill Village in Phillipsburg, PA. This goal was established after an annual survey in which some residents at Windy Hill Village reported higher than average long-term moderate to severe pain.
CCRC | Presbyterian Senior Living
When looking at a retirement community you want to consider all aspects of that community, from the amenities, to the food options, and everything in between. One of the most important aspects of a community is its location. And while proximity to loved ones may be an important factor when choosing a location, you may also want to consider if the area is thriving.
"There is no passion to be found playing small--in settling for a life that is less than the one you are capable of living." -- Nelson Mandela We all have things we are passionate about. From hobbies and interests to family and friends, our passions are what drive us each day, and they can provide us with a sense of fulfillment and purpose. Which is why the staff at Glen Meadows Retirement Community just outside of Baltimore, MD, wanted to help Independent Living residents who were having trouble following their passions.