Subscribe
Diversity, Equity, Inclusion and the Importance of Belonging: Celebrating National Hispanic Heritage Month
National Hispanic Heritage Month honors the culture, heritage, and contributions of Hispanic Americans each year. The event began in 1968 when Congress deemed the week including September 15 and 16 National Hispanic Heritage Week to celebrate the contributions and achievements of the diverse cultures within the Hispanic community.
The dates were chosen to commemorate two key historical events: Independence Day, honoring the formal signing of the Act of Independence for Costa Rica, El Salvador, Guatemala, Honduras, and Nicaragua (September 15, 1821), and Mexico's Independence Day, which denotes the beginning of the struggle against Spanish control (September 16, 1810). In 1988 the event was expanded to a month-long period, and now encompasses:
El Dia de la Raza on October 12, which celebrates the influences of the people who came after Christopher Columbus and the multicultural, multiethnic society that evolved as a result

Chile's Independence Day on September 18 (El Dieciocho)

Belize's Independence Day on September 21
In celebrating National Hispanic Heritage Month, we would like to share more information about this rich culture.
How is Hispanic Heritage Month celebrated?
The month-long period is a time to learn about the people who have influenced America in such a great way and learn about the culture that has significantly influenced American culture.
During the month, Hispanic Heritage is celebrated in many ways, including parades, art exhibitions, concerts and traditional Hispanic food fairs.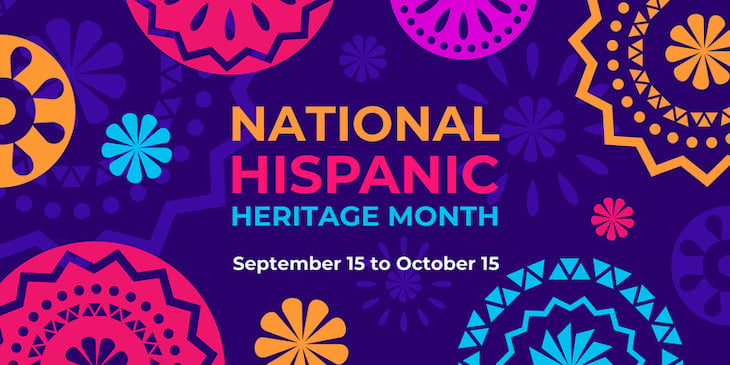 Hispanic Culture
The term Hispanic was coined to classify those people of Latin American and Spanish origin, whose ancestors came from Spain, Mexico, the Caribbean and Central and South America. The term is often misused in the United States as a racial classification instead of a regional one.
Someone who is Hispanic can be of Indian, African, European, or Asian descent, and because of the stereotypes and misconceptions, many Hispanics are not recognized as such. Lynda Carter (Wonder Woman), Frankie Muniz (Malcolm in the Middle), and Jean-Michel Basquiat (an American Artist) are all of Hispanic ancestry but are never regarded as Hispanic.
Did you know?
The Hispanic population of the United States as of July 1, 2019, was 60.6 million, making people of Hispanic origin the nation's largest ethnic or racial minority. Hispanics constituted 18.5% of the nation's total population.
Twelve states had a population of 1 million or more Hispanic residents in 2019 — Arizona, California, Colorado, Florida, Georgia, Illinois, New Jersey, New Mexico, New York, North Carolina, Pennsylvania and Texas.
Spanish Words
There are words that we regularly use that we may not realize are of Spanish origin. Words like mosquito or oregano are used in the English language in their original Spanish spelling and pronunciation, but some, like the following, have been altered.
Savvy: "saber" meaning to know

Tornado: "tornar" meaning to turn, tronada, thunderstorm

Bronco: meaning wild or rough

Comrade: "amarada," old Spanish for barracks company or roommate

Mustang: "mestengo" or "mesteño" meaning a stray animal

Breeze: meaning a light wind or current and originates from the Old Spanish and Portuguese word briza.

Cafeteria: This word dates back to 1839 from Mexican Spanish, meaning coffee store
Did you know these words were of Spanish descent?
---
Learning about the history and significance of different cultural celebrations and educating yourself about the contributions made by different groups of people is an important first step to create a society built on mutual respect and admiration for different races, ethnicities, religions, and more. In celebration of National Hispanic Heritage Month, check out some more facts from Women's Health Magazine.