Subscribe
Diversity, Equity, Inclusion and the Importance of Belonging: Celebrating Older American's Month
May is Older Americans Month, a time to celebrate those who are over 65, our seniors who have contributed to their families, our communities and our country in countless ways. The celebration of this nationally recognized month was established in 1963 when only 17 million living Americans had reached their 65th birthday. About a third of older Americans lived in poverty, and there were few programs to meet their needs. Interest in older Americans and their concerns was growing. A meeting in April 1963 between President John F. Kennedy and members of the National Council of Senior Citizens led to designating May as "Senior Citizens Month," the prelude to "Older Americans Month."

Historically, Older Americans Month has been a time to acknowledge past and current older persons' contributions to our country, particularly those who defended our country. Every President since Kennedy has issued a formal proclamation during or before the month of May asking that the entire nation pay tribute in some way to older persons in their communities. Older Americans Month is celebrated across the country through ceremonies, events, fairs, and other such activities.
As the senior population grows, so does the diversity in this population. Between 1990 and 2030, the increase in population age 65+ will be 131% among African Americans, 147% among Native Americans, 285% among Asians and Pacific Islanders, and 328% among Hispanic Americans.
Cultural beliefs shape social norms and values surrounding the aging process and the role of older people. These beliefs about aging are not static—they shift and change as society evolves. Learning about other cultures helps us to understand different perspectives within the world in which we live. It helps dispel negative stereotypes and personal biases about different groups. In addition, cultural diversity allows us to recognize and respect "ways of being" that are not necessarily our own.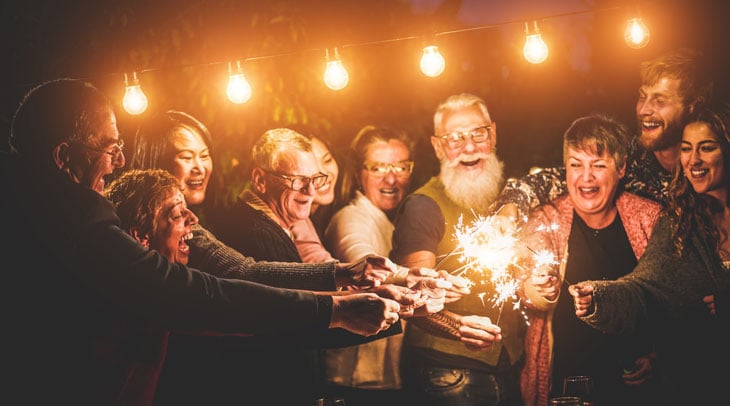 As we celebrate seniors this month, let's remind ourselves and others that over 65 is not "over the hill"; age is only a state of mind. The fact is that many people have accomplished amazing things after they turned 65, things that many people half their age couldn't even do. These people did not let the failing of the body or the troubles of aging stop them from accomplishing incredible feats. Climbing mountains, finishing marathons, inventing new gadgets, winning awards, going into outer space - these individuals have done it all.
For Older American's Month, we're showcasing some of the incredible things accomplished by individuals over 60 worldwide. Enjoy reading about how these amazing seniors contributed to our world as they proved that "age is just a number!"
Gladys Burrill - Ran a Marathon at Age 92
Burrill earned the Guinness Book of World Records record as the oldest female to complete a marathon. At age 92, she finished the race, which took place in Honolulu, in nine hours, 53 minutes and 16 seconds. It was her fifth Honolulu finish in seven years.
Teiichi Igarashi - Climbed Mt. Fuji at Age 100
In 1987, Teiichi Igarashi, a former lumberjack who had been climbing Mt. Fuji every year since he was 89 years old, became the first centenarian to climb Japan's tallest mountain. Igarashi attributed his accomplishment to eating raw eggs and all the encouragement he received from his supporters.
Diana Nyad - Swam from Cuba to Florida at Age 64
In 2013, on her fifth attempt and at age 64, Diana Nyad became the first person confirmed to swim from Cuba to Florida without the aid of a shark cage. The journey was 110 miles long and took her 53 hours straight.
William Ivy Baldwin - Tightrope Walked Across a Canyon at Age 82
On July 31, 1948, his 82nd birthday, tightrope walker William Ivy Baldwin did his last walk over a canyon in Eldorado Springs in Colorado. He made his first walk there in 1907 and did it 88 times until his final endeavor. Baldwin's daughter strung a special wire for his final walk.
John Glenn - Went to Space at Age 77
The first American to orbit the Earth, John Glenn made history again when, at the age of 77, he became the oldest person to travel in space. He rode the space shuttle Discovery, and, over the course of nine days, the shuttle orbited Earth 134 times. Glenn served as a payload specialist, participating in various experiments to test how his 77-year-old body responded to the weightless environment.
Colonel Sanders - Started KFC at Age 65
Colonel Sanders was 65 years old when he received his first Social Security check. It was then that he made a decision that he needed to change his life. With his chicken recipe, he took action and traveled the nation until someone took a chance on him, and Kentucky Fried Chicken was born.
Momofuku Ando - Invented Ramen Cup Noodles, at Age 61
Ando was a Taiwanese-Japanese businessman who founded Nissin Food Products Co., Ltd., becoming one of the inventors of instant noodles, instant ramen, and Cup Noodles. His invention of Cup Noodles in 1971, at the age of 61, helped spark the popularity of instant noodles overseas by introducing the idea of the now-ubiquitous Styrofoam cup.
Nelson Mandela - Was Elected President of South Africa, at Age 75
Nelson Mandela was elected president of South Africa in 1993, serving one term in office. He was the first non-white head of state in South Africa's history and the first to take office following the dismantling of apartheid and the introduction of multiracial democracy. He was also the oldest head of state in South Africa's history, taking office at 75.
---