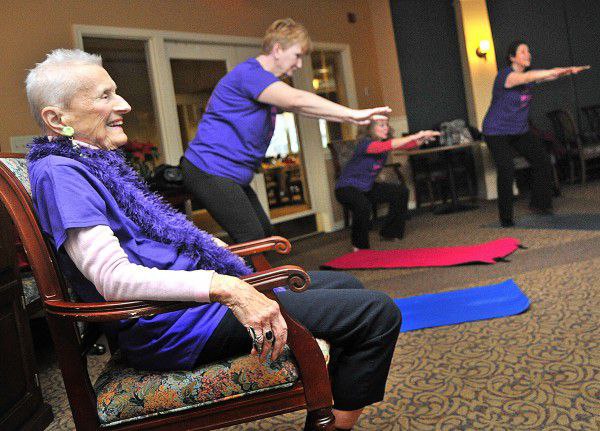 Subscribe
Health Benefits of Yoga for Seniors
She's 94 years old, suffers severe arthritis of the neck and teaches yoga for free at Westminster Village's Mabes Morrill's yoga class.
Mabes Morrill happily reports that learning how to perform yoga changed her life years ago. "An Indian guru in Venezuela taught yoga to me for free", Ms. Morrill says. "I'm forever grateful to this person for helping me conquer my arthritis. Now, I'm spreading the benefits of yoga for free as well".

In this photo, Mabes Morrill, 94, smiles as she leads Mabes' Yoga Babes in a class at Westminster Village in Dover earlier this month.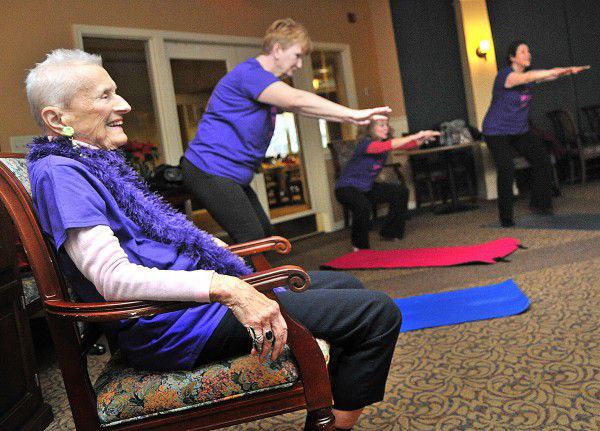 (Photo courtesy of Delaware State News/Dave Chambers)
Yoga, which means "to yoke or join together" in Sanskrit, is a form of physical activity that combines breathing, meditation and exercise into one system. Yoga incorporates stretching exercises, holding positions and special breathing techniques to optimize these movements. A low impact exercise that anyone can perform, regardless of age or physical limitations (within reason), yoga is meant to be a "relaxing" type of physical activity rather than a tiring one.
Mabes

' Yoga Babes

Ms. Morrill's students are aptly named "Mabes' Yoga Babes". The class meets three times a week at Westminster Village and consists of yoga enthusiasts aged 55 to 85.

Mabes' Yoga Babes say that Ms. Morrill not only teaches yoga but has also enriched other aspects of their lives by pushing them to their limits and beyond.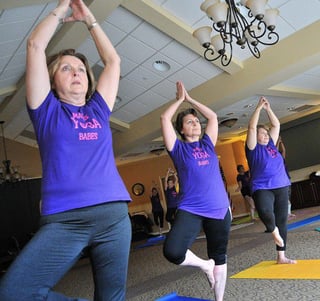 In addition to offering yoga classes for free, Mabes Morrill doesn't have to pay for class space, either. Westminster provides that free of charge, even though most of Mabes' students aren't community residents.
Appreciative of Westminster's generosity, Mabes' Yoga Babes have raised $3000 to support Westminster's Transitional Care Unit, a rehabilitation unit which recently finished construction. The unit assists patients who do not need hospitalized but are not yet well enough to care for themselves in their own home.
Executive Director of Westminster Village, Mary Ann Poling, says she is blessed that Ms. Morrill and her students consider their facility her home. "We didn't ask them to help. They just took it upon themselves to graciously donate their time and money".
Health Benefits of Yoga for Seniors
Performing yoga several times a week may help improve flexibility, boost heart health, reduce some types of chronic pain and ward off depression. Yoga may also benefit your lymphatic system by promoting circulation of the lymph fluid through all lymph node channels. Because lymph fluid does not get pumped through the body like blood, contracting and stretching your muscles by performing yoga poses promotes the flow of lymph fluid. Maintaining lymph fluid action is important for eliminating bacteria or viruses that cause infections.
Yoga is also a great balance exercise for seniors. It can strengthen muscles involved in maintaining balance during those times you feel yourself begin to fall. Loss of balance and falling is one reason why so many seniors suffer fractures and broken hips. Our sense of balance naturally ages with us, gradually declining in its ability to tell us where we are in space. Although aging is not preventable, we can accommodate some of the deficiencies it presents to us by performing actions that improve these deficiencies. Yoga is an excellent way for seniors to combat inevitable balance problems.
For more information about yoga and other resources valuable to maintaining a senior's health and well-being, visit our Masterpiece Living page.
Image source: Deleware State News