Subscribe
Lifelong Learning Continues at Presbyterian Senior Living Communities
Across Presbyterian Senior Living communities, an array of learning opportunities have taken shape over the decades, most initiated and conducted by residents. From wood shop classes to fitness opportunities, instrumental music groups to arts and crafts gatherings, a variety of chances to continue to learn abound.
One of the shining examples of this commitment to keep learning is Village College at Presbyterian Senior Living's Cathedral Village in Philadelphia. Harry Gratwick, a retired history teacher and a lead organizer and teacher at Village College, is spending his retirement in a state of continuous learning.
A lifetime devoted to education
Harry has been a part of the Cathedral Village community for a decade. He and his wife made the move in 2013, drawn by the promise of enriching experiences during their retirement years. With a remarkable career spanning 40 years as a history teacher and dean at Germantown Friends School in Philadelphia, Harry was well-equipped to encourage the educational pursuits of his fellow residents.
Village College, founded in 1998 by passionate retired teachers, was the perfect outlet for Harry's teaching expertise. The program offers classes on traditional subjects without the burdens of writing papers, earning grades, or doing excessive homework. Cathedral Village provides a dedicated classroom with seating for 65 people where lectures and musical performances regularly take place.
Over the years, Harry has taken on the role of dean at Village College, recruiting residents to participate in the four six-week semesters each year. These classes, covering a range of topics under the umbrella of the humanities, attract 20 to 60 learners each.
The subjects include religion, folklore, literature, and even ecology, thanks to the nearby creek and historical mills. Village College offers a less formal approach than with traditional college lectures, creating an engaging and interactive learning environment for seniors. Of the 300 residents at Cathedral Village, about 120 attend classes each semester.
In addition to Village College, Cathedral Village hosts a vibrant Great Books discussion group that delves into classic literature. It also enjoys a constant influx of guest speakers and offers one-day seminars on intriguing topics, all of which make the learning atmosphere dynamic.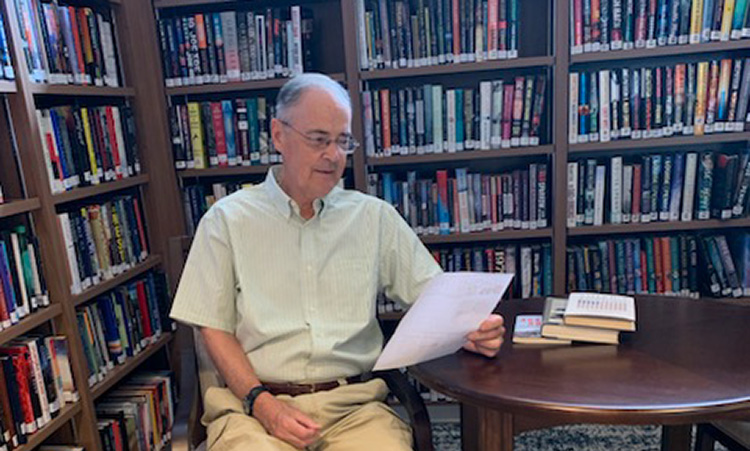 In recent years, Village College has expanded its reach by offering classes at the community's skilled nursing facility for residents who have different needs and interests. These classes have more of an intellectual focus and provide an essential source of engagement and activity.
The importance of lifelong learning
Why is lifelong learning so important, especially during retirement? According to Harry, the benefits extend far beyond intellectual stimulation.
"I think you meet new people, make friends," Harry says. "The socializing aspect is crucial. Also, the intellectual aspect is important, but the social element—listening and engaging with a wider segment of your community—is equally valuable."
As a presenter, Harry has observed how the social aspect of his classes has evolved. Unlike in a traditional school setting, where students are concerned with exams and grades, Village College encourages a freer exchange of ideas. It's a place where retirees can come to learn, socialize, and connect on a deeper level.
Beyond the social element, continuing to learn keeps individuals intellectually active and engaged. Teaching courses on subjects he hasn't previously explored, such as English and French painters of the last century, has been fulfilling and mentally stimulating for him, Harry says. The relaxed atmosphere of these classes allows for more organic interactions, fostering meaningful connections among residents.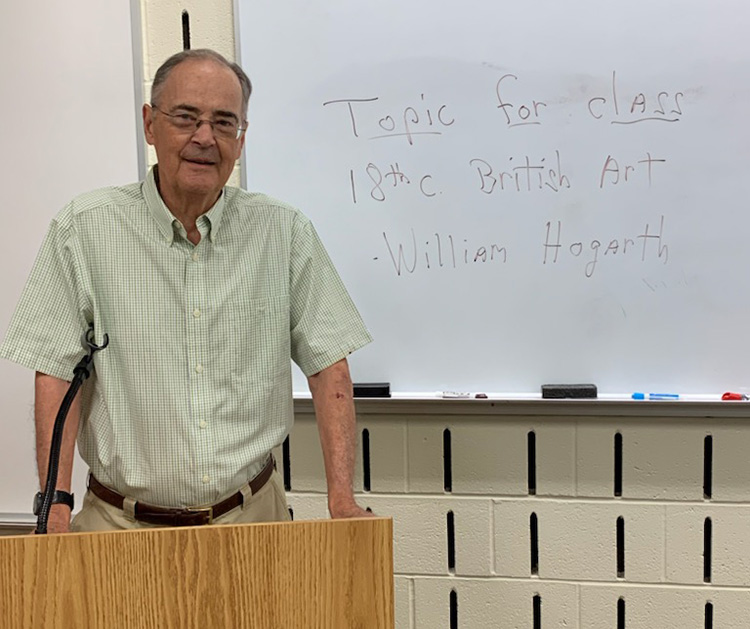 A fulfilling retirement experience
The success of the learning programs at Cathedral Village and other PSL communities largely is driven by the residents. Volunteers typically serve as instructors. These initiatives highlight the passion and commitment of residents such as Harry who dedicate their retirement years not only to personal growth but to helping fellow PSL residents find fulfillment in their golden years.
PSL communities such as Cathedral Village offer a range of reasons for seniors to choose them as their new home. Beyond the ease of single-floor living and having essential amenities, opportunities to learn and socialize are a significant draw. The ability to remain mentally active, explore new subjects, and build lasting friendships is ingrained in these communities.
For Harry, Village College and the intellectual environment at his PSL community have kept him from secluding himself in retirement and given him a chance to channel his skills and passion for teaching into an enriching experience for himself and his fellow residents.
"People go to retirement communities for lots of different reasons," Harry says, "and the ongoing social opportunities and physical activities at PSL make it worthwhile. We're pleased with how it's turned out."