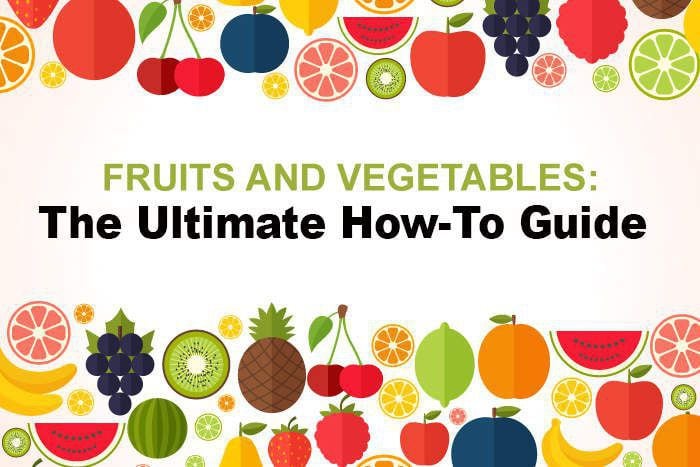 Subscribe
National Nutrition Month's Ultimate How-To Guide to Fruits and Vegetables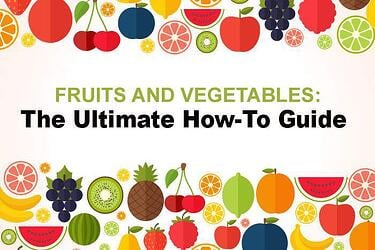 According to a Cornell University Agricultural School professor, the number of different fruits and vegetables harvested and consumed worldwide ranks in the thousands. In the United States, consumers eat only a small number of these. The top vegetables consumed by the majority of the population include: lettuce, potatoes, onions, and tomatoes. Watermelon is in the mix, too. The remaining few pounds per year are split between a number of different kinds. However, it is remarkable how little of these other fruits and vegetables are eaten.

So, what does one gain from a diet rich in fruits and vegetables? Much! The benefits are endless. Fruits and vegetables add variety, texture, flavor, and color to meals. By themselves, they are low in calories and are considered nature's first convenience foods—very easy to pack and go. The fiber, vitamins, minerals, and phytochemicals—compounds produced only by plants—found in fruits and vegetables may help reduce the risk of certain diseases such as high blood pressure, heart conditions, and some cancers. With all these benefits, who wouldn't want to make fruits and vegetables a part of their daily nutrition? Keep reading as I share everything you need to know about the wonderful benefits of nature's little gift, just in time for National Nutrition Month. Consider this your ultimate how-to guide to fruits and vegetables.

How Can I Obtain All the Health Benefits from Eating Fruits and Vegetables?
Color and Variety! Eating an assortment of fruits and vegetables, in a range of colors, ensures you receive the whole spectrum of vitamins, minerals, and phytochemicals. Vitamins, minerals, and phytochemicals act in synergy to provide us with positive health benefits. This is why eating fruits and vegetables, in contrast to taking supplements, are more useful. Phytochemicals are the compounds that contribute to those wonderful vibrant hues found in fruits and vegetables, e.g. yellow, orange, red, blue, green, and purple. There are literally thousands of these compounds found in produce, and every day; researchers are discovering more information on the health benefits. Check out the Fruits and Vegetables Color Chart below detailing more of these health benefits.




How Many Servings of Fruits and Vegetables Should I Eat Daily?
The USDA's 2010 Dietary Guidelines for Americans recommend 5 to 13 servings a day of fruits and vegetables. However, the exact serving size you may need depends on your age, gender, and activity level. A general rule of thumb is to make sure you get a minimum of 5 to 7 servings a day. A typical serving is considered ½ cup cooked vegetables or ½ cup fruit juice, 1 cup raw vegetables or 1 piece of fruit—the size of a baseball. You can go to the MyPlate.gov website to see pictures of portion sizes.
Eating the recommended 5 to 13 servings helps with controlling calories and ensures you obtain sufficient fiber, potassium, folate, magnesium, vitamin A and C, and phytochemicals; all which are under consumed in the US.
Keep your eye out for the 2015 Dietary Guidelines for Americans which will be published shortly. These guidelines are developed jointly by the United States Department of Agriculture (USDA) and Department of Health and Human Services every five years.

How Can I Creatively Increase My Fruit and Vegetable Intake?
The following list details ways you can creatively increase your fruits and vegetables intake.
Add chopped vegetables to omelets (onions, peppers, mushrooms)
Add dried fruit to hot cereal
Puree vegetables and add to tomato sauce (carrots, pumpkin)
Add vegetables to layered lasagna
Add vegetables to pizza (fresh tomatoes, onions, peppers, mushrooms, broccoli)
Enjoy a snack of carrots and hummus or apple and peanut butter
Try salad stuffed pita with dressing
Keep a fruit bowl on your counter
Try frozen grapes as a refreshing snack
Make mashed potatoes with mashed cauliflower (1/2 potato and ½ cauliflower]
Add puree butternut squash to macaroni and cheese
Cream soups with puree white beans
Add finely chopped vegetables to meatballs or meatloaf
Use thinly slice bananas with peanut butter sandwich
Use spaghetti squash instead of spaghetti
You can also try the creative recipes below to liven up your diet.
Cinnamon Yogurt Fruit Dip
Ingredients:
1 cup Vanilla Greek Yogurt
½ teaspoon cinnamon **
Sliced Granny Smith apples
Sliced Strawberries

** Research has shown that cinnamon has many health benefits e.g. Fight strains of E. coli, can reduce triglycerides after a fatty meal, curb spikes in blood sugar, smelling cinnamon enhances cognitive processing.
Directions:
Mix cinnamon in yogurt
Dip fruit slices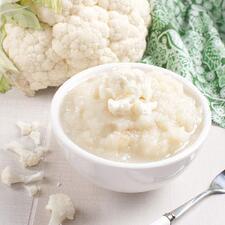 Art Smith's Garlic Mashed Cauliflower (courtesy of Trisha Yearwood, Food Network: Trisha's Southern Kitchen)
Ingredients:
1 medium head of cauliflower, chopped
Kosher salt
1/4 cup chicken stock
2 tablespoons grated Italian cheese, such as Parmesan
1 tablespoon extra-virgin olive oil
1 tablespoon nonfat Greek yogurt
1 clove garlic, smashed and chopped
Freshly ground black pepper
Fresh rosemary, chopped, for garnish
Directions:
Add the cauliflower and a pinch of salt to a boiling pot of water and cook until cooked through and very tender, about 10 minutes. Drain well and quickly dry well with paper towels. Add the hot cauliflower to a food processor with the chicken stock, cheese, olive oil, yogurt and garlic and process until smooth. Stir in a pinch of salt and pepper and the chopped rosemary, and serve immediately.
Quick Tip: To preserve the loss of water-soluble vitamins in cooking vegetables (Vitamin C and Vitamin B), use the least amount of water as possible. Cook cleaned root vegetables in their skins; and if able, use the cooked water for part of a recipe (e.g., add portion of potato water to mashed potatoes; use in gravy or add in soups).
Quick Tip: The Environmental Working Group, a nonprofit that advocates for policies to protect health, created Shopper's Guide to Pesticides in Produce. In this guide, they recommend that the following produce always be purchased organically, due to the amount of pesticide load: apples, strawberries, grapes, celery, peaches, spinach, sweet bell peppers, nectarines (imported), cucumbers, cherry, tomatoes, snap peas (imported), and potatoes. For more information, click here.


Presbyterian Senior Living Wants You to Stay in the Know About Your Health. Subscribe to Our Blog to Receive More Healthy Eating Tips for Seniors.