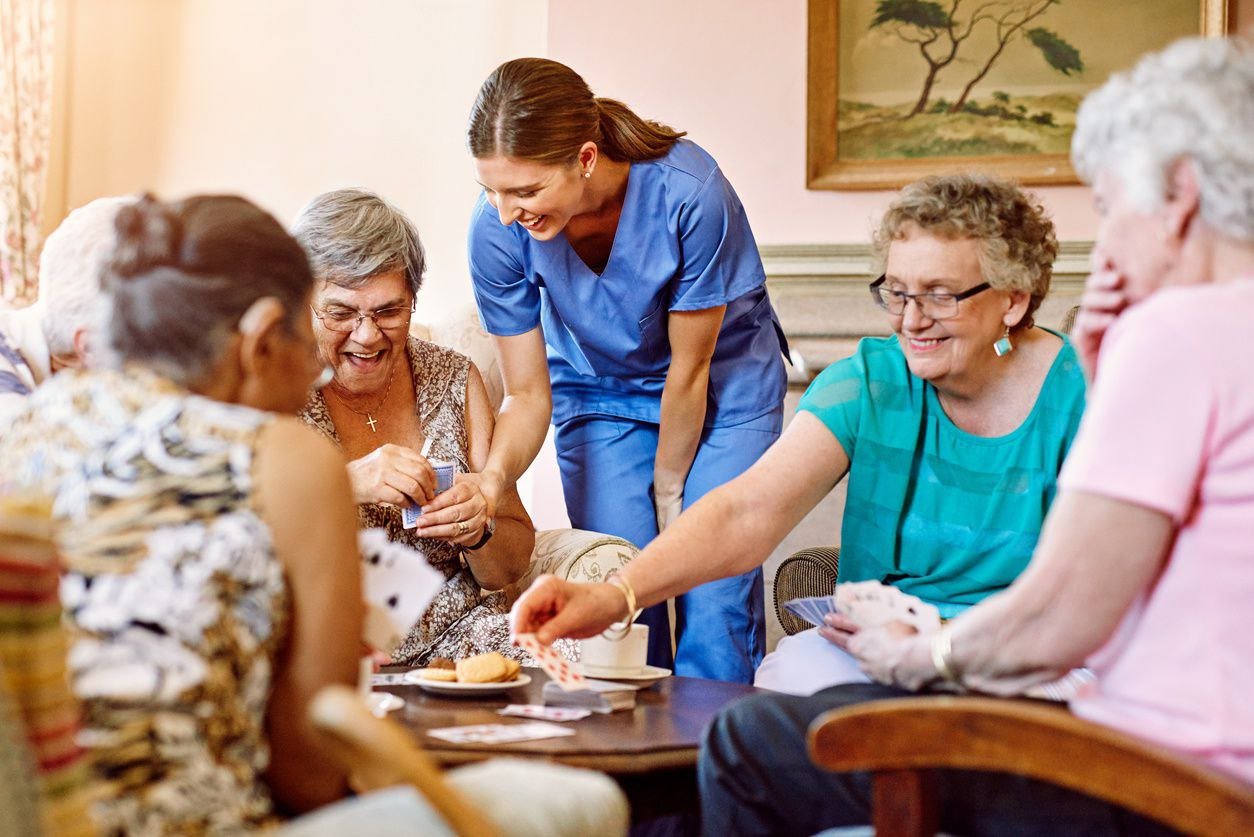 Subscribe
What Are Adult Day Services, and How Can They Help You?
Caregiver Support | Presbyterian Senior Living
Adult Day Services can be great resources for caregivers, but many people aren't aware of the benefits they can provide. For many caregivers, balancing your personal responsibilities and caring for your loved one can be incredibly stressful, and you may need a break every once in awhile. That's where adult day services come in.
How Adult Day Services Can Help
Usually, Adult Day Services are planned programs for older adults in a community-based group setting that last for all or part of the day. Like assisted living, Adult Day Services can have a comprehensive range of services to meet the needs of older adults. But instead of having the senior live in the community, Adult Day Services start and end at a specific time each day and it is up to the caregiver to resume care for their loved one in between. This can be very beneficial for caregivers who still have to go to work each day, or who need a short break from the demanding responsibilities of caregiving.
You may feel guilty about leaving your loved one at an Adult Day Center, but in reality, it could be the best move for both of you. Adult Day Services can give you the peace of mind that comes with knowing your loved one is safe and secure, while seniors enjoy the social interaction and attention from staff. There are plenty of services provided at most Adult Day Services that your loved one may benefit from.
Services may include:
Nursing care

Individual treatment plans

Caregiver support groups

Educational seminars

Transportation

Assistance with eating, taking medicines, toileting, and walking

Counseling

Exercise programs

Preparation of meals and snacks

Social activities (crafts, field trips, games, etc.)

Therapy (occupational, physical, speech, etc.)
There are currently around 5,700 Adult Day Centers in the U.S. Each state provides different regulations so it's important to research your options and choose an Adult Day Service provider you can trust. According to the National Adult Day Services Association (NADSA), there are generally three main types of adult day centers:
Social

: These types of adult day centers focus on providing seniors with social interaction and activities, and offer some health-related services.

Medical

:

These centers still provide social activities, but also offer more intensive health and therapeutic services.

Specialized

: Specialized centers provide services only for specific care recipients, such as those with dementia or developmental disabilities.
Who Benefits from Adult Day Services?
Adult Day Services may be the right choice for you if:
You're a caregiver in need

of a short break.

You work during the day and can't provide your loved one with daily supervision.

Your loved one has Alzheimer's or another form of memory impairment.

Your loved one is making the transition from hospital to home and is in need of follow-up care.
Improving the quality of life for both caregivers and seniors is the core of all Adult Day Service programs. They strive to provide older adults with supportive care in order to help them remain independent and in their homes.
If a senior's health deteriorates, and the stress of caring for a loved one increases, Adult Day Services can supplement a caregiver's normal routine to provide a needed break. Whether you're in need of a few hours, or a whole day, Adult Day Services can help you balance work and other personal obligations with caregiving duties.
Caregivers may also enjoy the peace of mind that comes with knowing their loved one is cared for in a supervised and safe environment, amongst caring and supportive staff.
Adult Day Services at PSL
These three types aren't set in stone, and some centers can blend two or even all three categories together. For example, Presbyterian Senior Living's Westminster Village at Allentown offers a little bit of each category with its Adult Day Service. Westminster Village at Allentown provides an array of services to suit the individual needs of every participant. These can include:
A complete breakfast, lunch, or both depending on arrival and departure times

Activities, fitness groups, live entertainment

Optional personal care services

Support for Alzheimer's Disease and other forms of memory impairment

Pet therapy

Full-time RN on-site

Incontinence management services

Volunteer opportunities and community outings

Holiday parties and special events

On-site beauty salon and barber shop

Financial assistance for those who qualify

And much more
Visit www.yourverybestday.org to learn more about the options available at Westminster Village at Allentown. Watch the video below to see what a caregiver has to say about Adult Day Services.

Selecting the Right Center
Choosing the right Adult Day Service provider can be overwhelming. Will your loved one fit in? Will they receive the time and attention they deserve? What can be expected from a typical day? These are all great questions and should be carefully considered when evaluating Adult Day Programs.
At Presbyterian Senior Living, we understand the complexities of choosing the right Adult Day Service. For this reason, we've provided a 5-Step Guide to Choosing Adult Day Services to get you started.
Download the complete 5-Step Guide to Choosing Adult Day Services at www.yourverybestday.org