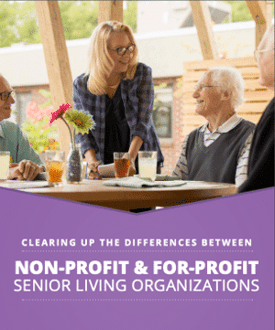 We've found that there is a lot of confusion around non-profit and for-profit providers of senior housing and services, so we created this ebook to illustrate the differences in Mission, Care, and Stakeholders:
Benefits provided by non-profits' service-based missions
Characteristics that differentiate non-profit senior living providers from for-profit providers
Differences in ownership and sponsorship between for-profit and non-profit senior living providers
Critical differences in quality of medical care in non-profit versus for-profit organizations
How income is used in a non-profit organization versus a for-profit organization
The value of diverse, volunteer board members in non-profit organizations
How the acuity-based staffing models in non-profit organizations result in a higher quality of care for residents
The results of a "New York Times" investigation of nursing facilities owned by private equity firms

BONUS: The Non-Profit Difference, and the Hallmarks of a Non-Profit Organization
We hope you enjoy Clearing up the Differences Between Non-Profit and For-Profit Senior Living Organizations. Just fill out the form on the right, and it's yours!
See the Differences in Mission, Care, and Stakeholders

And how Presbyterian Senior Living is leading the way
Worried About Your Information? We have you covered.
Your trust is vitally important to us at PSL. We take great care to protect your personal information and assets, and to keep your information confidential. To view our complete privacy policy
click here.