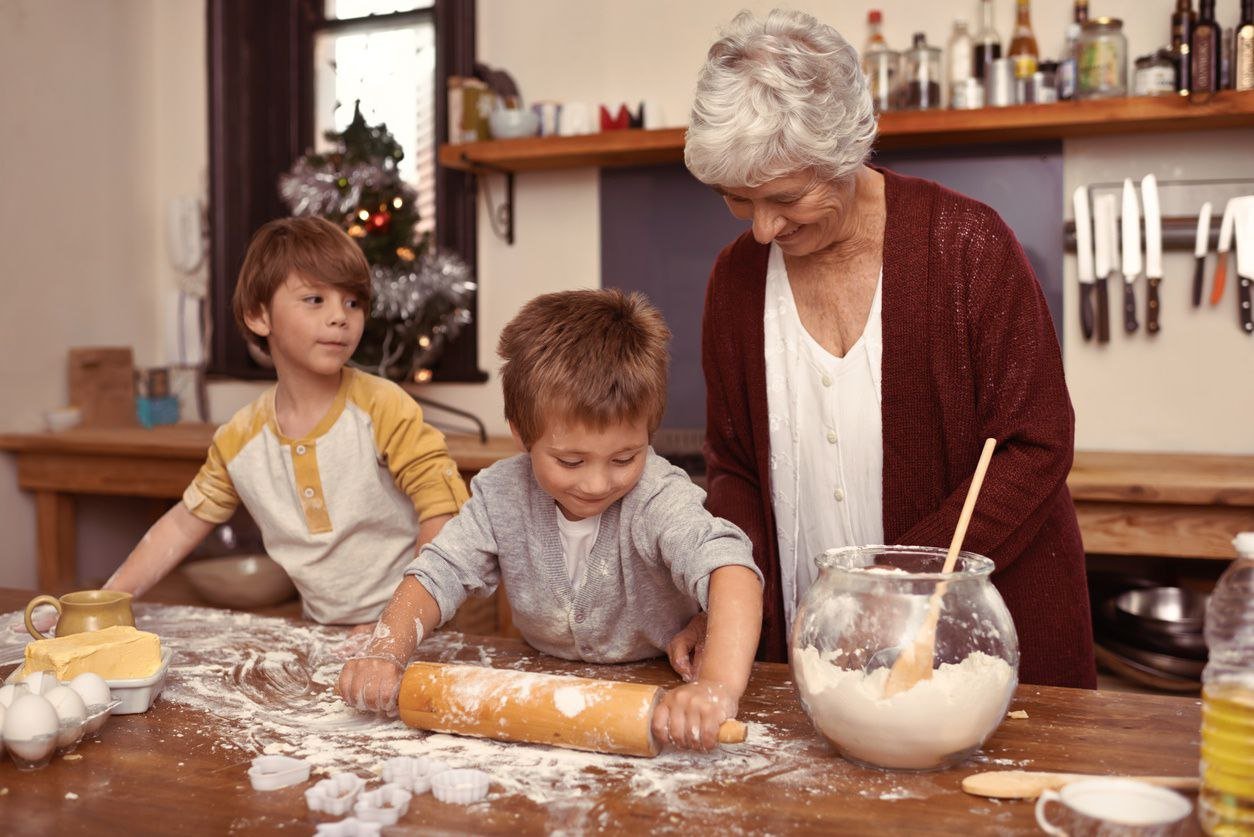 Subscribe
10 Things To Do When Your Grandchildren Visit
The holidays are a time when families come together to share memories and create new ones. Many kids may feel out of place when not at home, though, without the usual stimuli to keep them occupied. Here are just a few fun activities you can do with your grandkids around the holidays to keep them engaged.
---
1. Shop for gifts together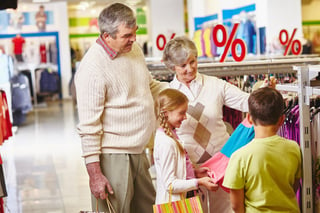 What kid doesn't want to go look at gifts around the holidays? While the idea is to go shopping for others, like Mom and Dad or their siblings, letting them pick out a small gift for themselves can boost excitement. Try to encourage your grandkids to think of a present Mom or Dad will really like. It can be a good way to teach them that the best part of the holidays is giving a gift, not receiving one.
2. Read a book
Preferably ones with cliffhangers at the end! Turn your grandkid's visits into a book club by reading an exciting book aloud so everyone has something to look forward to, even you! There are plenty of great kids book series that the whole family can enjoy, like "Harry Potter," "The Magic Tree House" series, or classics like Nancy Drew and the Hardy Boys. Or you can read a favorite book you had while growing up to give them a glimpse of life "back in the day." If the kids can't wait until the next visit to continue the story, set up times to read on the phone or video chat online.
3. Have a pajama party
This is another activity than can be fun for the whole family. Everyone can get dressed in their favorite pj's, or if your family is feeling extra wacky you can hold a contest to see who has the best pajamas. There are some themed footie pajamas available for adults at places like Wal-Mart and Macy's. It's a great way for the adults in the family to feel like kids again. You can even have a prize for the best costume! After everyone gets comfy, pop some popcorn and put in a movie.
4. Create a list of movies to see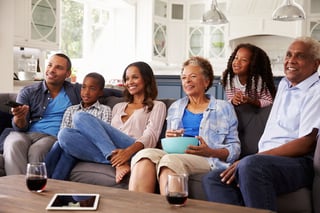 We all have movies we want to see, especially kids. You can create a fun tradition with your grandkids and get them excited about coming over by starting a running list of all those movies you still haven't seen. Of course, depending on their age you might want to keep most of their suggestions on the list, but remember, just because a movie is targeted towards kids doesn't mean it won't have moments to keep the parents entertained as well. Here's a list of some family friendly movies. If your grandkids are a little older then the list can be a good way to show them the classics that still hold up today.
5. Create a scavenger hunt
There are lots of different ways you can do scavenger hunts, and all of them are fun! You can leave clues around your house in the form of riddles that lead to a small prize at the end. Or you can make a list of holiday items to find from around the house. Just make a list, tell them the boundaries of where to look, and let them loose. You can also do a photo scavenger hunt. This can be done inside, or if the weather isn't too bad, you can take the kids on a walk outside and have them take pictures of something starting with every letter of the alphabet. You can give them a disposable camera, or let them use a smartphone. Afterwards, you can make a scrapbook of the photos.
6. Look through photo albums
Speaking of photos, a good way to keep the grandkids entertained while also teaching them some family history is to look through old photo albums together. Kids will love to see old pictures of themselves, regardless of their age, and you can show them what Mom, Dad, Grandma and Grandpa looked like when they were their age. Old family videos are great too if you still have the technology to play them.
7. Create a family cookbook
Get the recipes for everyone's favorite meals together and put them into one big book! These can be holiday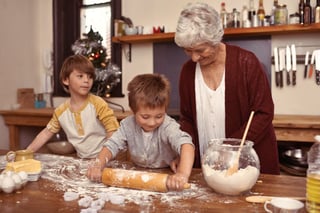 recipes or regular ones. The book will be a good reference point for what to make during family gatherings, and it can always be updated. You can also teach your grandkids how to make some of the easier recipes so they can feel involved.
8. Eat dessert first
The holidays are a special time, so why not shake things up and eat dessert before the real meal? It can be a fun tradition and will get the kids excited about coming over if they know they'll be getting desert first. You can even involve them in the process and have them help you make the pie or cookies. If you have a family cookbook you can add some desert suggestions in there, too! Just make sure no one is eating too much dessert so that there's still room for dinner.
9. Do a science experiment
Tap into your inner mad scientist and conduct an experiment with your grandkids! It's a fun way to learn new things, and can even yield some tasty results. You can create your own ice crystals, learn about chocolate, or create your own lava lamp. These experiments don't have to put a dent in your bank account either. For example, you can learn how to create a battery out of a lemon, a dime, and a penny.
10. Play games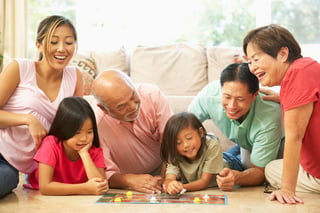 This one may seem a bit obvious, but you shouldn't underestimate how much a fun a good board game or card game can be. Nowadays, many kids are obsessed with playing games on their phones or tablets, but those can't quite capture the feeling that comes with playing a board game with family. Many of the classics have been updated to fit modern times too! If your grandkids refuse to put down the phone, try finding a game on there you can play together.
---
The key to these activities is to do them together. It can be tough to try and get your grandkids to put down their phones, but once they do they'll find there's plenty of fun things to do around them. And these activities don't just apply to the holidays, many of them can be done year-round, or be made into yearly traditions. Now go and enjoy the quality time with your family!
If you want to learn how a senior living community can help enrich your own life with activities and hobbies, download our free E-book below.