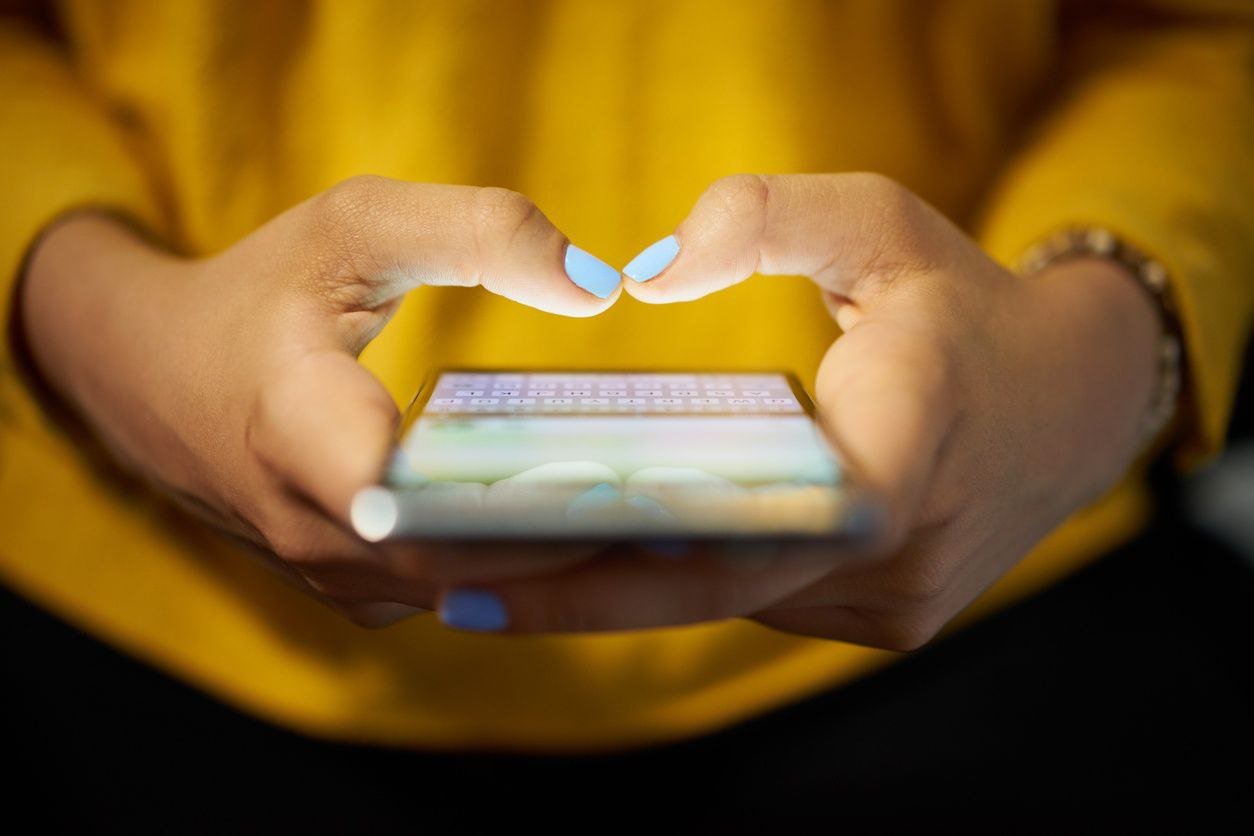 Subscribe
12 Helpful Apps for Caregivers
Caring for an older adult can be rewarding, but it can also be extremely stressful. From not knowing if you're doing the right thing, to coordinating your efforts with the rest of your family, it can get overwhelming at times. Luckily, technology is here to help. There are apps for your smartphone that can help you manage the daily stress of caregiving, and give you some much needed breathing room in your life.
---
Networking & Sharing
CareZone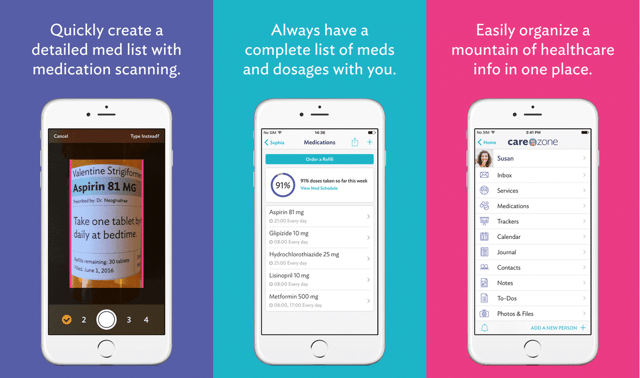 If you've seen other lists like this one, chances are CareZone is on it. The basic premise behind CareZone is information storing and sharing. The app helps caregivers keep track of information by organizing prescriptions, insurance cards, ID cards, legal documents, and more, all in one place. It has a place for notes and observations, a task list, medication logging, and a place to upload photos.
It also allows you to share the information with your family or other important people in your loved one's life, and you can upload a voice message for up to 100 recipients.
Carezone is available on both iPhone and Android for free.
CaringBridge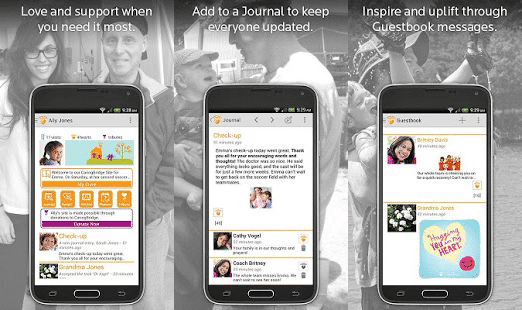 CaringBridge describes itself as a caring social network, and it works similar to other social media apps. You create a page for yourself or your loved one, and friends and family can interact by reading updates on your loved one's care and leaving encouraging messages on your page.
You can choose how private you want your page to be, and you can post journal updates, upload photos, add calendar dates, and even start a fundraising drive similar to GoFundMe for your loved one.
CaringBridge is free on both iPhone and Android.
Lotsa Helping Hands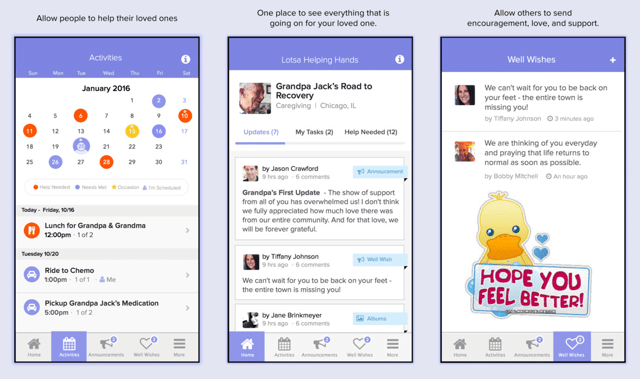 This app takes the saying "It takes a village" to heart. Lotsa Helping Hands gives you the means to create a digital community of care around your loved one. Most of the app revolves around an interactive calendar you can use to schedule things like meal deliveries, rides to appointments, and visiting hours. You can assign tasks or ask for help from from friends and family. You can also post updates on your loved one's care for your followers to read.
The app is only available for iOS users, but the website works on all devices.
eCare21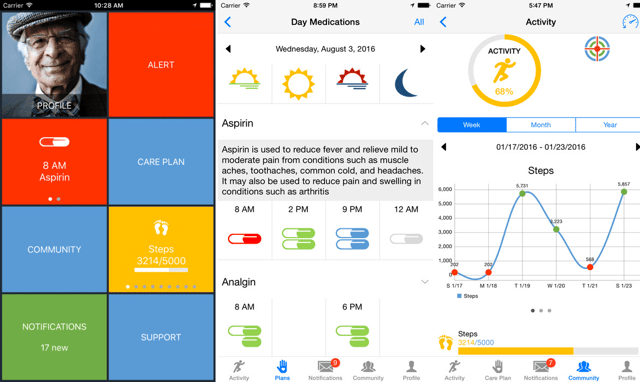 eCare21 is an extensive health monitoring system for your loved one, and because everything is tracked in the app, you or a doctor can access the information on the fly, regardless of distance from your loved one. The app can connect with most of the major fitness tracking devices, and compiles the information on a dashboard so that you can keep an eye on them and provide proactive care, even from hundreds of miles away.
You can also create care plans, medication schedules, and health snapshots to share with family and friends.
The app is free for iPhone and Android users, but the equipment needed to take full advantage of it will cost more. There are also paid plans you can find on the app's website that offer more in-depth options.
Informational
Elder 411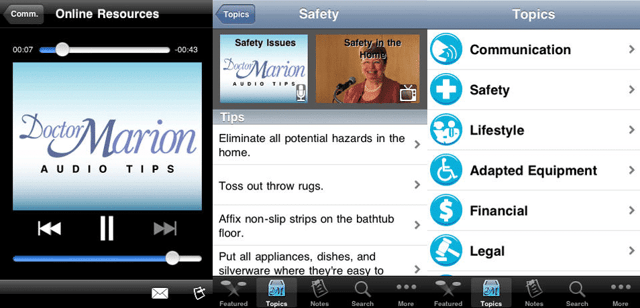 Elder 411 is solely an informational and FAQ-type app. It has practical information for caregivers all in one place. It includes more than 500 pieces of advice in written, audio, and video format. The tips are organized in 11 different categories, and you can search within the app to find the one you need.
Developed with help from award-winning geriatric care manager Dr. Marion Somers (Doctor Marion), Elder 411 includes hundreds of her responses to questions from family caregivers. The app also lets you add your own notes to each article.
iPhone users can download Elder 411 for free.
Alzheimer's Caregiver Buddy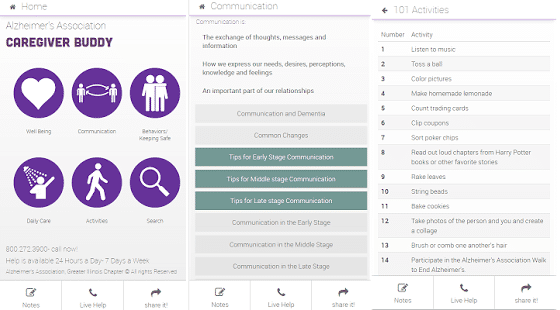 The Alzheimer's Association app focuses solely on providing caregivers with information and tips on caring for someone with Alzheimer's or dementia. The Alzheimer's Caregiver Buddy app provides support in areas of daily routine, communication, behaviors, and activities of daily living.
One of it's most useful features is a direct line to the 24-7 Alzheimer's Association Helpline. If you can't find what you need in the app, you are able to call the hotline to get any answers you need.
The Alzheimer's Caregiver Buddy app is free for iOS and Android.
Medication Management
Medisafe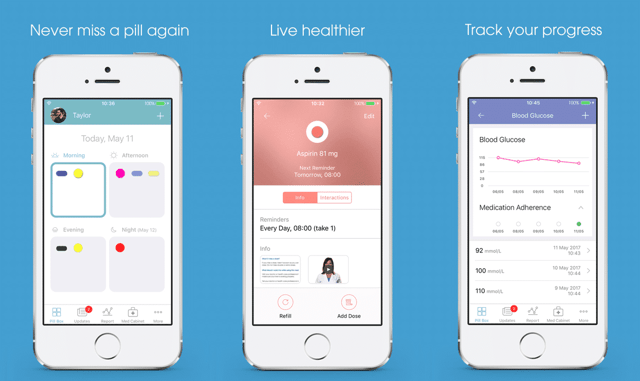 Remembering which medications your loved one has to take for each part of the day can be overwhelming. Medisafe tries to make it as easy as possible for you. The app can remind the user when to take medications, and track the progress of a prescription. It can also provide you with helpful and practical information on your loved one's condition and the medicines they're taking.
Medisafe works with medication for people of all ages, and it also allows physicians to connect with their patients for extra support.
You can download Medisafe for free for both Android and iOS
iPharmacy Pro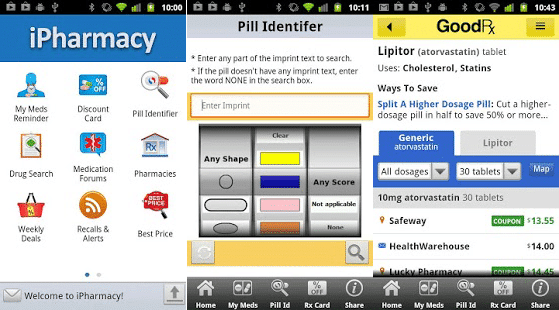 Like Medisafe, iPharmacy pro is here to help you manage your loved one's medication. But instead of focusing on providing an easy way to remember to take medication, iPharmacy Pro is focuses on helping you save money. It can track your medications and compare prices at local and mail order pharmacies to find the lowest price. The app also offers one-click refills to many of the main pharmacy chains, like CVS, RiteAid, Walgreens, and more.
iPharmacy Pro does still have reminders to take your medication, but it's not the main component of the app. Another added feature: the app can identify your pill by color, shape and imprint, and provide you with information about it from the FDA.
iPharmacy Pro is only on the Google Play Store for Android devices.
Symple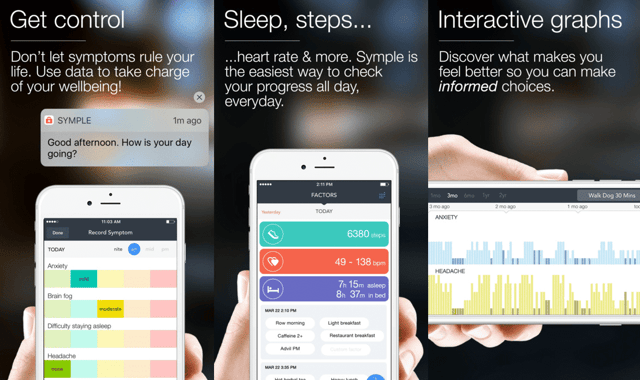 Instead of tracking medications, Symple tracks symptoms. It can track up to five individual symptoms, like anxiety, fatigue or pain, over long periods of time. You can also record how your loved one feels and document up to five contributing factors to their mood or health. Symple works with Apple's Health App, allowing you to import steps, sleep, and heart rate data directly into its system. Symple then displays the info in easy to read graphs that can help your loved one's doctor with treatment.
In addition to tracking symptoms and health factors, Symple allows you to take pictures of your medication to help you remember what your loved one took and when. And it has a journal feature so you can take notes to share with your loved one's doctor.
Symple can be downloaded for free on the iTunes store. You can also pay $6.99 to upgrade to Symple Complete inside the app.
Stress Management
MyCalmBeat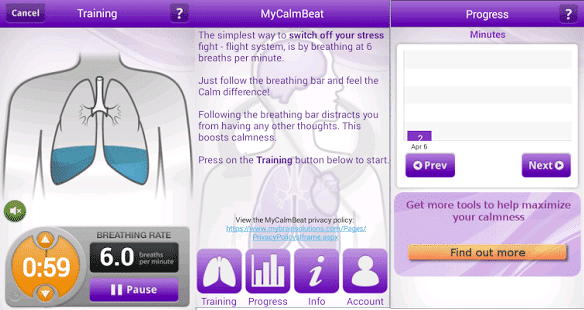 MyCalmBeat is an app designed to help you manage the stress that comes with caregiving by leading through breathing exercises. It's very easy to use, just set your breathing rate and the length of the exercise, and then follow along with the on-screen animation.
Controlling your breathing can be a very effective way to lower your stress in the moment. MyCalmBeat was designed to help everyone with breathing exercises, and it may come in handy when the responsibilities of caregiving get overwhelming.
MyCalmBeat is free for iPhone and Android.
Virtual Hope Box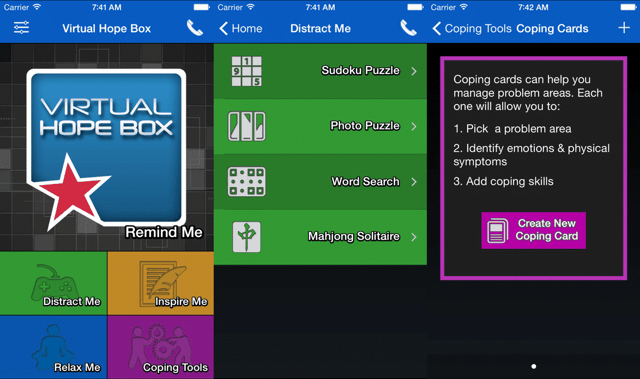 This app was reportedly developed by clinical psychologists working for the U.S. Military to help them cope with PTSD, but has evolved to help anyone with stress. The Virtual Hope Box is specifically built to discourage hopelessness, which you may feel as a caregiver occasionally.
Virtual Hope Box has different activities designed to distract, inspire, and relax. Activities like short games, guided meditation, and more. It also has "coping cards," with tips on how to cope. You can tailor each category specifically to your situation too.
Virtual Hope Box is free for iOS and Android.
Pacifica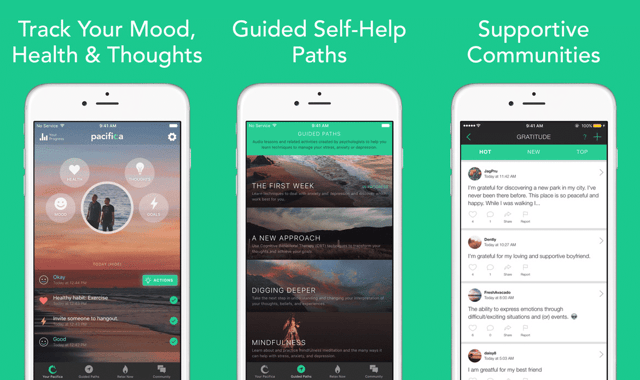 Pacifica is similar to Virtual Hope box, but it lets you track your emotional state in addition to giving you different coping methods. It has fewer activities than Virtual Hope Box, but it does include a community function, where you can share stories, advice,and words of encouragement with others.
Pacifica is available for free for iOS and Android.
---
Technology can be extremely useful for caregiving, and there are many tools available to help you get through the day. Do you have an app that you think is helpful that's not on this list? Let us know in the comments below!